10 Things You Didn't Know about Dynos
The first dyno? The longest dyno? A system for grading dynos?
---
Join Climbing
Create a personalized feed and bookmark your favorites.
Join Climbing
Create a personalized feed and bookmark your favorites.
Join for free
Call them what you will—"sloppy," "desperate," "intimidating," "amazing"—but dynamic moves are essential to our repertoire. The first climber to dyno? Who knows, but John Gill certainly got the ball rolling with his powerful, dynamic style in the late 1950s.
1. Dynos were not always accepted as good style. The classic paradigm adhered to the U.S. Army's "three-point suspension" rule used to train troops during WWII: The climber, to stay balanced and in control, maintained three points of contact at all times. In fact, Mountaineering: The Freedom of the Hills still espouses this "elementary approach to rock climbing." Imagine the shock when John Gill came along with his "free aerials"—natural tactics for a onetime Georgia Tech gymnast who'd done a 20-foot rope climb in 3.4 seconds, as well as the perilous cut-and-catch maneuver on the front swing of the flying rings. Gill recalls his dynos on rock as a "difficult, skilled, and precise gymnastic 'release' and 'regrasp'" inspired by formal gymnastics.
2. Gill, in his 1969 American Alpine Journal essay "The Art of Bouldering," distinguished between the lunge (an all-out dyno, which, although "considered by many traditional mountaineers to be an execrable mutation of good technique, may be safely employed by the boulderer") and the "dynamic layback" (i.e., deadpoint), which "places the climber's hand on a hold at the high deadpoint of the swing." Gill characterized the latter as "the ability to return to the start at a speed somewhat less than that of a free fall." Deadpoint comes from engineering's dead center, which, says Webster's, is "the position of a crank when the turning movement on it is zero."
3. Gill himself didn't coin dyno. This shorthand for dynamic move may have emerged in the 1970s at the Mt. Baldy boulders near Upland, California. The Cuco Boulder, in particular, housed a high concentration of dynamic problems. Says John Long, who cut his teeth here, "The hardest problems were these big dynamics, and we developed all these goofy words: 'dyno,' 'mo.' In the whole Stonemaster thing, it was like we were speaking our own language."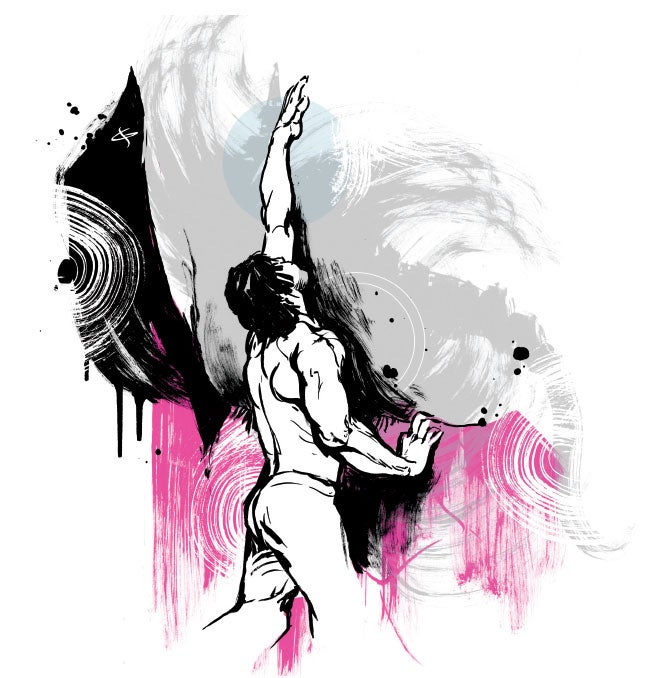 4. The first official Guinness World Records dyno competition took place in April 2002 at the Edge Climbing Centre in Sheffield, England. The winners were Matt Heason with a 2.575-meter (8-foot- 5-inch) dyno, and Katherine Schirmacher with a 1.9-meter (6-foot-2-inch) dyno. The distances on the 110-degree wall were measured from the left of two fixed launch holds to the target jug, which needed to be held "in control" (about two seconds) with both hands. Competitors could choose from two columns of footholds, but could not stand on the launch holds. As the comp progressed, the target grip was moved diagonally up and left at a 45-degree-angle; the Edge configuration has since been set as the official template by the Guinness Book of World Records.
5. Today's longstanding world-record dyno is 2.85 meters (9 feet, 4 inches), set by Denver climber Skyler Weekes (height: 6-foot-5; ape index: +6 inches) on July 3, 2010, at the Cliffhanger Games/World Cup event in Sheffield. Weekes, a three-time record holder, has suffered for his art: At the June 2005 Teva Mountain Games Freestyle Dyno comp (since canceled), Weekes stuck the target hold and then "went over it into a wicked Superman—horizontal with the ground—and continued so I was looking down at my hand on the hold, and then flipped upside down." He landed headfirst and broke his back at the L2 vertebra, earning six months in a "turtle-shell" back brace; he also smashed his right knee into his left eye socket. The facial damage required seven surgeries over two years. Weekes says he hones his hops by climbing and doing weights, plyometrics, vertical-jump basketball, and Muay Thai martial arts; he's also been known to throw kegs and do pushups with people on his back.
6. Not surprisingly, Weekes' October 2008 FA of the Clear Creek Canyon, Colorado, mega-lunge Zion attracted major attention. Internet looky-loos suggested the 8-foot-6-inch leap might be V16, as it had taken Weekes a heroic number of attempts (one or two thousand, estimates Weekes, over 76 days in a 2.5-year period). The catch? Weekes, up until send day, had been trying the stick with his right hand. As soon as he switched to his left, he tagged the move within five to 10 tries.
7. On Boulder's Flagstaff Mountain, a center of early bouldering development, the archetypal leap is the V8/9 Double Clutch, a body-length-plus launch (6 feet, 5 inches) from a horizontal rail to a lip bucket on the Beer Barrel. In 1972, Bob Williams made its first, roped ascent. (The landing is essentially a 15-foot rocky drop off.) Says Williams, "John Gill and I were looking for a boulder problem that required a double dyno, and I thought Double Clutch fit the bill: Dyno into a 'standing' position on the large flake, and then launch [off the right foot] toward the top." Boulderite Paul Glover made a hair-raising unroped ascent in 2002 for the film Front Range Freaks. He recalls having "one big pad, one small one, and one spotter who would have snuffed it if I landed on him." While practicing roped, Glover missed the dyno four or five times, and then, he says, "caught it, pulled the rope, and did it better than I had with the rope."
8. The English dyno ace Johnny Dawes (the "Leaping Boy") once proposed a three-tiered system for classifying dynos: The "first-generation dyno" is your standard dyno; the "second-generation dyno" involves translating dynamic motion forward—as in going again off an intermediate; and a "third-generation dyno" involves harnessing momentum to see you through two such sets of too-poor-to-grasp-statically grippers.
9. Dynos can also help you navigate past sequences—or even jump to another formation. In the former genre, a prime example is John Sherman's Indian Rock, California, leap C+ (V6), a 7-foot-5-inch launch to a one-handed baseball-knob catch on the Overhang. (Sherman used a rope—this was before pads—though the dyno, which starts about five feet up, can be bouldered.) In the latter genre, there's Czech tower jumping and various other gap-spanners throughout the world—like the 5.9 R leap Superfly, from the Paisano Pinnacle at Suicide Rock, California, onto a neighboring 5.6 friction slab. In 1973, the late Tobin Sorenson added a 360-degree twist, sticking the landing.
10. If big dynos at the sport crags feel scary, imagine hucking your meat high up on El Capitan. For Leo Houlding and Jason Pickle's October 2010 climb The Prophet (5.13d R; 13 pitches), Houlding unlocked the 5.13c R ninth pitch with the eight-foot, sideways and- down "Devil's Dyno," which, he wrote, required "absolute commitment and a good deal of self-belief." Another example from the big stone: the Dawn Wall's Dyno Pitch, which chalks in at around 5.14c, which was freed by Kevin Jorgenson. (Ondra and Caldwell opted for the easier but longer loop pitch variation.)
This article originally appeared in Climbing's print magazine in 2011