A Woman's Guide to Climbing: 6 Tips From Steph Davis
Heading out the door? Read this article on the new Outside+ app available now on iOS devices for members! Download the app.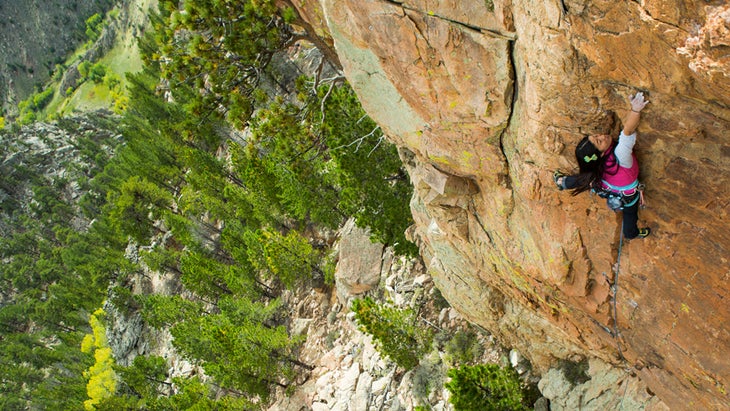 We all knew there would be technical challenges when we started climbing, but who knew there would be so many non-climbing cruxes involved with living in tents, cars, and on rock ledges? Here is some beta I learned over the past few decades that might help.
1. Peeing
The single biggest crux. Well, maybe the second biggest crux, but this is the one that happens the most frequently in a day. Many people don't realize the elastic straps that hold up the back of the harness leg loops are stretchy. Forget about that impossibly tiny metal buckle connecting them to the top of your harness. That is just there to sandbag you into thinking you have to undo it and redo it every single time, making your life hell. When you need to pee, just squat, pull down the back of your pants, and the elastics will naturally push to the side. This works whether you're on the ground, on a ledge, or at a hanging belay. Yes, this is ridiculously obvious, but it literally took me 10 years to figure this out. You're welcome.
2. Aunt Flo
Do you always get your period the minute you leave on a trip? Same. It took me a while to try the rubber Keeper Cup. (I like the natural rubber better than the silicone, but there are two options.) I sure wish I had gotten around to trying it ages ago! It's great for long climbing and hiking days, and even better, you can use it at night and save your sleeping bag and the one pair of underwear you have on the outing from any incidents. Just make sure you have a little extra water so you can rinse it off when you need to empty it out and get it back in.
3. IUD
I spend so much time training, I really don't want to alter my body's natural hormone levels. The Paragard IUD is good for 10 years, you get it put in once (yes it hurts), and then you're set for a decade. There is an option called the Mirena, which does have hormones. The Paragard is copper and doesn't have hormones—it seems to just take up space so other things don't. Yet another thing I wish I'd known about a really long time ago.
4. UTI
I used to be plagued by UTIs, and most likely it wasn't helped by alpine and big wall climbing, and not being able to change underwear for days sometimes (no one said adventure climbing was glamorous). I used to take antibiotics, but that turned into a vicious cycle of getting more UTIs. Antibiotics also destroy your microbiome, which is the foundation of your health. I learned that D-Mannose is a simple sugar (the key element found in cranberry juice) that binds to bacteria inside your bladder and urinary tract and flushes them out. I was a skeptic until the first time I tried it, and it worked almost immediately. If you suffer from UTIs, carry some D-Mannose capsules (usually you just need to take 1 or 2 throughout the day if you're feeling UTI symptoms, and it's over within a couple of hours) and over-the-counter UTI pain meds. If the symptoms come on really strong, take a pain med along with a couple of D-Mannose capsules and drink a lot of water. By the time the pain meds wear off, the symptoms are typically gone.
5. Iron
I have so many friends who've gone through a phase of feeling fatigued and demoralized with low energy and have connected it to climbing. Many women (especially athletic women who are careful with their diet) become iron deficient. It can also be hard to absorb iron. Taking an occasional iron and vitamin C tab (I take one 2-3 times per week) can keep your iron levels in the right place and have a dramatic effect on your energy. Dark green vegetables, beans, and brown rice are also great sources of iron.
6. Stinky Synthetics
Most of us have that favorite synthetic climbing shirt (you know, the long-sleeve with the zipneck) with a mildewy, musty smell that you can't seem to get out. Soak it in a mixture of white vinegar and water and then pull it out of the bucket and put it in the wash with all your other clothes. It will smell like new!