Alex Honnold and Margo Hayes are Vegetarians You Can Be, Too. Here's How.
Giving up meat and fueling yourself on a plant-based diet doesn't mean you have to suffer.
---
Join Climbing
Create a personalized feed and bookmark your favorites.
Join Climbing
Create a personalized feed and bookmark your favorites.
Join for free
Heading out the door? Read this article on the new Outside+ app available now on iOS devices for members! Download the app.
Margo hayes does it. Venus Williams does it. Alex Honnold does it. There are Netflix documentaries telling you to do it. Yes, we're talking about becoming a vegetarian or a vegan! People go veggie for health, ethical, religious, or environmental reasons. Shaina Savoy, a Las Vegas–based vegan climber and nutrition student, says, "I have always been an animal lover, and I was repelled by meat growing up." When she gave up animal products 10 years ago, she noticed health benefits: "My digestion improved immensely, my skin and menstrual health improved, and I felt mentally sharp and motivated. I have so much energy for climbing and other activities now."
Becoming a vegetarian all at once can seem daunting. Here are some tips to ease your way in:

Think of meat as a condiment, not a main dish. Sprinkle shredded chicken or beef crumbles on a grain bowl packed with veggies, rather than having a slab of meat as the focus of your plate.

Go meatless one day a week, or for one meal per day. Replace meat with tofu, beans, nuts, seeds, eggs, cheese, or meat substitutes.

Omit one meat category at a time. Try that for a while, then omit another one. For example, give up beef first, then pork, then poultry.

Eat the same dishes that you normally would, sans meat. For example, sandwiches, pasta dishes, grain bowls, and wraps can all be adapted to be vegetarian.

Visit a local restaurant that serves ethnic cuisine or that specializes in vegan or vegetarian dishes. Many cultures have wonderful dishes that don't involve meat. Explore and experiment.

Transitioning slowly can also give your digestive tract a chance to adapt. Often, the fibrous foods in a vegetarian diet can upset digestion. Take it easy.
So is limiting or eliminating animal products right for you—are you ready to change your Instagram bio to "Vegetarian dirtbag"? First, let's start with some common terms:
Omnivore: You eat all foods, including animal flesh and animal products.
Pescatarian: The only meat you eat is fish.
Plant-based: Most of your diet comes from plants, though you still eat animal products; aka "flexitarian."
Vegetarian: You do not consume animal flesh or derivatives (broth from animals, lard, collagen, etc.). Dairy and eggs are allowed.
Vegan: You omit all animal flesh and products, including dairy, eggs, gelatin, honey, etc.
A Gallup poll from 2018 estimated that 5 percent of Americans are vegetarian, and 3 percent are vegan. So, with vegetarianism being more common, we'll start with what you should know about being a vegetarian climber.
How does a vegetarian diet impact health?
Omnivore, vegetarian, and vegan diets can all have neutral or reduced risk for chronic disease. Regardless, the key to improving health is to have a favorable overall dietary pattern, including lean sources of protein, whole grains, nuts/seeds, and plenty of fruits and vegetables. When done properly, a vegetarian diet can be very beneficial—eating more fruits, vegetables, nuts/seeds, grains, beans, and legumes has been shown to reduce the risk of chronic health concerns like diabetes, heart disease, stroke, and cancer. Rami Najjar, a climber and PhD candidate, says that when he gave up meat 10 years ago, "I noticed immediately that I was sleeping better and recovering faster."
Non-dietary factors, such as a history of smoking, alcohol intake, family history of disease, trauma, stress, exercise patterns, and/or adverse childhood events, also impact disease risk. It's important to note these factors because the messaging that you can become vegetarian and thereby be "healthier" isn't necessarily true—health has many variables.
How does a vegetarian diet affect climbing performance?
Simply following a vegetarian diet doesn't mean you will enjoy better athletic performance: In fact, most research shows no performance gap between vegetarians and omnivores. Still, you can absolutely be a serious crusher as a vegetarian or vegan. Much depends on how well you implement a vegetarian diet, if you're getting enough overall calories and protein, and how your body responds.
On the flip side, some climbers have made the switch and felt bloated, tired, and hungry, or had nutrient deficiencies. Alyssa Leib from Denver has been a vegetarian since high school and falls into this category—though she's stuck with the diet. Says Leib, "I get bloodwork done every couple of years and, in particular, have had to supplement vitamin D, vitamin B12, iodine, and iron." Leib has been a vegetarian much longer than she's been a climber, so it's difficult to say if her climbing has benefited, but she does note fast recovery, as well as another benefit: "An incredible sense of belonging with people in some of the least-expected parts of the world," she says. "My favorite thing when I travel is to seek out vegetarian restaurants that serve plant-based versions of local cuisine."
Veganism and climbing

Since vegans don't eat any animal products, they need a plan to get all their

 

nutrients. In addition to the vegetarian nutrients mentioned on pp. 92–93, consider:

B12 supplement: Nutritional yeast is the only vegan source of B12, an essential vitamin. Supplementing is an easy way to prevent becoming anemic.

Plant protein powder: Look for a blend—not just one plant source—if you find yourself struggling to get enough protein.

Fortified grain products: Fortified grains like breakfast cereals and store-bought bread can help you reach your micronutrient goals.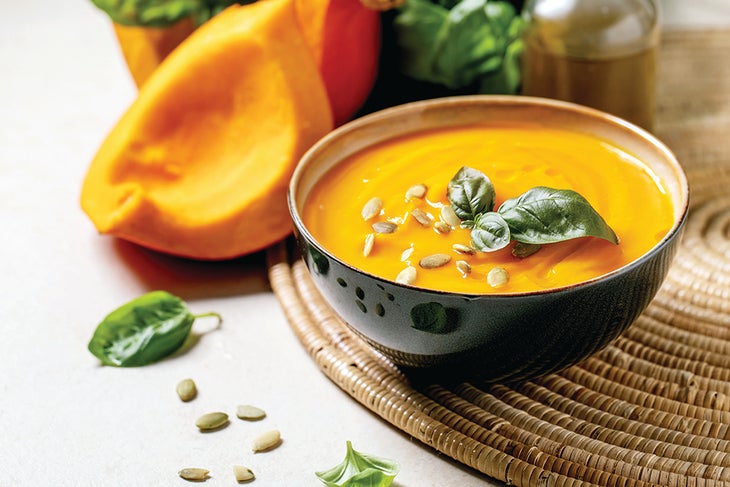 Which nutrients should vegetarians consider?
Iron: An important nutrient for all athletes, iron helps bring oxygen to muscle cells. One small study (Gibson-Smith, 2020) found that vegan and vegetarian climbers had lower serum ferritin (an indicator of iron status) than their omnivore counterparts. It's possible to get enough iron with a vegetarian diet, but it's not well-absorbed from plant sources (leafy greens, fortified grain products, nuts, and legumes) compared to meat, though vitamin C does help with absorption. The RDA for adults is eight milligrams of iron for males, and 18 for females. Consider getting bloodwork (an "iron panel") at your doctor's office; treat anemia with an iron supplement according to your doctor—test, don't guess!
Calcium: Like with iron, calcium is found in many vegetarian-approved plant foods but may not be well-absorbed. Fortunately, vegetarian diets include dairy products and tofu, both reliable and bioavailable sources of calcium. Most adults need 1,000 milligrams per day.
Omega-3 fats: These healthful fats promote heart health, make up cell membranes and cell receptors, and are involved with decreasing inflammation, regulating hormone production, and regulating blood clotting. They are essential, i.e., your body cannot make them on its own. And they are hard to find in plant sources—plus the plant sources (flaxseed, nuts, and vegetable oils) don't convert well in the body. The solution? Eat eggs labeled as high in omega-3 fats. Alternatively, you can take a fish- or algal-oil supplement.
Zinc: While zinc is commonly found in vegetarian-approved foods like grains, nuts/seeds, soy, and dairy, better sources include meat. Athletes may be prone to higher zinc losses from heavy workouts. To make zinc more bioavailable, soak beans, grains, and seeds before cooking.
Bioavailable protein: It may be tough to get enough protein with a heavy training load—plant sources can make you feel full from fiber before you meet your protein goals. Opt for a protein powder or eggs and dairy for efficient, complete sources. Whey is best if you're not vegan. Protein-powder plant blends (e.g., Gnarly Vegan, Huel, etc.) have a better amino-acid profile than a single source.
Creatine: Involved with energy metabolism, dietary creatine is found solely in meat. To increase muscle stores as a vegetarian or vegan, consider taking creatine monohydrate, three to five grams daily, especially during a strength- or power-training phase. (Creatine monohydrate is synthetic, so it's compatible with a vegetarian/vegan lifestyle.) If you have kidney disease, check with your doctor first.
Fiber: Since vegetarian diets usually have more fiber, it can take extra effort to eat enough calories to fuel your climbing, as fiber contributes to satiety. You may feel sluggish on the rock while your body digests all that roughage if you just loaded up with a high-fiber meal. To fuel your session sans bloat, opt for low-fiber carbs like pretzels, a white bagel, or some gummies.
Marisa Michael, MSc, RDN, CSSD, is a registered dietitian and board-certified specialist in sports dietetics. She is on the USA Climbing Medical Committee and is the author of Nutrition for Climbers.