Gym Bouldering Grades Vs. Outdoor Grades: 11 Reasons Why Outdoor Climbing Feels Hard
So how does that pink V5 in the gym's corner stack up against outdoor boulders?
Heading out the door? Read this article on the new Outside+ app available now on iOS devices for members! Download the app.
One of my first times going bouldering outside, I thought I was hot stuff. I was finally doing V7s and V8s in my gym, so I was gonna crush on real rock, right?
I spent 45 minutes (and all of my energy) projecting a V3 in Horse Pens 40. It was Bumboy, a low-angle boulder composed of pillowy slopers stacked up like cotton balls. Nearing the top, I dragged my body over the sloping lip, praying to God that I didn't slip while I sucked for air. Likely, it was the most pathetic beached-whale topout known to humankind.
My lesson: outdoor bouldering grades may feel harder than those in the gym. As I continued climbing (Hey! It's been 10-plus years since that humiliating ascent), I've confirmed that rule to be generally true across the board. Gym setters curate beginner-friendly environments; they want you to feel like it's easy to progress. Unfortunately, mother nature may be less inviting.
Don't take it personally, but your first time bouldering outside may just kick you the ass. But if you go out with appropriate expectations, you will set yourself up for success. See the chart below for an illustrated comparison of indoor vs. outdoor grades. Also below, find 11 tips for better understanding how indoor vs. outdoor bouldering grades stack up, and for planning your first outdoor bouldering excursion.
Gym to Outdoor Bouldering Grade Conversion Chart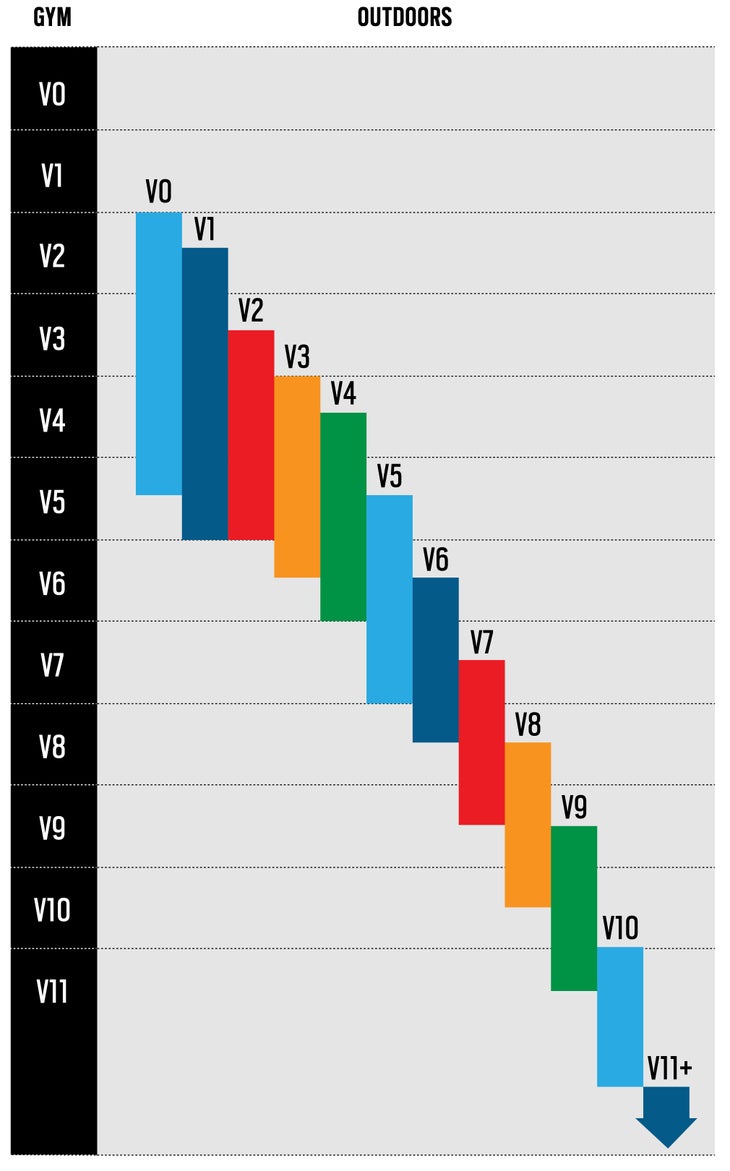 Low-end Bouldering Grades
V0
There are basically no gym-level V0s outside. Demarcated outdoor V0s are more akin to your average gym V2, but that doesn't mean that you can't find easy lines. Try looking for downclimbs or traverses. If V0 is where you're at, don't be discouraged, but know you may have to go outside of the guidebook to find something fun.
V1 – V6
As you might have guessed from the above, outdoor V1s and V2s often feel more like gym V3s and V4s. Part of the challenge, here, may lie in your route reading skills. Unlike your curated gym boulders, those outside are not tagged with neon colors.  If climbing V2s indoors is your jam, then you must climb the outdoor versions perfectly, with exactly the intended beta. Try bringing a buddy with whom to share sequences!
Middle to Upper Bouldering Grades
V7 & Above
From V7ish and up, the grades may start to feel closer to what you're used to. This is especially true if you've already spent a session or two outside working your way up through the lower grades and getting used to the rock… And that brings us to tip #4.
Rock Type and Style
Rock Texture
Rock type matters. The rock that is most similar to gym climbing is limestone. Limestone is highly featured, offering you the highest number of feet and handhold options, and as such, limestone boulders may feel more similar in difficulty to those of your gym. Granite is usually crimpy, sometimes slopey, with bad feet—and is highly friction-dependent. Typically, there are less secondary feet and intermediary options. The same could be said with sandstone, although it depends on the area. Granite (and sometimes sandstone) will feel even more different than limestone, when compared to gym climbing, and as such, harder. The more you climb outside, the more you'll get used to each rock type, understanding the type of feet you can trust, how to smear on the rock, and even what your preferences are. You may find climbing on granite to be more fun because it often involves precision and power. Or perhaps you'll prefer the tufa features that can be found on limestone. In any case, climbing on real rock involves a learning curve, which in part explains the increase in difficulty.  
Climbing Style
If your preferred style of gym climbing is run-and-jump parkour-esque triple-dyno boulders, you may have a hard time transitioning to the outdoors. All other styles may be found on real rock with a bit more ease. Just as in gym climbing, the style of the boulder compared to your preferred style will impact how hard it feels. If you like crimps, and you're working a crimpy V7 at Horse Pens 40, it may actually feel like V7. But if you like crimps and then you try Bumboy, it may feel like the hardest boulder you've ever tried.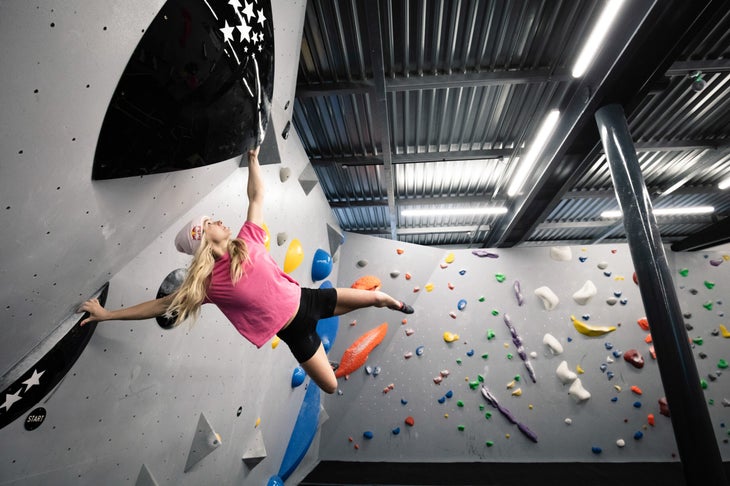 Other Factors
Climbing Shoes
Reevaluate your shoes. The best gym shoes are typically on the softer side, as they allow for volume hopping, and they're comfortable. For climbing outside, you may want something a little (or a lot) stiffer, depending on the rock type and style. For granite and even sandstone climbing, you'll generally want fairly stiff shoes, since the foothoods and crystals that you'll want to stand on can be much smaller than what you'll find in a gym. For limestone or steep sandstone, you may be able to get away with your gym pair, especially if you're climbing on a steeper wall. If you're in the wrong type of shoes for the climbing surface, the grade will feel inflated.
Real Rock is Sharper Than Plastic
Warning: real rock may cause flappers, bruises, cuts, blood blisters, and splits—despite your hard-earned, gym calluses. Rock usually has more texture than plastic, and the shapes of the holds will be different, forcing your fingers into uneven positions and causing undue pressure on parts of your fingers in novel ways. The result may be skin damage. Because some outdoor boulders are friction-dependent, a slopey, compression-style V5 may feel easy to you one day, with good skin, and completely impossible once you've lost a layer. Keep this in mind as you project. In the gym, maybe you're used to putting in a dozen or so laps on your proj before it starts to feel out of range. Your first few trips outdoors, you may only get half the number of solid attempts before your skin falls apart. Keep the faith. As long as you're consistent, your skin will adjust, and your outdoor projecting process will start to feel more comparable to your indoor processes. (Another tip: resting longer between attempts will cool your skin down, making it less likely to tear on your next attempt.)
Weather Considerations
You might have noticed, but the great outdoors aren't always 68 degrees and low humidity. Much like your skin, conditions can have a big impact on how hard or easy a boulder feels. Depending on the style, an outdoor V3 may feel more akin to an indoor V7, if you try it on a hot, humid day. It's important to be realistic about the effect weather has on rock. While the weather may be bad and you want to go climbing anyways (and you should!), don't beat yourself up if you underperform. Since weather is out of your control, it's best to acknowledge but not stress over it.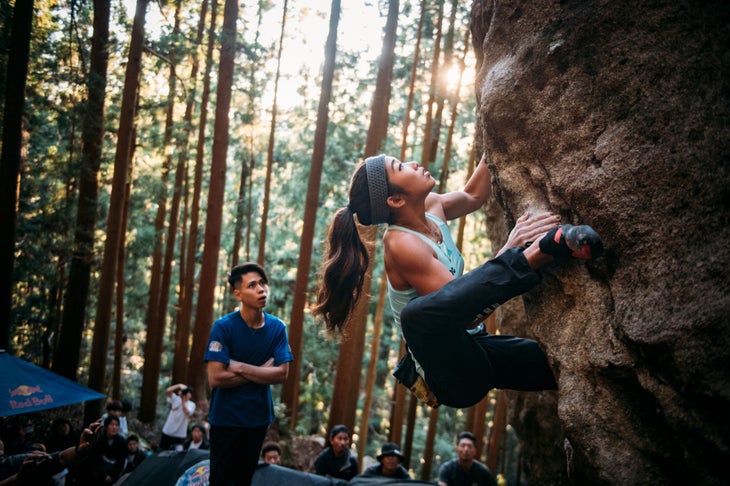 Adding in the Approach
The approach will also impact the grade. Unlike the pink boulder in the corner in the gym, your outdoor proj may require a bit of a hike. If you're not used to hiking with a pad (or three), you should expect to be knocked down a peg or two while your body (i.e. your core) adjusts. The longer and steeper the approach is, the harder the boulder will feel upon arrival. Much like the above prescribed tactics for helping your skin adjust, be kind to yourself and be patient. Your hiking legs will develop with time, and the approach will no longer be the limiting factor.
Fear Factor
Fear can also inflate outdoor grades. If the landing zone is sketchy, it may cause a problem to feel much harder than it actually is. If you're nervous about falling, be sure to bring a friend who can help carry in pads and lend a spot. Fear is a natural part of climbing—everyone gets scared. Mitigate risk by practicing your falls in a safe environment, such as the gym, before venturing to boulders with uneven landing zones. 
Check Your Ego
Lastly, your ego can cause grade inflation. No matter how good you get in the gym, there will always be "easy" outdoor boulders that remind you climbing is hard. Don't let your ego be the reason you have a bad day.