Bouldering Skills: The Art of Spotting
Don't just stand there—spot!
Heading out the door? Read this article on the new Outside+ app available now on iOS devices for members! Download the app.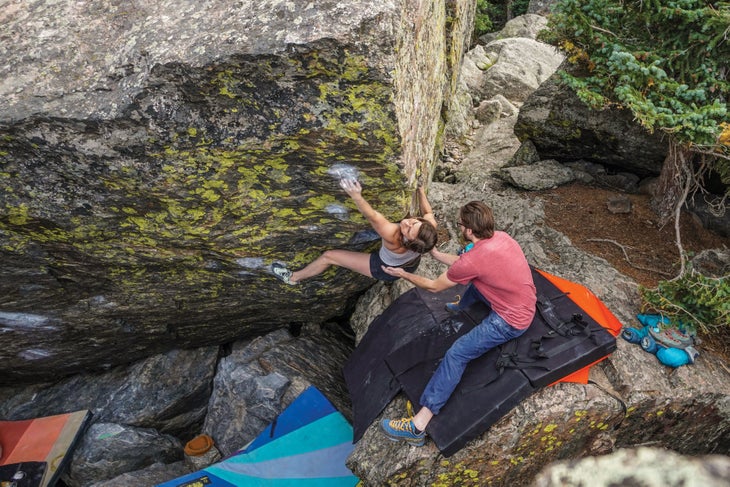 Spotting is an art. Just ask avid boulderers Keenan Takahashi and Eric Bissell, with whom I chatted about the fundamentals of spotting and the nuances that separate great spotters from the merely OK. Both have years of experience putting up problems. Takahashi has notable highball first ascents to his name, including Hokusai's Wave (V12) in Roy, New Mexico, and Terminus (V12) in Bishop. Bissell also has also established many double-digit problems, including Kodama (V11) in Squamish and The Ballerina (V11) in Yosemite. These impressive ascents come with a supportive partnership that reinforces the classic quote by John Sherman: "Spotting is not a chore; it's a sacred trust."
Build Your Foundation
If you're going to spot properly, be prepared for your climber to fall, hard, practically on top of you. "Remember the whole 'trust fall' thing you do when growing up? A half-assed spot is kind of like that, except the person just totally bails on you. Lame," says Takahashi. "It gives you the false impression that you're safe, and then you're suddenly flat on your back with the wind knocked out of you." You need to try, which means being unfailingly attentive.
Communication
Before the climber steps off the ground, discuss pad movements and problem areas to make both spotter and climber more comfortable. As a spotter, ask about potential cruxes and try to predict where your climber may fall. Also, spotters are there for moral support, and often having a group of people yelling encouragement will help you hang on longer.
Pad placement and adjustment
One of a spotter's biggest jobs is helping set up the pads correctly and rearranging them between attempts, to help avoid those all-too-common but also easily preventable ankle and lower-leg injuries that often occur from boulderers landing in the "correct" zone but on an uneven surface or gap in the pads. Since pads shift after every fall, both spotter and climber should dialogue to ensure the pads are in the right spot, and adjust if need be.
Problem-solve on the fly
Especially on traverses or highballs, the spotter should shuffle the pads to ensure optimal placement, as well as be flexible about where he stands. Communicate with your climber as you rearrange the pads, so she's aware and you don't end up in the landing zone. Bissell offers a few tips:
Keep your scene clean—when you're shuffling pads, have the rest of your kit (backpacks, lunch, shoes, etc.) tidy and out of the way to avoid getting the pads stuck on objects.
Grab pads by the corners to drag them—make sure straps are tightened down or tucked away, as they often get stuck on roots and rocks.
Avoid throwing pads haphazardly while the climber is climbing—visualize or even practice moving the pads before she starts up. Similarly, pay attention to which pads can stay "fixed"—e.g., a small pad at the starting moves—and which will be "mobile."
Refine Your Spot
Body position
The standard body position is an offset stance, with one foot in front of the other and slightly bent knees (aka an "athletic stance"). This stance helps absorb shock, as the climber's momentum will push you backward, letting your knees take the load. Also, make sure you know what's behind you (e.g., rocks, stumps) so you can maintain stable footing.
Forks vs. spoons
In terms of hands, it's best to keep your thumbs in—spoons, not forks. This way, your digits won't get snapped back when your climber crashes down. Also, keep your arms slightly bent, in a subtle hug-like configuration, in anticipation of catching a fall. You'll often grab the boulderer around his center of gravity (hips or slightly above) and guide him to the ground, keeping his head, neck, and spine protected and upright.
Blackbelt-Level Spotting
Now that we've covered the fundamentals, here are some advanced,
situation-based techniques:
The falling giant
What do you do if the climber is larger than you? Says Takahashi, "The best way to slow someone bigger than you or taking a big fall is to double-palm their butt." It's better to get over the social discomfort of this hands-on spot than blow it and cause your climber to get hurt.
The pixie catch
If the climber is smaller than you, then catch the climber's waist as she comes off to slow her down and place her gently on the pads. This technique takes practice, as well as familiarity with the fall trajectory.
The tackle
In some instances, you may be trying to direct your climber away from boulders or other objects on the ground. Here, you can try to push the climber forward or even sideways onto the pads. Again, go for the butt-shove and the waist to slow the fall after you have redirected the climber toward the pads.
The cave catch
With overhanging problems, the climber can come off in unanticipated ways. Providing a good spot means having your hands under the armpits, rather than near the hips. Spotting the climber above the center of gravity helps him land on his feet or legs, rather than tipping backward. Get underneath the climber, even if that means crouching uncomfortably, to provide an adequate spot.
The group catch
When there are multiple spotters, it's important to communicate and make sure everyone is aware of their role. "In big groups and with lots of pads, as is often the case with highballs, it can help for someone to step up and take a leadership role. If I'm working on a tall problem, I'll take the lead on making sure the pads are set up how I want them," Bissell explains. With one person coordinating, the other spotters can work to cover different areas of the landing zone. And with particularly poor landing zones, sometimes the spotter needs a spotter, to make sure he has stable footing and can provide a good catch.
Highballs
According to Bissell, with these big problems—typically 15 feet and higher—the spotter must "be prepared to absorb a substantial amount of energy." You're not there to catch the fall necessarily, but to dampen it. Above 20 feet, spotters can still be useful, but their job will now be to focus on providing moral support and protecting the climber from serious injury—essentially, making sure the climber lands upright. Spotters are also there to provide a secondary spot to stop the climber from rolling or bouncing off the pads after impact. The spotter should also make sure she's far enough back that the climber won't fall out behind her.
Power-spots
Another specialty technique is the power-spot, in which the spotter takes weight (usually 5 to 10 pounds) off the climber so she can work crux moves, getting a feel for what it's like to generate off holds she's having trouble using. To provide a good power-spot, push on the back of your climber's hips to move his center of gravity toward the rock. Again, communication is important, as an unsolicited power-spot can be an uncomfortable experience for all parties involved! As Takahashi also notes, "The pushing motion helps balance out your pulling muscles—just tell yourself it's cross-training!"
Protect Your Neck (and Head)
Most bouldering injuries are rolled or broken ankles. However, injuries to the head and neck can also occur—and can be devastating. Some pointers:
Your No. 1 job is to keep your climber upright, to protect her head and neck. Never lose sight of this!
You never know what can happen—the climber could dry-fire, break a hold, or just freak out and bail—so stay on her until she's topped out.
Keep hold of the climber after she's landed to keep her from bouncing or falling over onto any hazards.
Cover boulders and other hazards on the ground with pads, jackets, etc.—get creative!
If your climber falls headlong toward an obstacle, push her toward the center of the pads, even if it means her risking a lower-body injury.
As the climber, consider wearing a helmet when highballing.
Yosemite-based Jane Jackson mainly draws inspiration from the Valley's larger features, though she aspires to be a better boulderer. When not in Yosemite, she can be found at other climbing areas, probably talking about Yosemite.