Climb Better Instantly With These Tips from Ethan Pringle
Once the training and physical preparation are done, and we're at the crag in front of our objective, sending just isn't about strength. We have to cultivate a presence of mind, relax into our bodies, and climb at our peak of performance. All of which requires... breath.
---
Join Climbing
Create a personalized feed and bookmark your favorites.
Join Climbing
Create a personalized feed and bookmark your favorites.
Join for free
Heading out the door? Read this article on the new Outside+ app available now on iOS devices for members! Download the app.
A few years ago at the Cathedral, a giant limestone cave in southern Utah, I climbed into a huge hole halfway up the ultra-classic 5.14b Golden for a Moment. It was my third time on the route, and I knew I was capable of a send. Then the photographers hanging on fixed lines above told me they needed some time to get in position—the delay added to the send-pressure I already felt. I took off my shoes, straightened my posture, and started taking slow, intentional breaths. Each breath was a little deeper than the last. It took some effort, but eventually I took the deepest, most satisfying breath I could possibly take, filling the lowest chambers of my lungs. Then I took another, and another. After 10 minutes of doing nothing but intentional breathing, I booted back up and set off, feeling relaxed and focused. Golden for a Moment felt easier and less stressful than 5.14 has ever felt. It was the most concrete example I'd experienced of the positive impacts of deep, intentional breathing.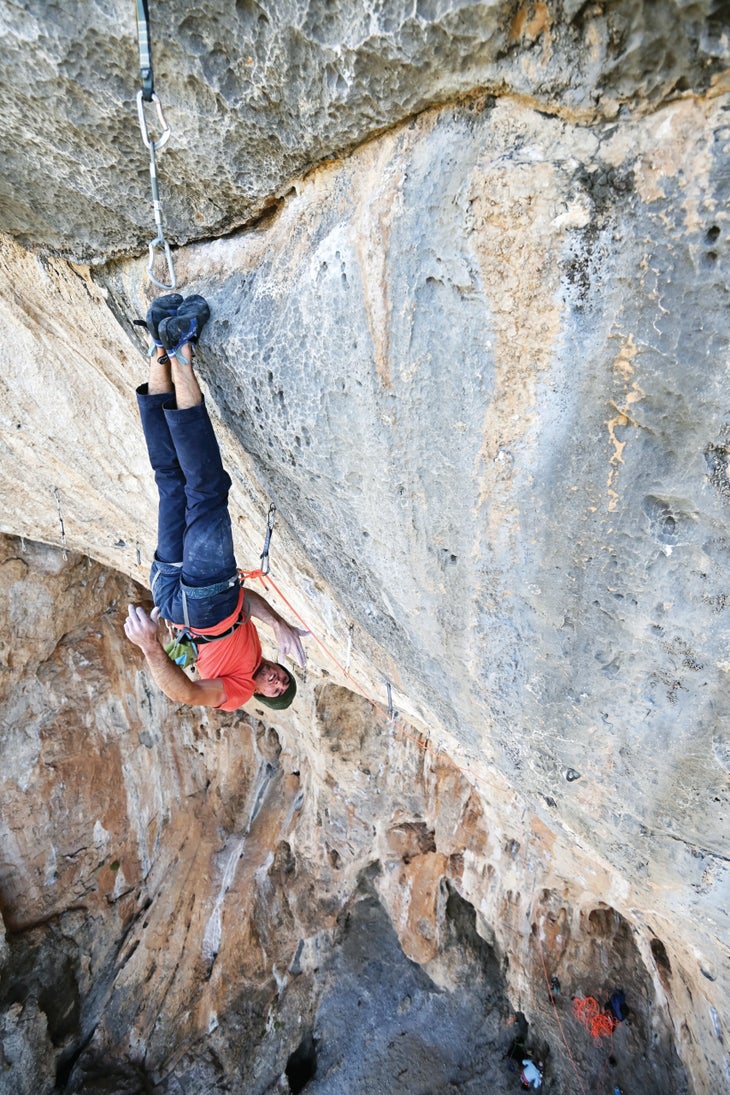 Breathing is not just a primary function of the body; it's also the foundation for focus, relaxation, and concentration. Let me explain: Our breath is tied directly to our autonomic nervous system—both to the activating "fight, flight, or freeze" response of the sympathetic nervous system (i.e., the gas pedal) and to the calming "rest and digest" response of the parasympathetic nervous system (i.e., the brakes). Ideally, we're activating the latter, to calm ourselves down below the cliff. And we use the breath to control this. 
When we look up at a climb that will demand our best effort, oftentimes our sympathetic nervous system is activated. This happens because there is an element of perceived danger, either to our physical safety (falling) or to our ego (failing). The neurotransmitters cortisol, adrenaline, and noradrenaline are then released, our heart rate jacks way up, and our breath becomes shallow and high in our chest—it will feel caught. We approach the wall feeling nervous, small, and protected, or aggressive and ready to defend our honor. In this state, our bodies are riddled with tension—but it's nervous tension, not exactly the focused body tension we need to send our hardest.  
But what if, when we first notice that activation, we stop for a breath or two. We close our eyes, let our shoulders slump, and with a slow, measured exhale activate our parasympathetic nervous system. The same fears that arose before might still be there, but now we're able to bring logic back into the equation.: "I'm going to try my best, and that's all I can do." "I'm brave just for showing up." "The topout is hard, but I have more than enough pads." "What can I learn from this climb?" "What if I can actually DO this?""
Over my 25-year climbing career, I've observed the effect my breath has had on my climbing, and vice versa. For the first 15 years that I climbed, I was aware of my breath while on the wall, but its changes in cadence were more involuntary: a reaction to my level of exertion. After a while, I began to experiment with using breath in a more proactive way. I found that, if I could breathe with intention long enough to take my deepest, fullest inhale on the ground, I would be better able to breathe deeper and more consistently while climbing, and, as such, I'd always climb better. I realized that climbing isn't just a sprint up the wall, but is more like vertical yoga, in which you're using the breath to harness and direct your energy even when your body is bent into one uncomfortable position after another. 
Once the training and physical preparation are done, and we're at the crag in front of our objective, intentional breathing is the best tool we have to cultivate a presence of mind, to relax into our bodies, and to climb at our peak of performance on a given day. If you're sending something without intentional breathing, it's not near your limit.
Intentional Breathing 101
You've arrived at the cliff. After warming up, you're ready to get on the proj. Before tying in, give yourself 10 minutes to breathe intentionally. Here are tips to get you started.
Start slow—like, really slow. If your breath feels caught or shallow—like you can't take that deepest breath right away—Don't worry. It can take a few minutes to get there.
In through the nose, out through the mouth. Start with a long exhale. Pause. Then a short inhale (you can build to longer, deeper inhales with every breath). Then repeat. Squeeze your core for the exhales, and focus on expelling all the air from your lungs. On each inhale, let your core relax, but try to maintain good posture as you deepen the breath into your belly and below your rib cage. As you breathe, notice where you're holding tension, and allow your muscles to slacken (for more on "creating slack," listen to episode 93 of the Nugget Climbing Podcast, with Tom Herbert).
The longer the better. Sometimes, our fight-or-flight response might be amplified when we first start breathing, because the breathing itself might feel like a performance that you can "fail" at. You might have to get over that initial spike in heart rate before you start to feel relaxed again. Don't worry, you will! It may take effort, but eventually your breathing will deepen and slow, and your body will relax.
Any intentional breathing is better than none. If you don't have the time to breathe for 10 minutes before every attempt, just take three to five slow, intentional breaths with your eyes closed before pulling on.
Take a mindful approach. Let whatever thought or fear arise and simply notice it, without judgment.
Make some noise. Don't be afraid to put effort into your breath to deepen it. Once you're on the wall and the breath is firing, exhale audibly. It doesn't count unless I can hear you!
Ethan Pringle is a professional climber, best known for doing the second ascent of Jumbo Love, 5.15b, in May 2015.