Hungry? Broke? Try This Dirtbag Dinner
An easy and nutrient-rich meal for effective recovery
Photo: Mixetto / Getty Images
Heading out the door? Read this article on the new Outside+ app available now on iOS devices for members! Download the app.

This story originally appeared in the December 2015 issue of our print edition.
Clipping the chains on your last route of the day causes a Pavlovian response—it's time to stuff your face! And dinner needs to be hearty, healthy, and easy enough to make with a beer in hand. What your grandpa might have called the "hobo dinner" is a perfect match. Add the protein of your choice to rebuild destroyed muscles, vital nutrients from veggies to keep all your systems working properly, and starchy potatoes to refill your empty carb stores and promote faster recovery. Best of all, it's filling without breaking your budget, and it's completely customizable to your palate. Wrapping everything in tin foil and throwing it on the coals of the fire is the standard preparation method, but you can easily make this in a cast-iron skillet or Dutch oven over the fire, or a regular frying pan over your canister or gas stove. Yet another bonus: Any leftovers pair deliciously with eggs, tortillas, and hot sauce in the morning to make a bomber breakfast burrito that will fuel you for another day of crushing.
Ingredients
3 to 4 red potatoes, chopped
2 large carrots
2 yellow squash, sliced
2 tablespoons olive oil
1 medium onion
2 large chicken breasts
Salt, pepper, oregano, and seasonings of your choice
Directions
Chop potatoes, carrots, squash, and onions into desired size.
Mix everything with oil and seasonings and tear off two large sheets of tin foil, at least 11" by 17".
Divide mixture in half and put each in the middle of a piece of tin foil.
Add the chicken on top and sprinkle more oil or seasonings if you'd like.
Wrap everything into a tight, sealed package.
Pull some hot coals slightly off to the side of the main fire and place the packages on the coals.
Cook about 25 to 30 minutes, moving and flipping each package every seven minutes or so. After about 30 minutes, check to see if it's ready. If not, reseal and let cook another five minutes. Repeat until the chicken is cooked through and potatoes are soft.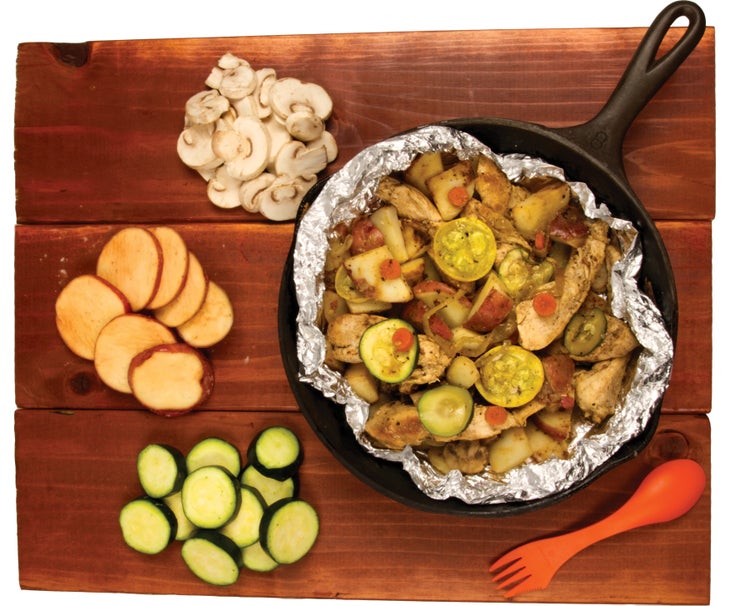 Tips
Place the mixture in the tin foil and fold the sheet length-wise. Fold the top down a few times, then fold up the ends.
Divide into three or more pouches for faster cooking.
Substitute chicken with ground beef or sliced steak if you prefer red meat.
Use bone-in chicken with the skin on for more flavor.
Throw any leftover veggies you have into this mixture: mushrooms, zucchini, bell peppers, leafy greens, etc.
Try boiling the potatoes for about 10 minutes beforehand to pre-cook them.
Nutrition Facts (per serving, 1/2 total)
Energy: 697 cal • Fat: 24g • Protein: 76g • Carbs: 46g
This article is free. Sign up with a Climbing membership, now just $2 a month for a limited time, and you get unlimited access to thousands of stories and articles by world-class authors on climbing.com plus a print subscription to Climbing and our annual coffee-table edition of Ascent.  Please join the Climbing team today.