The (Sometimes) Necessary Art of Climbing Choss
Eight tips for climbing safely in loose terrain.
Heading out the door? Read this article on the new Outside+ app available now on iOS devices for members! Download the app.
Though there are a twisted few choss-lovers out there, most climbers actively avoid loose and friable rock. However, you needn't be climbing in the Dolomites or the Black Canyon (where if you don't like a hold you can toss it over your shoulder) to encounter death blocks and friable feet. Bad rock is a fact of life, and even easy trade routes like Eldorado Canyon's Calypso can have flexy flakes or large "time-bomb" blocks on them. Whether you climb trad routes or big walls, sport climbs or boulders, there's almost definitely a chossy hold somewhere with your name on it. These tips will help ensure that that manky death block has got the spelling wrong.
1. Inspect your holds.
If you think you're entering a chossy section on your route, carefully inspect each hold before you touch it. Are there fracture lines around the hold or is it securely wedged? Test the hold by gently tapping on it with the palm of your hand. If it sounds hollow or vibrates, look for an alternative sequence or prepare to tread lightly. Remember two things: (1) A chalked hold is not necessarily a solid hold! (2) Not all loose blocks have X's on them.
2. Look for an alternative sequence.
When you do confirm a section of loose or blocky rock, step one is look for ways to climb around it. Bad rock is often found in the nebulous, moderate terrain on multi-pitch routes, where thoughtful route-finding will get you past chossy sections in relative safety. Be careful, however, to inspect your alternative routes; sometimes going off route will bring you into contact with even more loose rock than the loose section you were trying to avoid. Sometimes staying safe on moderate terrain may involve making that moderate terrain slightly more difficult, utilizing smaller or slopier holds rather than more friable jugs.
3. Be delicate.
Imagine how the vectors of the various forces you're applying to the hold will affect it. Never pull directly out or towards yourself with a suspect hold—this could lever it right off the wall! Generally, you're best off pulling straight down, moving as fluidly as possible and keeping your weight over your feet.
4. Tread selectively.
One of the most important (and challenging) parts of navigating choss is remembering that most of the holds you don't trust for your hands ought not to be trusted as footholds. When you're climbing on easier terrain, you're actually putting far more weight on your feet than your hands. Make sure, therefore, to keep track of friable holds as you move above them. And as you're climbing, be sure to make note of which feet look solid and which don't.
Massive Rockslide Destroys Classic Boulders in Rocky Mountain National Park
5. Adjust your climbing style.
Choss climbing sometimes requires a reversion to the antique "three points of contact" rule, meaning that you've got two hands and one foot one the wall whenever you move a hand, and vice versa for any foot movement. It's a "rule" that doesn't work super well on steeper terrain, and gym climbers may take some getting used to climbing this way, but it allows you to distribute your body weight so that if a hold breaks you can recover your balance in time to avoid a fall. If you do yard (or kick) a hold off, be sure to yell "Rock!" as loudly as you can, giving your belayer (or anyone else below you) at least a minimum of warning. You should also plan for loose pitches by stationing your belay, and your belayer, out of the line of fire when possible.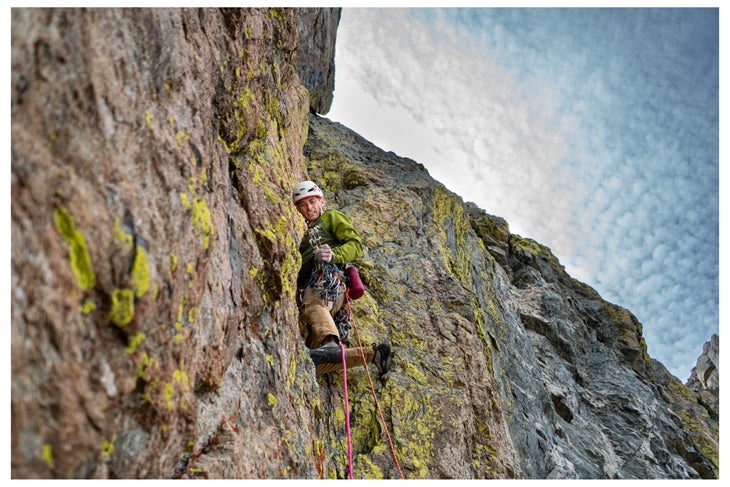 6. To pro or not to pro?
Unfortunately, there's no pat answer when it comes to protecting loose rock. The psychological security afforded by a piece, however crappy it may be, may not offset the danger of falling alongside whatever jagged block that your pro just levered out. Though cams often provide more security than passive pro, when moving through rotten terrain it's often better to suck it up and skip the placement altogether. That said, loose rock by its very nature increases the chance that you'll take an unexpected fall, especially on easier terrain, so take advantage of good placements when you find them.
7. Know the season.
As the recent collapse of the south side of Hallets Peak in Rocky Mountain National Park just demonstrated, cliffs are at their most active during the spring—with its freeze-thaw cycles—and after spells of heavy rain. Hollow plates, loose blocks, and flexible flakes may be more unstable. Be extra "heads up" at these times. Also be aware of how well-trafficked your route has been recently; the longer climbs go between ascents, the more the effects of these seasonal changes accumulate on the rock (rather than being pulled off gradually).
8. Protect your noggin
Most important, there's no need to tempt fate by not wearing a helmet. With the new ultra-light models on the market, you'll almost forget you have it on your head.
70 Feet in 4 Hours: Utterly Sandbagged on North Wales Choss.