Three Unbelievable Stories Of VERY Close Calls … They Did Whaaaattt?
Climbing is dangerous even when you know what you are doing. It's outright deadly when you think you know what you're doing but don't have a clue.
Heading out the door? Read this article on the new Outside+ app available now on iOS devices for members! Download the app.
Our First Close Call Story
I had someone I met at the crag set up a toprope anchor for me, to save me a walk up the cliff. They set it back from the edge, so I couldn't visually inspect it, but I assumed it was fine. Our first climber fell several times before lowering from the top. I went second and (fortunately) didn't fall. As I said "take!" at the top, I noticed a burning smell. Before weighting the rope, I looked over the lip. My rope was threaded directly through a 25mm nylon sling, only it wasn't 25mm anymore. It had melted down to 2mm. If I'd weighted the rope I would've taken a 100-foot backward ground fall.—Stretch, via Climbing.com
LESSON: This is what can happen when you trust a random person to build your anchor. It's worth the peace of mind to do it yourself or send someone you know up there so you can be sure your anchor is safe. And if the rogue anchor builder is reading this: Nylon should never rub against nylon. While nylon has an incredibly high tensile strength, it will melt at about 470°F, a temperature easily reached from rope friction alone. Throw two locking carabiners between the rope and the webbing and you're good to go (assuming the anchor is otherwise bomber).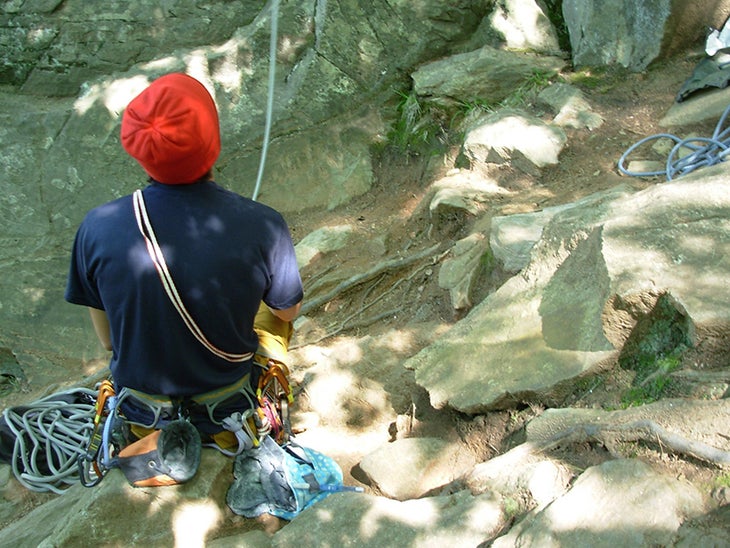 Second Close Call Story
I was at the top of a route, waiting for a woman to set up a rappel. She pulled up the rope, put the middle in her belay device, and tossed the ends. She was about to unclip from the anchor when I stopped her. She'd forgotten to put the rope through the anchor!—Zach Coburn, via Facebook
LESSON: Catastrophic mistakes like these can be avoided by simply testing your system while you're still in direct. The content director for this very website nearly died by making a similar mistake: he didn't clip to his rap device and stepped off the top of a 500-foot high tower. Angels (or maybe demons) caught him, but that's a story for another day ….
Every time you rappel, start by pulling yourself up tight on the rope and weighting it before you unclip yourself from the anchor.
Third Close Call Story
We passed a guy on the second pitch of his route solo lead belaying himself with a tube-style belay device. The rope just ran through the device, no belayer. He was free climbing from an anchor he'd built and was placing quite a bit of gear. He told us that he just had to grab the brake strand really quick if he fell. He proudly proclaimed that he'd caught himself this way before (and tore up his hands in the process). At the base, his friend, who was wearing a tree-climbing harness, explained that he would be belaying, but his shoulder was bothering him.—Jason, via Climbing.com
LESSON: This is so crazy that we're astonished he even caught one fall. Safe rope-soloing requires specific gear and confidence with fairly complicated systems. Seek proper instruction. Counting on yourself to catch the brake strand in mid-air during a fall is like waiting to put on your helmet until you see falling rock. Idiotic. Either the tree-climbing friend should suck it up and give him a belay, or he shouldn't climb at all. For a primer on solo toproping systems, check out Basic Self-Belay Techniques, but we still recommend that you go out with an experienced buddy or guide before going to solo by yourself.
Want more? Check out these stories of near misses.
What's Wrong With This Anchor?
This Guide Could Have Killed Them Both
Thought Home Depot Rope Was Fine For Climbing
Leader Decks When Experienced Climber Bungles the Belay
Saw Through Someone Else's Rope
Belayed With Hands Only—No Device!
Smoke Brick Weed and Go Climbing
Belay With a Knife In Your Hand
Don't Let a Clueless Dad Take a Kid Climbing