What Does the Data Say About Age and Climbing Performance?
As we age, does climbing hard go out the door? According to hard data, the answer is yes—and no.
---
Join Climbing
Create a personalized feed and bookmark your favorites.
Join Climbing
Create a personalized feed and bookmark your favorites.
Join for free
This article first appeared in Rock and Ice.
I've been climbing for about a decade, and I've now reached my early thirties. After a hard day, my muscles ache more than they used to, and it feels like they take longer to recover. Meanwhile, every so often a climbing website posts a story of some new climbing prodigy crushing 5.14s. Which makes me wonder: Are my best climbing days soon to be behind me? According to hard data, the answer is yes—and no. This article explains why.
Climbers have been logging their ascents at the website 8a.nu for almost 20 years now. As a result, we can now analyze the climbs of tens of thousands of people—hundreds of thousands of climbs in total. The data includes information on the date of the climb, the grade, the climbing area/route, and a variety of other notes on climbing style. The data trove also has information from some climbers on their birthdays, heights, etc.
Pulling all of this information together allowed me to analyze how climbers' performance (or at least the performance they reported!) evolved over time and varied for different ages. I found that if we climbed at our peak physiological limits, trained optimally and never got injured, our climbing performance should steadily decline from our mid-twenties onward.  No shock there.  But for the average, real-life climber, performance can stay remarkably consistent over long periods of time, and we can climb at near peak levels well into our forties.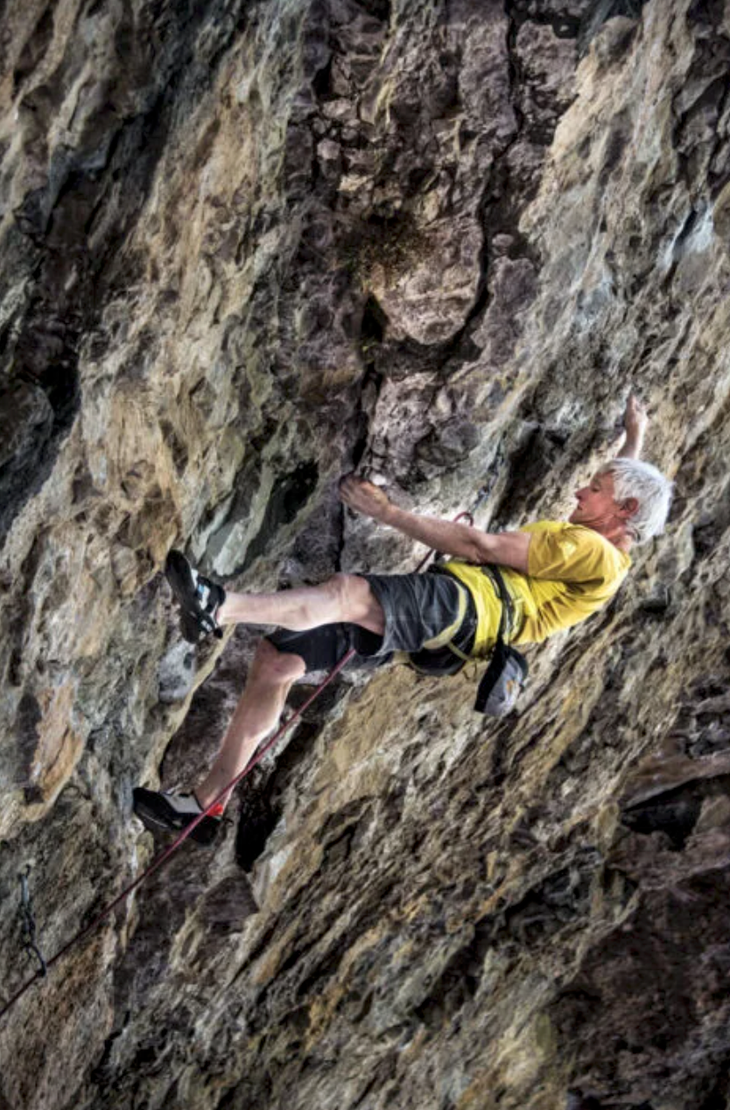 First, I wanted to understand what a climber could accomplish if everything went right—peak physical fitness, the best conditions. To do that, I identified the highest-difficulty climb completed by climbers of each age from 18 to 50 years old. (I only considered climbs that were both at major United States climbing areas and completed by climbers that appeared in the data for at least five years. This was my attempt to make the climbs more comparable.) The hardest climbs in the data fluctuated in difficulty between 5.14c and 5.15a from age 18 into the mid-30s, but the downtrend in difficultly could arguably start as early as the mid-twenties. Then the difficulties clearly dropped off between the mid-thirties through age 50. While I would certainly love to climb 5.13d at age 50, it appears that age does, in fact, take a toll on peak performance (surprise, surprise)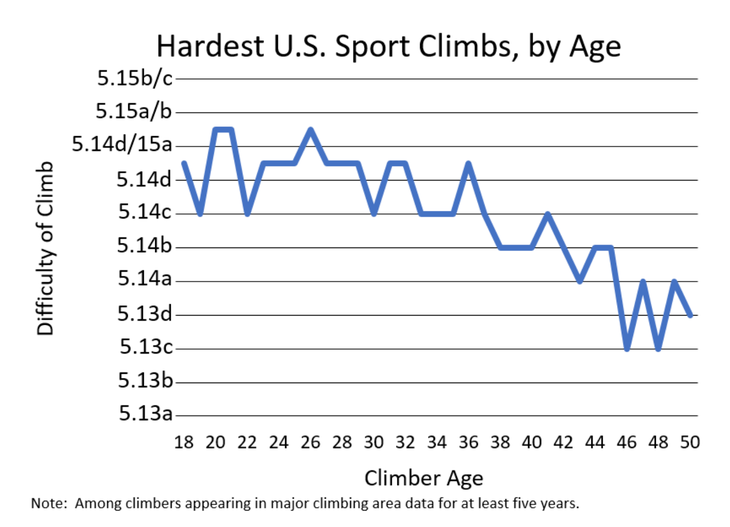 Though peak performance declined with age, the average climber's performance was much more consistent. To show this, I found the average difficulty climbed by people of every age. For example, I made a list of every person's hardest climb when they were age 24, and then I found the median difficulty across all of them. The average 18-year-old in the data climbed 5.12d to 5.13a, as did the average 50-year-old, as did almost every age in between! In other words, whether they were just starting college or breaching the half-century mark, on average they were climbing 5.12d to 5.13a.
Here's where I should throw in a few caveats. First, it is unlikely that most of the climbing world is climbing 5.12d. Otherwise, I'd see a lot more of them being climbed at the gym. But the set of people in the 8a.nu website data is into climbing enough to track their climbs online for the world to see. In other words, for the most part, they're probably pretty good. Thus, while I wanted to analyze the "average" climber, most climbers in the data were not very average. To fix this, I could restrict the data to only climbers that never reached advanced grades, but the amount of data available for these types of climbers is rather small.
Second, many climbers do not include their birthday in their profiles. These climbers are left out of the analysis completely. This includes some top-tier climbers like Chris Sharma (though he's a such a physical anomaly that he might throw my results off anyway!). Third, I can think of reasons unrelated to climbing ability as to why average difficulty in the database might not decline over time. For example, if you climbed 5.13a last year, would you bother entering the 5.12d you climbed this year? What if, in the following year, you only climbed 5.12a—would you enter that? Maybe, maybe not.
Finally, and probably most importantly, climbing grades are subjective. Grading varies across areas and across guidebooks. But at least these results give us a reason for hope that we can climb strong for many years.
After looking at climbers' median difficulty by age, I looked at specific climbers and tracked the change in their maximum grade climbed from one year to the next. The difference here is that instead of looking at difficulties across all climbers at a given age, I looked how specific individuals' performances changed over time. In this case, I found that the average individual showed year-to-year improvement in the grades they climbed between age 18 and their mid-twenties. However, consistent with my analysis of median climbing difficulty by age, I found that on average, individuals in their mid-twenties to individuals in their late-forties showed no change in the difficulty of their hardest climb between one year and the next.
Of course, just because your hardest-climbed grade didn't change from last year doesn't mean that your climbing ability never changed in your entire adult life. To examine changes in climbing ability over many years, I compiled, by age and individual, the hardest grades climbed for individuals with many years of U.S. climbs. I then fit a mathematical equation to the data to estimate the hardest climb for a typical climber in the data at every age level.
The model estimated that a person's hardest grade will gradually increase between the early 20's and the early 40's, on average. Climbing grade peaked in the model at age 42 before starting to decline thereafter. With all the prodigies featured in the climbing news, this peak of 42 years old was higher than I had expected. However, thinking about it more, 42 may be the sweet spot: the age where the climber has gained the most experience (i.e. climbing smart), but before the climber's maximum conceivable climbing grade has significantly declined.
So yes, my muscles ache, and I probably missed my chance to be the best climber I could have been. But hopefully my best climbing is still ahead. Either way, it should give us reason to believe that we all have decades of solid climbing in us.
---
Chris Ring has a Master's degree in Applied Economics from Johns Hopkins University. He is also your average weekend warrior, getting into the gym and out to real rock whenever he can. Chris thanks 8a.nu for nurturing the climbing community and providing a great source of data.