Used A Skinny Rope To Belay Kids—Bad Idea
Kids may be lighter than adults, but that doesn't mean you can skimp on safety thinking that your rig is "strong enough."
Heading out the door? Read this article on the new Outside+ app available now on iOS devices for members! Download the app.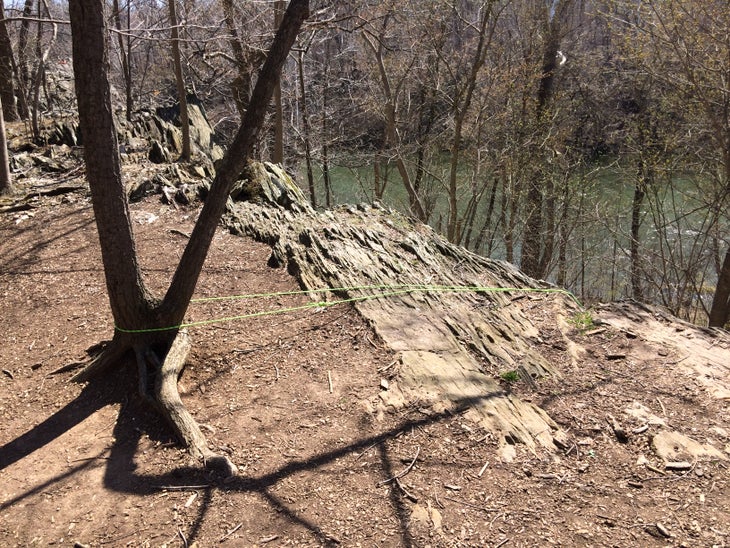 The rope in this photo is about 8mm and was used to belay children. Yes, the green cord is the climbing rope. There was no anchor. It ran from the belayer, up around the tree, then down to the climber.—John Gregory. See more bad climbing decisions at John's blog, Dumb Anchors
LESSON: As far as I know, there aren't any 8mm ropes on the market rated for use as a single rope. There are half and twin 8mm climbing ropes, and 8mm ropes made for rigging, but not for climbing on in a single strand. That means this little shoe string in the photo is either a half rope, a twin rope, or both (many ropes carry both certifications). Half and twin ropes are made to be used in pairs. When climbing on half ropes, each rope should be clipped to every other piece of protection. So half rope one would be clipped to quickdraws one, three, five, etc. And half rope two would be clipped to quickdraws two, four, six, etc. When climbing on twin ropes, both ropes should be clipped to each piece of gear. Right off the bat, this person is using their lifeline outside of the manufacturer's recommendation. That's not to say that it's a death sentence although stretch in a skinny rope like that would make it tough to keep a kid in position if they fell or sat on the rope. Alpinists will sometimes use a half rope as a single to save weight. But when an alpinist chooses to climb on one thin cord, it should be a calculated decision with the risks and benefits carefully measured. Something tells me that whoever set up the rope in the photo didn't do much thinking beyond, "Eh, it's fine. They're kids."
The issue here, and the biggest drawback to thin cords, is that they're not very durable. A thin line will be cut faster by a sharp edge because there is less rope to be cut. This toprope was not built with that fact in mind. The rope is running across all kinds of edges on that rock surface, and the brunt of the climber's weight will be focused on the section of rope running over the lip of the cliff. Even if nothing goes wrong, this anchorless style of toproping saws the tree bark and can kill the tree. The tree should be slung with slings and the rope clipped to the sling with locking carabiners, and the entire rig should be backed up to a secondary annchor.  All these problems could be avoided with a proper anchor made with static rope and extended over the edge of the cliff.
We want to hear your true but unbelievable tales of climbers being unsafe! Send your story, no more than 150 words to queries@climbing.com
Want more? Check out more installments in our ever-growing hall of shame: 
Lucky He Didn't Die. Lowered From a Toy Carabiner
Unfortunate Groundfall, Fortunate Landing
Leader Decks When Experienced Climber Bungles the Belay
Saw Through Someone Else's Rope
Belayed With Hands Only—No Device!
Smoke Brick Weed and Go Climbing
Belay With a Knife In Your Hand