Climbing Techniques: How to Flag
Improve balance and technique with this flagging primer
Heading out the door? Read this article on the new Outside+ app available now on iOS devices for members! Download the app.
The following article appeared in the February 2015 issue of our print edition.
Wouldn't it be nice if the crux on your project had a huge, sticky, perfectly formed foothold in just the right place? But then no climb would be harder than 5.8, and what's the fun in that? As you venture into the world of intermediate and advanced routes, you'll find yourself forced into some awkward body positions, whether it's because there is no hold to be found or because the movement is actually easier when you leave one foot off. A technique called flagging allows you to use that free-hanging foot as a counterbalance to make the next move, gain more reach, or prevent a barndoor swing. This move can be used on all angles and types of routes (except slabs, generally), and you'll find flagging makes you a smoother climber when it becomes a go-to move in your quiver of skills. Below we'll outline how to maximize this technique, including some authoritative tips from 5.14d climber Ben Spannuth.
Climb a Grade Harder
5.9 to 5.11: Professional climbing coach Justen "The Sensei" Sjong created this 9-week program designed especially for the 5.9 to 5.11 climber. Dedicate yourself to it, and you'll climb an entire grade harder. Learn more.

5.12 and Beyond: Get ready to climb 5.12 and beyond with pro coach Justen "the Sensei" Sjong and pro climber Nina Williams. To climb at your highest potential, you need a targeted plan with specific routines, and this 9-week training program will get you there. Learn more.
Flagging Basics
Flagging is specific to the location and quality of the holds, body position, and the direction of movement. Although these details will determine exactly how you flag, there's one general guideline: Picture a vertical line that runs through the center of your body, and the goal is to keep your weight balanced on both sides of that line. Having a right handhold and left foothold creates this balance, but imagine having a right hand and a right foot; once you begin to move upward, your left foot is going to swing out (aka barndoor), pulling you off. Flag that left foot behind your right (a rear flag) to move the weight to the right, more in line with your supporting foot and hand, keeping your body from swinging out by shifting your center of gravity. Flagging utilizes pure body positioning (instead of power, strength, or endurance) to statically make the next move, which improves your overall technique, reduces dynamic movement, and uses less energy on the wall. This means less throwing and stabbing at holds and more time simply stepping up and latching them. With both rear and side flags, keep your flagging leg as straight and engaged as possible—a loosely hanging limb can easily pull you out of position.
Rear Flag 
Common on overhanging terrain, the rear flag puts the free leg behind and almost perpendicular to the standing leg. It's used when you have holds on only one side of your body and you need to move the opposite direction. Let's say your left hand and left foot are on and you need to move right, a rear flag with the right foot behind and to the left will shift your center of gravity farther left, thus more in line with your supporting hand and foot. This body position is more stable, and it becomes easier to funnel upward power from your left foot into your hips (because they're closer to, instead of extended away from, your power-providing foot and leg), giving you a larger range of motion to latch a handhold when moving right.
Side Flag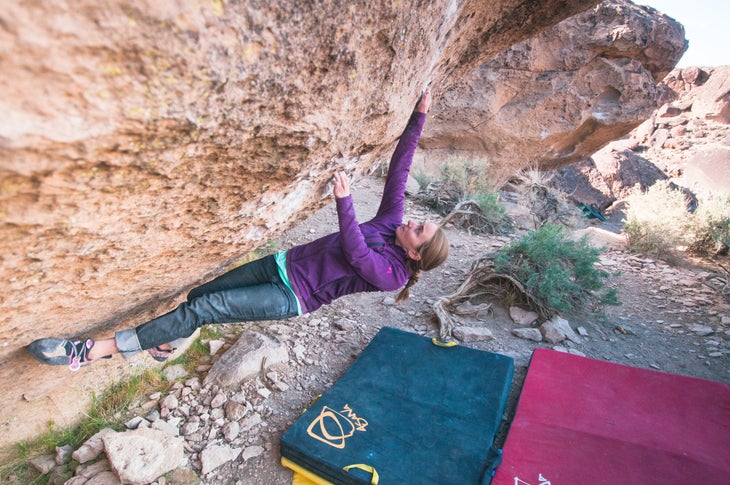 With your free leg out to its respective side (e.g., left leg will be out to the left), press against the wall with the instep of that foot. Instead of using an individual hold for the flagging foot, think of the whole wall as something to push against. The harder you press, the more leverage you will get to move upward, so keep that leg straight and really push with the foot. A common scenario for the side flag is left hand and right foot on two holds that are aligned somewhat vertically, right hip turned into the wall, and left foot flagging to the left side. Your supporting right foot will drive you up and right while the left leg maintains balance on the left side. If moving left, stand up on the right foot and twist your right hip into the wall; the flagging foot will keep your body from swinging out.
More Flagging Tips
With Ben Spannuth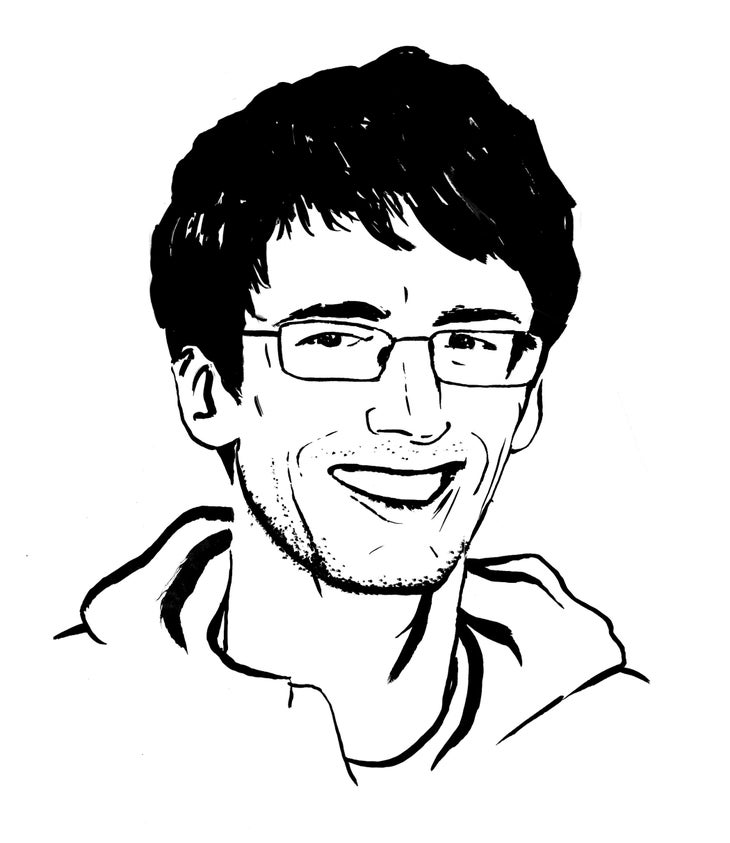 • In general, you will flag when you have good holds for only one side of the body, particularly when back-stepping isn't as efficient because the foothold is too high or too far from the back-stepping foot.
• Flagging is useful for all angles of climbing terrain, and it can feel super-balancey on more vertical angles, so it's important to keep your whole body flexed and tight. On steeper climbs, think about sinking deep into the flag by hanging low off the supporting hand and foot while really activating the flagging foot and keeping your butt, quads, hamstrings, calves, and feet engaged. This will help you maximize the position and even offer a quality rest if needed.
• Try to find a body position where you're minimizing the amount your body moves, meaning you can just reach up for a hold instead of jumping for it. Flagging will give you a wider range of motion when moving statically, so you won't have to move as dynamically. Settle into the position that's going to be the most efficient, meaning your legs will hold most of the weight but you can still reach the next hold. You can always shift more weight to your feet than you think. Part of this is trusting the one foot that's on fully, which will cause you to put more weight on the hold and allow you to sink deeper into the flagging position.
• Although rear flagging can put you in a seemingly strange body position, don't be afraid to fall awkwardly (more confidence equals a better flag!). Your limbs will naturally and safely untangle themselves if you do fall. Once you practice this a few times, you'll start to flag without even realizing it. Side and rear flags will become your body's natural reaction when trying to keep you balanced.