How to Improve Crimp Strength Without Getting Injured
Being able to hold and control crimps is one of the most useful skills you can have in your climbing arsenal. (From 2021)
---
Join Climbing
Create a personalized feed and bookmark your favorites.
Join Climbing
Create a personalized feed and bookmark your favorites.
Join for free
Heading out the door? Read this article on the new Outside+ app available now on iOS devices for members! Download the app.
Over the past 15 years, the 20 mm edge—3/4-inch, just less than one fingerpad wide for most people—has become the gold standard for finger training and finger-assessment testing. Mastering or working toward mastery of the 20mm—being able to deadhang or do a one-armed pullup on it—transfers to being able to hold and control smaller crimps and other varieties and sizes of holds as well, making it a universally useful training and sending benchmark. This has been supported by anecdotal evidence as well as research conducted by me and my team at KörperForce Human Performance and Beast Fingers Climbing.
UNDERSTANDING 100 PERCENT
As a climber, you already know how easy it is for a good crimp to suddenly become nearly impossible to control. Take the 20 mm edge on a 45-degree wall—while you're holding the edge, moving your feet up can make a crimp that once had to support only 30 percent bodyweight now need to support 85 percent. Now picture a deadpoint jump to and one-handed catch of the same crimp: This would be 100 percent bodyweight, and it's no small feat! Whether you're bench-pressing, deadlifting, or hanging a 20 mm edge, having the strength to work with 100 percent of your bodyweight doesn't just happen. Elite climbers we've tested averaged 120 to 130 percent on the 20 mm, climbing V15+! With patience and a regimented program, anyone can reach 100 percent or higher.
CASE STUDY: Jonathan Xumo's Three-Year Journey
Everyone has a unique starting point. Jonathan Xumo came to me in November 2018 with the goal of climbing V10. At the time, he had climbed for over 10 years and had sent V7 outdoors. He started training at 50 percent bodyweight on the 20 mm edge in late 2017, and then achieved 90 percent nearly 1.5 years into consistent conditioning. Finger strength is conserved over time, given there is continued stimulus: Throughout Xumo's progression, he maintained a steady rate of increase in finger strength of ~1.989 pounds/month. During the last three months of his nearly three-year journey, he was consistently reaching 100 percent on the 20 mm edge and had sent The Occultist (V10) in Connecticut, plus two V9s. His latest project is Krajo (V11) at the Gunks; as of press time, he was making all the moves and doing the problem in two parts.
WHY SO LONG? TENDONS AND ADAPTATION
Research from the University of London has shown that training at 70 to 80 percent of 1RM (1-rep max) elicits a significant increase in tendon force, torque transfer, and absolute strength.1 Tendons respond quickly to new weight stimulus, but they also take time to rebuild and adapt; in fact, they need to go through multiple rebuilding stages to accomodate new force loads.2 Collagen fibers provide tendons their mechanical durability and strength, and it takes no less than 30 days for collagen fibers to rebuild successfully. Heavy loads can interfere with this rebuilding time—increasing your injury risk and delaying your process.3 Hence, while the three years it took Xumo to reach 100 percent might seem like a long time, they actually represent a slow, safe, graduated approach. (Note: In more than one occurrence—including Xumo's—we've seen a consistent, two to three pounds per month progression on the 20 mm edge. There appear to be three modalities: 1. skin adaptions for higher pain tolerance, 2. increased muscle recruitment of the forearms, and 3. tendon-strength development.)
Tools needed: A 20 mm edge you can attach to weights (plate, dumbbells, kettlebells, etc.) to do one-armed lifts.
Training The One-Armed Lift On The 20 mm edge
Step

 

1: Always Use Good Form
The one-armed 20 mm lift uses deadlift form: Stand with your feet shoulder-width or wider (left photo). Using a straight back, engage your shoulders and lift with control through your legs and engaged arm, keeping your other arm behind you (middle photo); lower back to your starting position. While grip position may vary based on your goals, to protect against injury, train the half-crimp/semi-crimp position—without your thumb (right photo).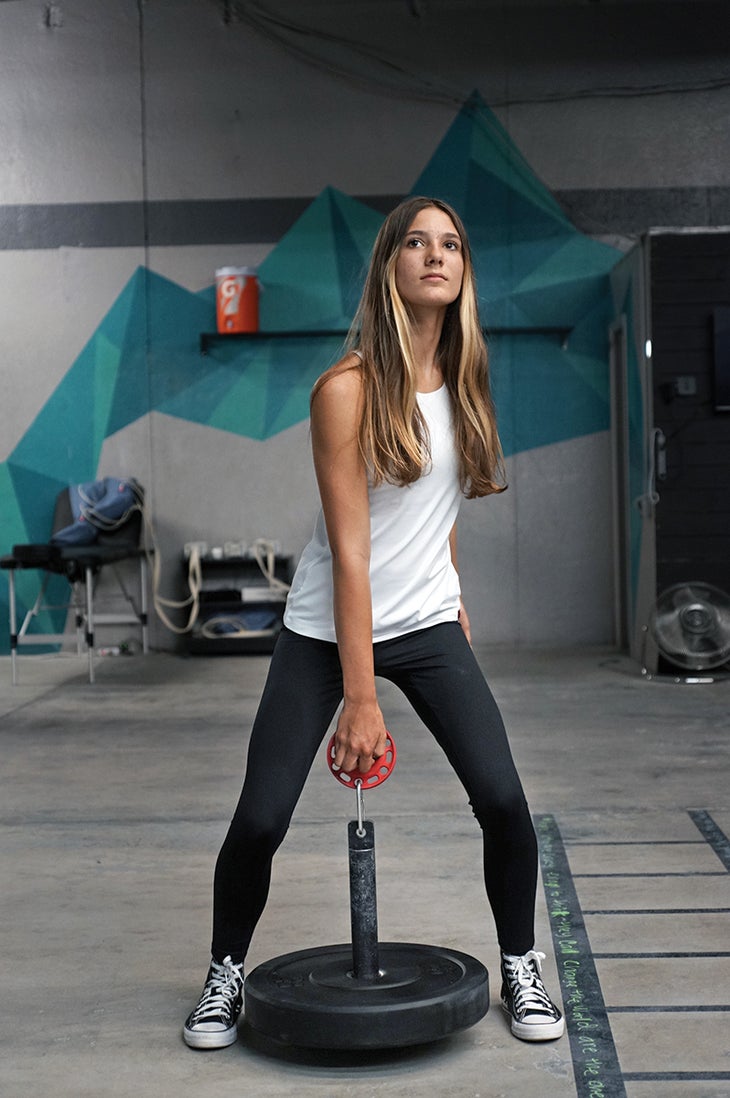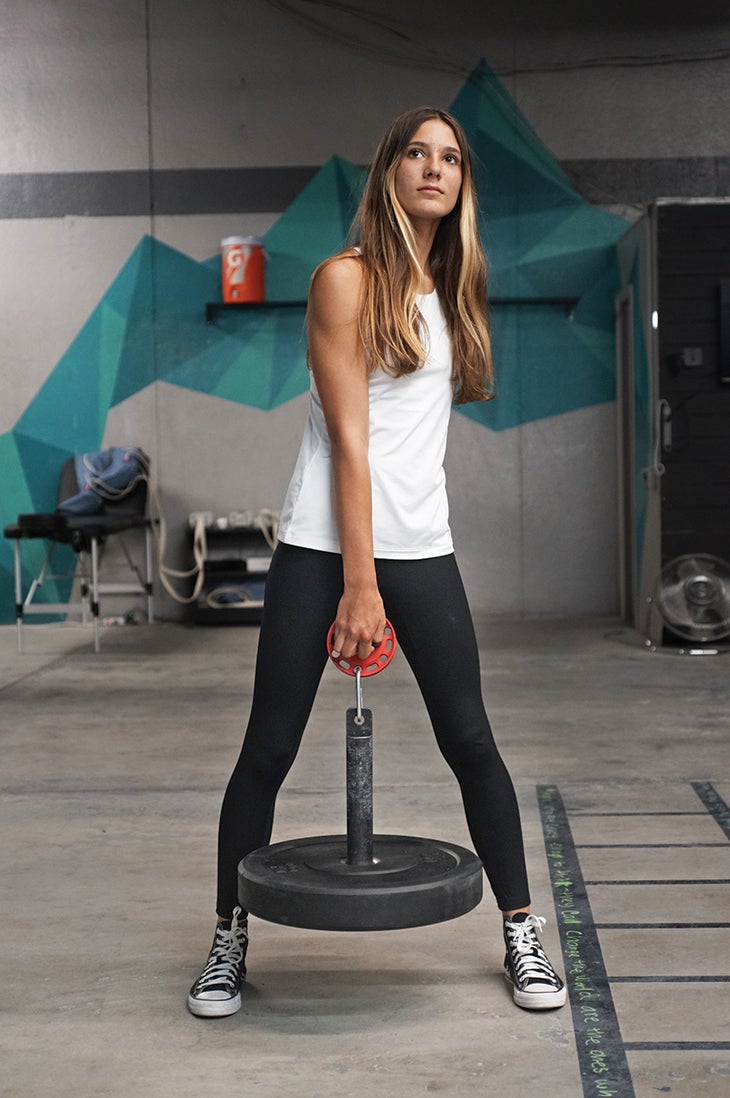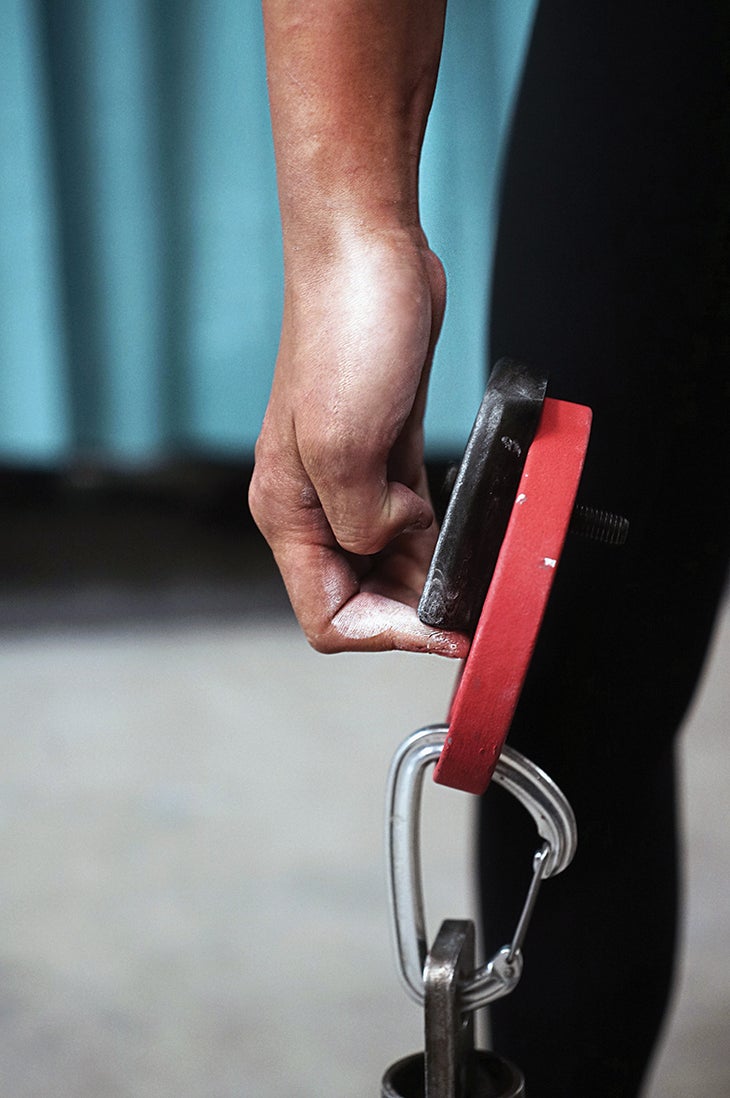 Step 2: Find Your Max
Now we'll find your starting point using the Rate of Perceived Effort (RPE) Scale, with 1-RPE being the easiest and 10-RPE being the hardest. First, warm up for 20 minutes with easy climbing at 3-RPE, and then take a 10- to 15-minute break. For the following tests, rest three to four minutes between sets; take as much rest as needed when attempting your 1RM.
•  10 reps light weight (typically 40–60 pounds) at 2-RPE
•  9 reps moderate weight at 4-RPE
•  8 reps moderately heavy weight at 6-RPE
•  6 reps with a heavy weight at 7-RPE
•  2 reps with a heavier weight at 9-RPE
•  1 rep with an increased heavier weight at 10-RPE (assuming form is OK)
Step 3: Calculate Your Training Weight
Your ideal training weight is 70 to 80 percent of your 1RM. For example, with a 1RM of 100 pounds on the 20 mm edge, your ideal range is 70–80 pounds.
Step 4: Workout Programming
Here's a simple weekly model:
Intensity: 70 to 80 percent
Workout: 3 sets of 7 lifts each
Frequency: 2–3 days a week
Re-test 1RM: Once a month or when recovered—gauge recovery via RPE. For example, if your workout weight was 70 pounds last week at 6-RPE, but is 55 pounds this week at 6-RPE, then dedicate more time to recovery.
Recovery
Step 1: Periodization
If you're looking for more-advanced programming, try periodization, a structured training program that increases or decreases in intensity to let your tendons rebuild and help prevent injury. Here's an example one-week microcycle:
Day 1: 3×10 at 6-RPE
Day 2: 4×4 at 9-RPE
Day 3: 5×3 at 4-RPE
Three to six microcycles typically comprise a mesocycle, which can be anywhere from two weeks to a few months, allowing you to safely integrate outdoor climbing days, max-hang days, and rest weeks. Finally, multiple mesocycles comprise a yearly macrocycle.
Step 2: Ice and Heat
Increasing bloodflow to the hands can help accelerate healing4 and ameliorate achy fingers. Use simple ice water and a stovetop: Alternate your hands four minutes in hot water (104° F) and then four minutes in cold water (53° F) for four rounds. (Use a 12-gallon bucket if you want to reach your elbows.)
Step 3: Eat Enough Protein
Protein comprises the tendons as well as helps produce new collagen. To maintain and develop healthy muscles and tendons, athletes need at least 0.36 to 0.45 grams of protein per pound of bodyweight per day.
Step 4: BFR Training
BFR or bloodflow-restriction training (aka KAATSU), developed in Japan over 50 years ago by Dr. Yoshiaki Sato, has been picking up traction. Its benefits are myriad: 1) You can train at a lighter load when your fingers aren't feeling strong, and 2) It increases bloodflow, oxygen, nutrients, and hypertrophy (aka increased muscle size) to the hands, which helps accelerate recovery. Look online for protocols.
Step 5: Get Lots of Sleep
A lack of sleep is one of the worst things for your recovery—when you sleep, bloodflow to your muscles increases, bringing in fresh nutrients and oxygen. Try to get six to eight hours a night.

Developing a systematic approach toward training provides a way to modulate capacity, prevent overtraining, and reduce injury risk. Finger strength, though critical to climbing performance, is just one component to climbing hard. Combining a finger program with mental conditioning and movement training can further optimize per
Glossary
• 1RM (1-Rep Max): The maximal weight you can lift for a single repetition with correct technique.
• Absolute strength: The maximum force that your muscles, tendons, and ligaments can sustain under controlled lifting conditions.
• Collagen: The main structural protein in the body's various connective tissues; the main component of tendons.
• Mechanical loading: A stress load that leads to changes in the tendon, sometimes positive like an adaptation resulting in greater tendon force, but also sometimes negative like an injury.
• RPE (Rate of Perceived Effort) Scale: Used to measure the subjective intensity of exercise, with 1 being the easiest and 10 being the most difficult.
• Tendon force: A measurement of external force or mechanical load applied, sustained, or generated by the tendon during human movement.
• Torque transfer: The tendons' ability to transfer force generated by the muscles to effect rotation in a hinge, pulley, or lever via the human skeletal system.
Strength gains and the menstrual cycle
Training around the menstrual cycle helps the female athlete better understand fluctuations in her performance. My solution has been to provide varied stimulus to the fingers through all phases of the cycle, as well as use a campus board to stimulate adaptions on a skeletal level, further encouraging strength gains. Most of your training gains will be during your follicular phase when progesterone is lowest. Week two into this phase, you'll have a beneficial increase in testosterone and will feel your strongest—train hard! The testosterone helps accelerate collagen turnover and boost  tendon strength. When the luteal phase begins, force production will be lower, so focus more on recovery, stretching, nutrition, and endurance to help protect the tendons from injury.
Aman Anderson (beastfingersclimbing.com) is a Denver-based coach and climber who develops methods, research, and products to help improve athletic performance in sport climbers.
* References: 1. ncbi.nlm.nih.gov/pmc/articles/PMC6131493/ 2. pubmed.ncbi.nlm.nih.gov/19706001/ 3. sciencedirect.com/science/article/pii/S1742706117305469 4. ncbi.nlm.nih.gov/pmc/articles/PMC4049052/