Five Reasons Why Climbing On Comp Routes Can Make You Better
Forced to try the routes after the gym hosted a bouldering competition and left them up for weeks, I found one session reignited my stoke.
Heading out the door? Read this article on the new Outside+ app available now on iOS devices for members! Download the app.
The one-two beat of a climber's hands slapping a volume rings throughout the gym. The competitor's legs swing from one side clear to the other, and she nails a heel hook, setting herself up to dyno precisely to the finish.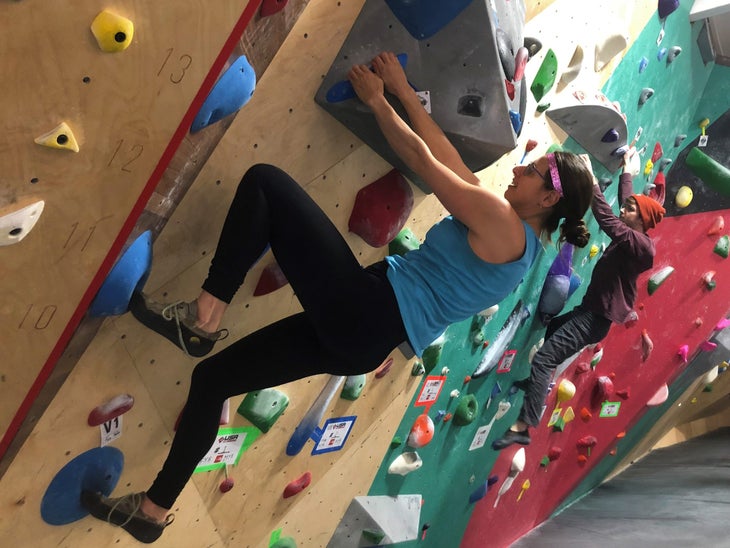 Comp climbing may not look as much like rock climbing as it once did, and is no longer so much about pure strength and athleticism, but problem-solving and creativity as well. Competitors contort, turn upside-down, run lightly across the wall, and jump up or sideways to catch the next hold—and maybe the next. This type of climbing is exciting, dynamic, and fun to watch. But you might think you couldn't possibly do it.
As someone who has been climbing for nearly two decades, I initially resisted the new style of climbing, which melds elements of parkour and acrobatics with climbing techniques. Thinking I wasn't flexible enough, was in no way acrobatic, or simply would look stupid, I didn't touch these problems when they began appearing at my gym. Even the starting footholds were marked—for us to dart up on, which looked overly committing at best. My climbing routine was getting stale, though, and I was feeling slightly bored until forced to try the comp routes after the gym hosted a bouldering competition and left them up for weeks. Just one session reignited my stoke for climbing in the gym: I found joy in jumping for unlikely holds; making novel lateral moves, as if launching off a ramp; utilizing unique features such as giant volumes lined up in a row; or negotiating problems connected solely by slopers.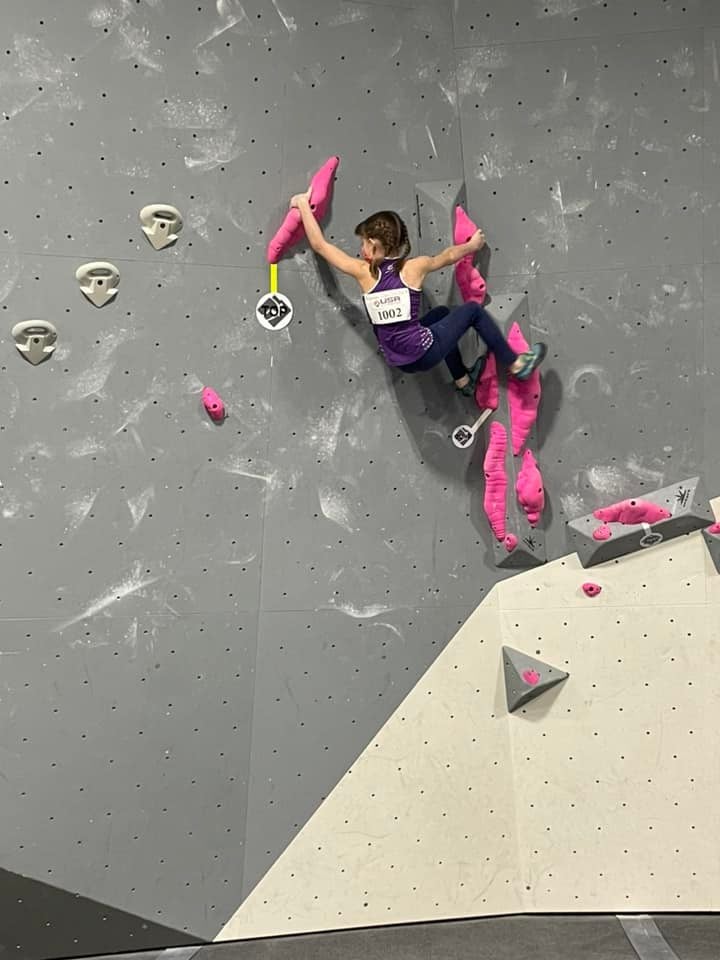 Feeling stuck in your gym routine? Here are five reasons to try climbing on comp routes.
Feel Like a Kid Again
Climbing is supposed to be fun. Young kids in the gym usually aren't worried about grades or how hard they are climbing, but are there for the joy of it. Swinging from hold to hold as if they were tree limbs or part of a jungle gym, falling in a heap, and leaping without fear, kids are built for comp routes.
Adults can learn this type of climbing, too. Just like pulling in on heel hooks or learning how to crimp, climbing more dynamically and creatively takes practice. With time, you are rewarded with a renewed sense that climbing is playful.
Reimagine What is Possible
If it looks impossible, it probably is? So you thought. Guess again. Comp routes demand that you think about climbing differently, and that is what makes them so intriguing. Holds look impossibly out of reach? Think about using momentum, more than you are used to, to propel yourself rather than climbing statically. The finish is 30 feet to the left of the start with only two holds in between. Be inventive. There are foot chips where your hands would normally be. Try getting upside-down. This type of climbing stretches your creativity. You might have to think outside of the box by taking a zig-zag route to get to the finish rather than going straight up.
This article is free. Please support us with a membership. Join the Climbing team and you'll not only receive Climbing in print, plus our annual special edition of Ascent, but you'll enjoy unlimited online access to thousands of stories, news and safety articles.
Avoid Taking Yourself Too Seriously
Bouldering can be intimidating. How often do you walk up to the front of a room full of people, some resting and staring, and try something really hard where you are more than likely to fail or fall? One of the beauties of comp routes, though, is that they are often ridiculous. Everyone trying them is going to feel silly because the problems frequently involve moves we don't normally make. Even the strongest climber may look a bit strange running sideways along the wall or stemming backwards, facing out, if that is the only way to complete the problem. Comp routes can take us away from worrying about what we look like when we climb; they help us let loose.
Use Different Muscles
When you've been crimping, pinching, smearing, edging, and pulling hard repeatedly, specific muscles not only get tired but overused. The free-flowing, energetic nature of comp routes mean they involve different muscles than most routes in the gym. You might use your calves more to make a big jump, tighten your abs to stay on the wall when your feet cut after a huge lateral move, or engage both feet in a toe hook to maintain tension. It may take some time to build the muscle memory and core strength needed for this type of climbing, but just as, somewhere along the line of advanced climbing, you learned to hang on extended rather than flexed arms to save energy, you can absorb these kinds of new moves.
Build Community
One of the most fun parts of bouldering is that it is a social form of climbing. Comp routes use very specific sequences, contrived movements, and distinct features such as a series of rails, larger-than-normal volumes, and widely spaced-out holds, increasing the importance of good beta. These routes can be deciphered so much faster when groups of people figure them out together. You play off each other, pushing higher with each go, reaching, falling, trying hard, flailing, having fun together. Isn't that the point?
David Gladish is a freelance writer, proud father of two young boys, and lover of adventurous climbing, preferably on perfect Cascade granite on coveted sunny days.
---
See also this
…and yes, that will soon be you.