Three Tips To Take You From 5.10 to 5.11
A Climbing Coach's Advice on Simple Ways to Go Up a Grade.
Heading out the door? Read this article on the new Outside+ app available now on iOS devices for members! Download the app.
A climber with great wisdom once said that if you can climb 5.11, you can climb just about any mountain, cliff or wall in the world. That's about right.
Once you start moving into 5.11 terrain, you will often be on steeper and more overhanging walls than before. The pumpy sections may not last for the entire route, but will require you to hold lock-off positions for a number of seconds and maintain a more sustained effort of climbing, though the moves are often interspersed with large hands- off rests. Use the following exercises to step up your game.
Lock-off Work
Reps: 5
Rest Between Sets: 3-5 minutes 
Sets: 2-3 
Intensity: High, but not so high that you cannot keep good form for all 5 reps.
Gym facility: Pull-up bar, rings or large holds on a fingerboard.
For this exercise, use a shoulder-width grip, and keep your palms facing away, knuckles towards you. All movement should be slow and controlled, without kipping. Start in a straight armed, hanging position with your hands on the bar and your shoulders engaged. Initiate an upward pull to bring your chin to the bar in a controlled manner and try to keep speed consistent throughout the range of movement. Once you reach the top of the movement, lower back to your starting position with total control. If you're not able to lower in control or can't keep your shoulders engaged at the bottom of each movement, either stop the session for the day or reduce intensity.
Steep Bouldering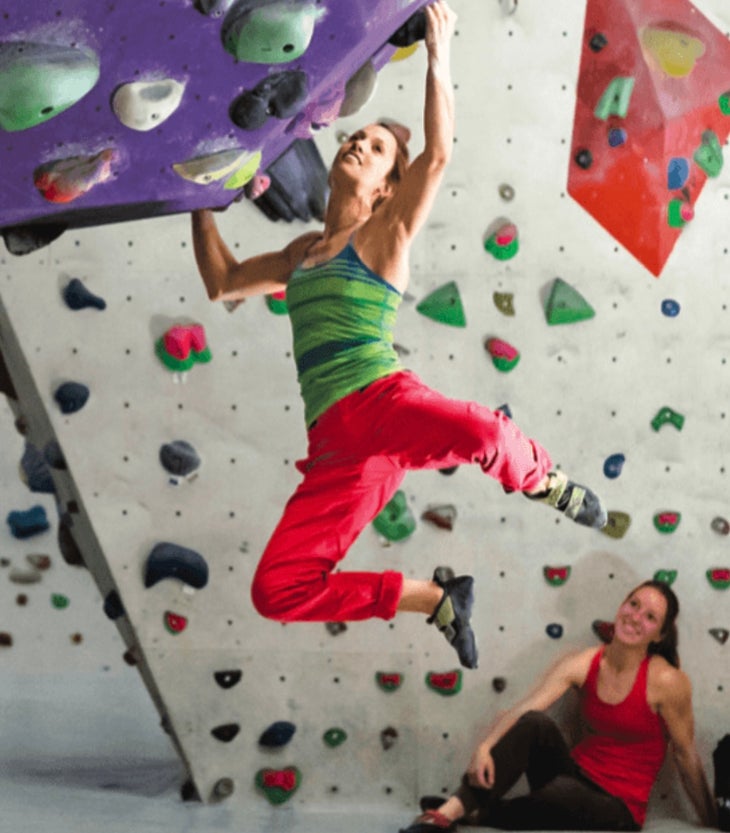 Reps: 6 boulder problems (stop if you lose good form). After you do the first problem, rest three minutes before repeating it. Doing a boulder problem twice is a set.
Rest after sets: 5 minutes 
Sets: 6
Intensity: Medium to high. You want to be operating 1-2 grades under your maximum boulder grade. 
Gym facility: Bouldering wall.
To apply some of that initial core tension and strength we worked on in the first article (5.9 to 5.10, Gym Climber No. 1), the place to do it is steep terrain! Once you've improved in the basic elements of strength and conditioning as a climber, it's extremely important to use the skills. Bouldering will enable you to execute the physical gains you've made in a more adept and purposeful manner.
The aim of this session is to choose six steep boulder problems, and repeat them just twice each. With the first attempt you will be attempting to flash the problem and may make some small errors. In your rest period, reflect on what things you could have improved, and aim to improve your performance in the second rep. This self-reflection is really important for genuine improvement.
Power Endurance
Reps: 4 reps of 8 moves (stop if you lose good form).
Rest after reps: 10 seconds (enough to chalk up)
Rest after sets: 5 minutess 
Sets: 4 
Intensity: Medium (look at boulder sections approximately 4 grades below your limit).
Gym facility: Bouldering wall, circuit board, toprope, lead, auto-belay or Treadwall. Working power endurance is generally easier on a bouldering wall or circuit wall.
Power endurance is the ability to sustain moderate efforts of climbing without any major rests. On the climbs you'll be trying, it's those sections where you'll be climbing continuously for one to four minutes, which doesn't sound like much, but it will feel like it at the time! In my experience, power endurance is best worked on bouldering walls and circuit boards, as you can use your time more efficiently and doesn't require a partner.
The aim of the session is to climb your chosen boulder problem, about eight moves, four times in short succession. You top the first, quickly chalk up and carry on doing three more reps. With the correct intensity, you should feel increasingly juiced at the end of the last rep. Kudos!
This article originally appeared in 2021.