Heading out the door? Read this article on the new Outside+ app available now on iOS devices for members! Download the app.
Big-wall "do's" for an unplanned overnight We left the Black Canyon's North Rim Campground a little before 9 a.m. — fine if we weren't climbing Stratosfear (VI 5.11+ R), on the Painted Wall. Come dark, we still had three pitches left, including the crux. We faced a decision: an open bivy at a hanging belay or tricky (and runout) 5.11 in the blackness. My partner and I settled into our harnesses for a long, cold night. We were lucky: the weather held, and we made it off in the morning. But others, similarly equipped while out for a long day's free climbing, have faced deadly winds, downpours, freezing temps, and anything else synonymous with epic. Here are six tips for surviving your next unexpected big-rock bivy.

Bare Necessities
Synthetic material retains its insulating properties when wet, whereas cotton definitely does not. So unless you can crawl from crag to car, you'll need moisture-wicking, synthetic clothing (e.g., fleece, polypro), plus a rain jacket and hat. If you drop your hat, an extra shirt tied around your dome will suffice, as will a jacket hood. You'll stay warm, too, by pulling your arms and head inside your mid-layer. And some backpacks come with an extendable draft collar in order to function as a bivy sack. Another time-honored foot placement is inside your partner's jacket, in his armpits. A final must-have is a headlamp with spare batteries and a fresh bulb, firmly attached to your helmet in case of whippers. Bring a backup torch, even. You can almost always rappel out of a tight spot, but if it's dark and you're without a light, fuggedaboutit.
Toughen Up
The worst part of an unplanned bivy is controlling your head. Decide on a survival plan, and then stop second-guessing the outcome. You will live. People have suffered through far worse. Talking passes the time (even when alone), so try 20 Questions or an analysis of climbing ethics. …
Love the Water
An average epic bivy won't have enough water to see you through till morning. As soon as a benighting appears imminent, take stock of your supply, and ration into small portions to span your expected stay. Everybody's heard we can drink our own urine seven times before it becomes pure poison. But I know two guys who did it on the Black Canyon's
Scenic Cruise
(V 5.10d), and they were extremely sorry. Instead, cure dry mouth by sucking on small stones. Also, a thin piece of plastic tubing functions nicely as a straw, for sucking water from cracks and other hard-to-reach nooks and crannies.
Wind Shield
Wind is a quick heat sinker. Find out which direction the wind's coming from by using an old sailing trick: put your face into the wind and turn your head from side to side until you feel/hear the breeze equally in both ears. Once you know the prevailing wind direction, look for protected nooks. You can also build a wall with rocks, sticks, branches, or your pack, or rig a lean-to/wind block with a Space Blanket and some cordelette.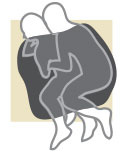 Spoon… Man
Obviously, you could do even more when stranded with a significant other, but chest-to-back is the classic position. Pad the ground with the rope, backpacks, dry leaves, pine boughs — anything to prevent heat from escaping into the ground. If you have a Space Blanket, wrap yourselves inside burrito-style.
MacGyver It!
Two 21-foot cordelettes (you can cut them to rig rap anchors) and some climbing tape go a long way on epic rappels. If you don't have a knife, find a flat spot on a rocky ledge to lay the sling/cordelette down, and then bash it with a fist-sized rock MacGyver-style. Next, use the tape to turn a regular biner into a "poor man's locker" for your rappel points.
Despite many an epic night, Senior Contributing Editor Mark Synnott has yet to drink his own urine.