Home Wall Primer: Part 2—Choosing Holds
The balancing act of choosing home wall holds, according to one rain-soaked Oregon climber.
This is part two of our three-part Home Wall Primer series.
• To find tips for building a home wall, check out Part 1: Planning and Construction.
• For route-setting tips, see Part 3: Route Setting.
There is a deluge of choices in the climbing hold market. It can overwhelm anyone. The number of hold-shaping companies has seemingly doubled over the past decade. Your preferences are likely influenced by your local gym. Lately, enormous holds and features are trendy. The reality is that you don't need a Planet Granite–sized budget to set your modest woodie. So where do you start? Below is a list of criteria to consider, and suggestions for a complete starter set of specific holds.
Hold-Selection Criteria
• Comfort: Arguably the most important thing to consider, is how your fingers and tendons interact with a hold. You want to be able to have long sessions, multiple days per week.
• Versatility: A huge factor for me is the number of grips on a single hold. Can you rotate the hold to change the difficulty, without tweaking your fingers or wrist?
• Footprint: Real estate is valuable on a tiny home wall. Massive holds take up space that could be used for additional problems. Once you build out your hold collection, you'll likely fill your wall with as many holds as you can, preventing the need for constant resets. It can be a fun, creative challenge to fill every t-nut on your wall.
• Fun Factor: When I started asking for hold recommendations from long-time routesetter friends, they were full of boring symmetrical systems board style suggestions. Those are certainly necessary, but a big part of the home wall experience for me was the artistic side of setting. Try to find a good balance between Jason Kehl's Cryptochild and campus rungs?
• Cost: The average climber has no clue how expensive holds are. At the gym they seem endless. When you dyno to that Kilter Kaiju-sized feature, you don't realize you're grasping at a $190 piece of plastic. Often hold prices relate to their size. The smaller the hold, the cheaper the price.
Home-Wall Hold Starter Set
With the above criteria in mind, my exhaustive search for home-wall holds left me with the recommendations below. The entire set costs $1,001 (prices as of 2017) and gave me everything I needed to get started.
Kilter Winter Small 9 2-pad Incut Edges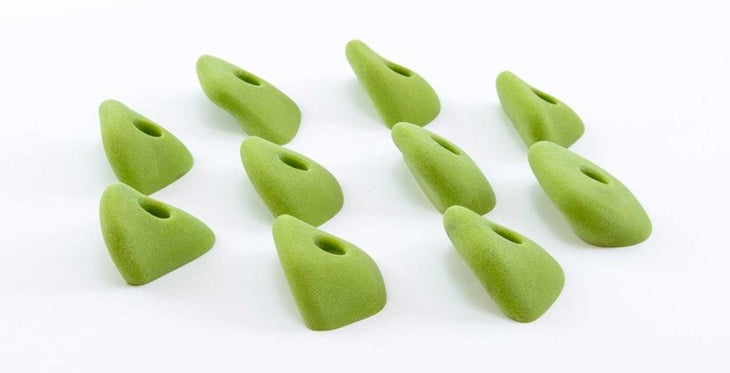 At first glance, these look like uniform flat training edges. But get them in your hands and you'll realize Ian Powell earns his spot in the fabled Shaper's Hall of Fame. One thing that impressed me about the entire Kilter Winter line is how much skin purchase you get on each grip. No matter your hand size, these holds contact a large portion of your fingers, allowing for a high level of comfort that is hard to find in other holds.
10 holds, $65; kiltergrips.com
Kilter Winter Small 4 Incut crimps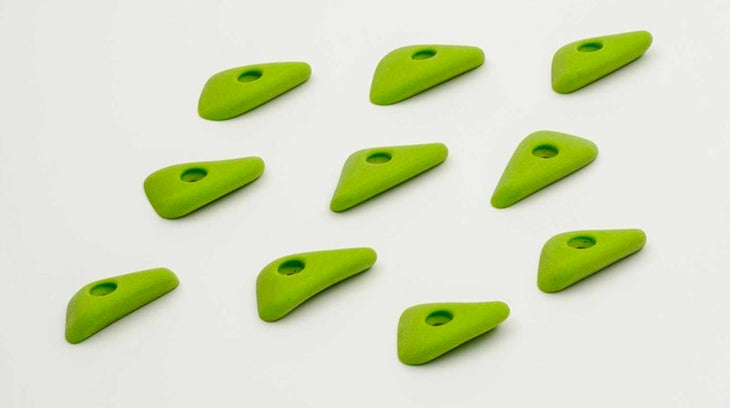 These four-finger, full-pad holds can fit anywhere after your wall starts filling up. The small variation in grip between left and right hand adds to the appeal. A must have in your lineup.
10 holds, $50; kiltergrips.com
Kilter Teagan Medium 3 Pinches and Low Angle Crimps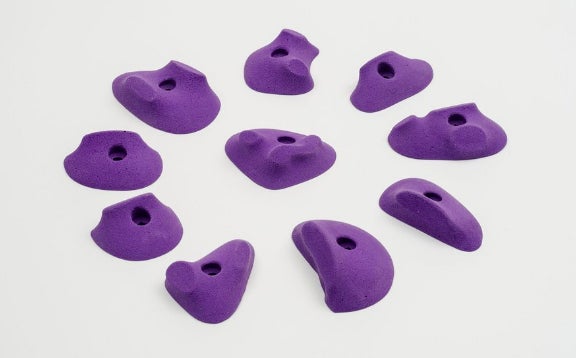 Wacky grips that you have to feel to believe. Early editions to the Kilter lineup, these unique knob edges put the pressure on your fingertips instead of your joints. These five edges and five pinches showcase the innovation Kilter keeps putting into the hold market.
10 holds, $75; kiltergrips.com
Kilter Teagan Medium 1 Mini Jugs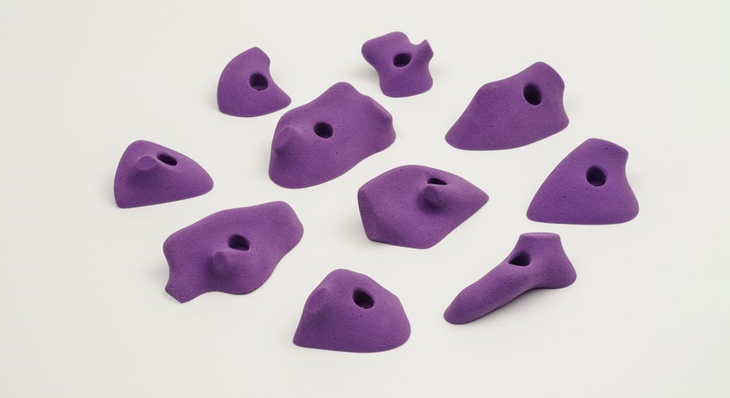 Another fantastic line of holds from the legendary Ian Powell is the Tegan. These are from the early days of Kilter, Powell's powerhouse hold company. This set is a favorite of mine, but none of the small and medium sets from the Tegan, Noah, and Winter lines will disappoint.
10 holds, $70; kiltergrips.com
Synrock Big Jugs Set C or B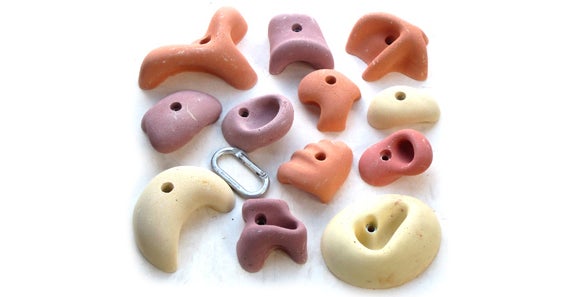 A $5 jug is hard to beat, but price isn't the only notable element of Synrock's ceramic composite holds. I was highly skeptical of these unique-looking holds at first. The colors are unfashionable, and the website is straight out of the '90s. I picked up a few on Ebay when I first built my woodie because I was on a budget. I figured that in the worst-case scenario, I could use them as big feet. From my first setting session I was a complete fanboy. I couldn't stop raving about them to my friends. Even the ugliest ones blew my mind with their variation in grip, texture, comfort, and the ability to stay cool in hot weather. They don't seem to polish like plastic, and I feel like I can climb forever on the soft, Fontainebleau-like sandstone texture, which, by the way, can be tweaked to your preference.
12 holds, $59; synrockholds.com
Synrock Tall Pinch Set C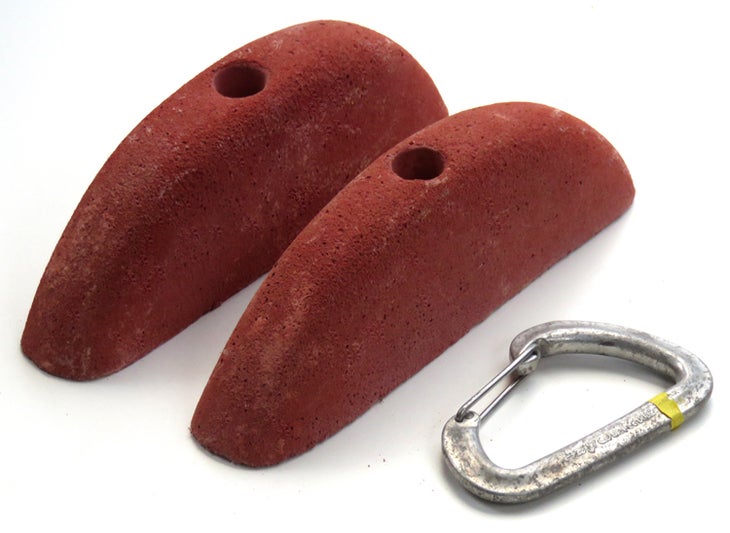 Much of the time, the plywood used in home walls doesn't have any texture. This makes it tricky to choose holds. Large, matchable pieces tend to spin. With Synrock's ceramic formula, there is virtually no spinning on uncoated plywood. These pinches are basic large edges that make great matchable slopers on an overhang. The superior Synrock texture really shows itself with this set.
2 holds, $14; synrockholds.com
Synrock Low Profile Pinch Set A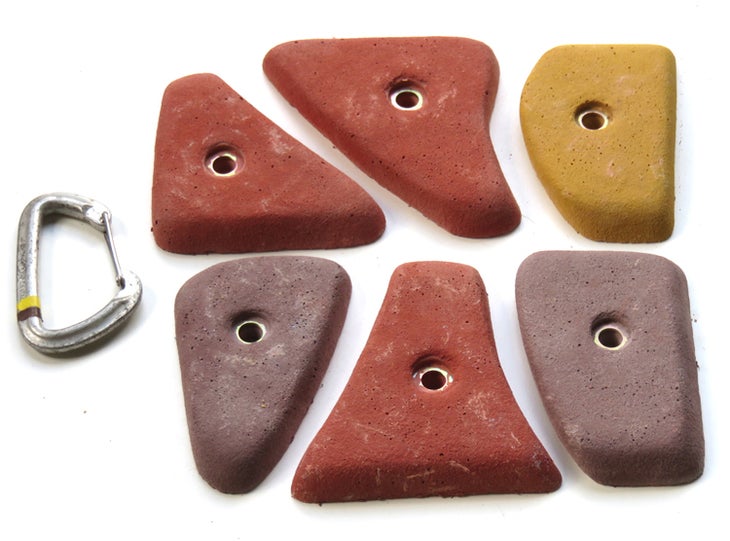 These are extremely versatile go-to edges for any style route. There are two or three grips per hold; some are matchable. They make for supe- comfy moderate routes on vert and nails-hard crimping on a 45-degree wall. Incredible value and a must-have.
6 holds, $14; synrockholds.com
Synrock Micros Set A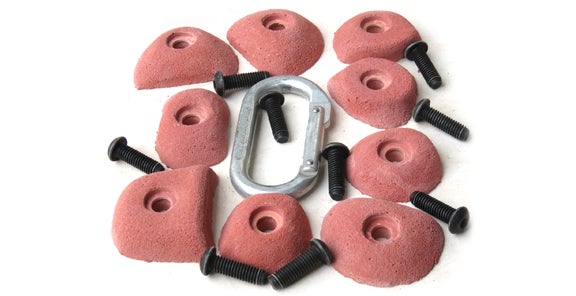 I tested a handful of similar sets, and Synrock's Micro Set A seems to be the most directional, which is nice for vertical terrain. There are a total of 81 shapes in this series, and it could be worth just purchasing them all for $89. And like all Synrock holds, they come with free bolts.
9 holds, $14; synrockholds.com
Synrock Dual-Tex Incut Half-Moons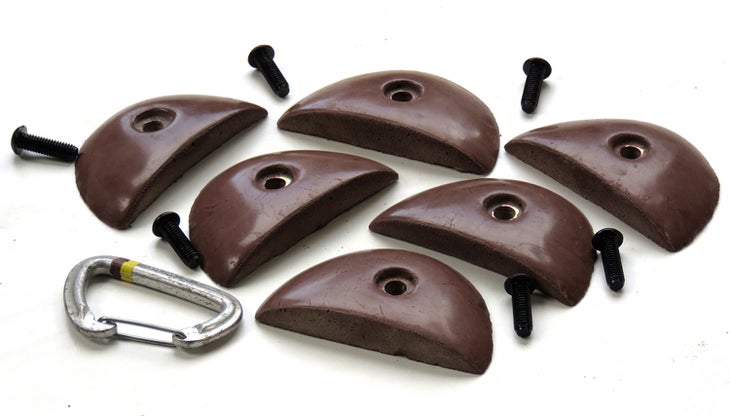 The only negative I have for the entire Synrock line is how fragile they are in comparison to traditional polyurethane. This and the heavy weight are the main reasons you don't see these in your local gym. This set is on the more fragile side, but a staple for skin-friendly warm-up edges.
6 holds, $14; synrockholds.com
Synrock Big Cobble Set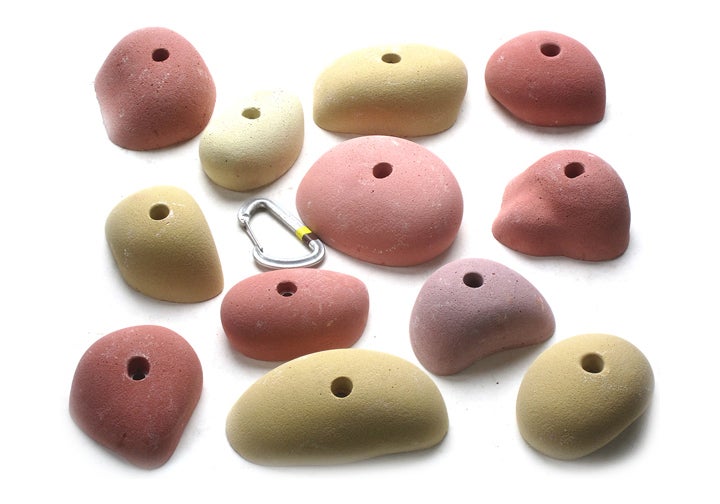 A subtle turn on these holds results in a wide variety of depth. Again, these are on the heavy side and may need to be stored in a separate bin from your plastic holds. At $5 per hold, these are great for a variety of angles.
12 holds, $59; synrockholds.com
Synrock Pinch Set A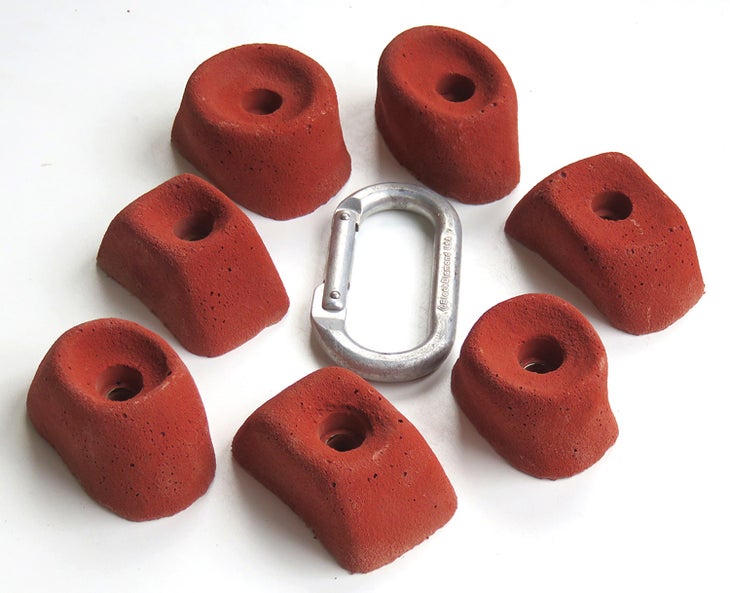 Slightly incut pinches that have a tiny footprint. At $2 per hold, the value is unbeatable. With all the great attributes of other Synrock holds, they can double as large feet as well.
7 holds, $14; synrockholds.com
Teknik Zip Grip Starter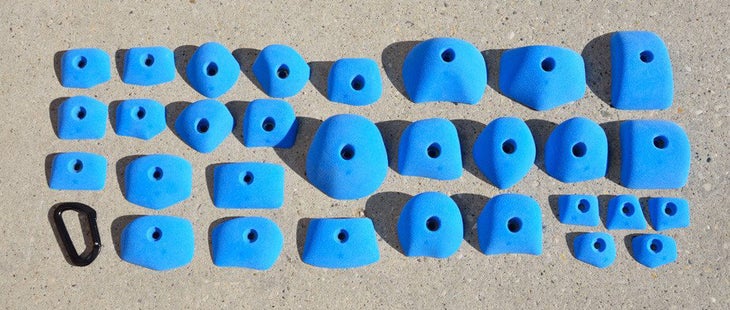 A great introduction to the wonderful world of Teknik. The starter kit is designed to give you a little bit of everything for your home-wall quiver. This set includes 1 big jug, 5 mini-jugs, 5 finger jugs, 2 slopers, 2 pinches, 5 medium gently incut edges, 5 small incut edges, and 5 sweet little footholds.
30 holds, $132; teknikhandholds.com
Teknik Bullies Set 2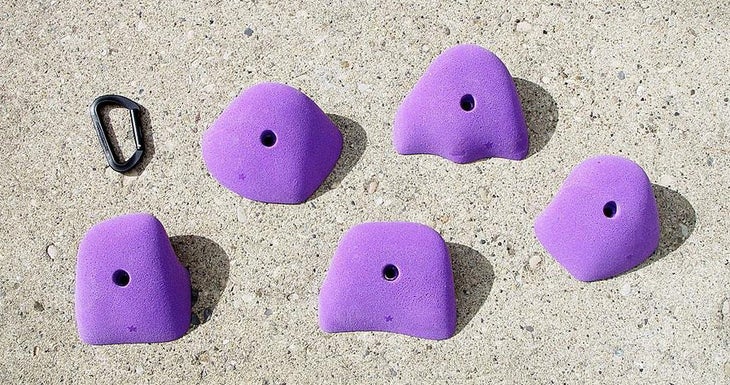 Basic, comfortable, longtime classic jugs. They're fun for any angle and a must-have for your jug collection. Don't underestimate the number of jugs you'll need for a good training wall. Even if you are a V10 climber, you still need something to monkey around on and get the blood flowing.
5 holds, $72; teknikhandholds.com
Teknik Geeks Set 1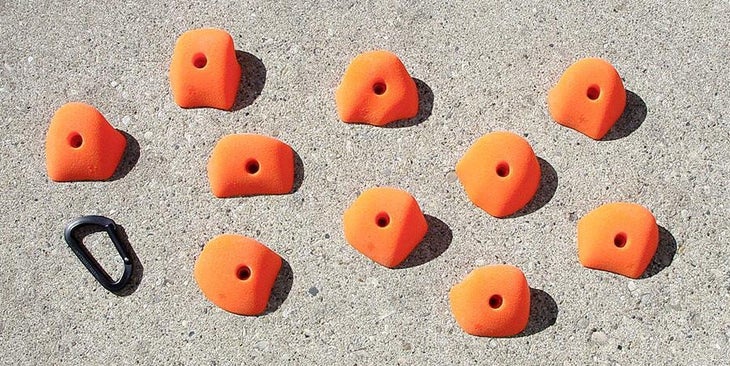 An absolute classic in the mini-jug world. These have been around for a while, and they will be around forever. If you have the extra money, Geeks Set 2, the sister set to these, will provide the basic foundation to your mini-jug collection.
10 holds, $60; teknikhandholds.com
Groperz Keystone 39a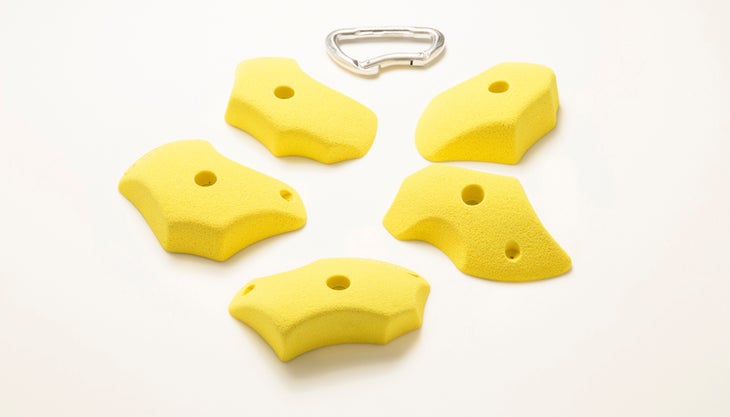 Don't be deterred by the questionable name. Groperz has a solid line up of holds, especially these Keystones. Some have up to five different grips on one hold, ranging from positive to sloper. Dialing in your desired difficulty for a problem is a breeze with this set.
5 holds, $26; groperz.com
Vision Climbing Mini Divots

With my toddler son in mind, I built a portion of my wall dead vertical, making it easy for kids to learn to climb. What I didn't realize is that the vast majority of climbing holds feel like jugs on vertical terrain. If not jugs, they are awkwardly tiny or too slopey to be fun for anything over V2. The Mini Divots have an unique edge/pocket that feels like a hold on a tough granite slab, but they can also rotate to a comfy, flat, single-pad edge or pinch. Like many popular Vision holds, including the Iron Oxide Minis, they serve as great footholds too.
5 holds, $20; visionclimbing.com
Rock Candy Dents 3XL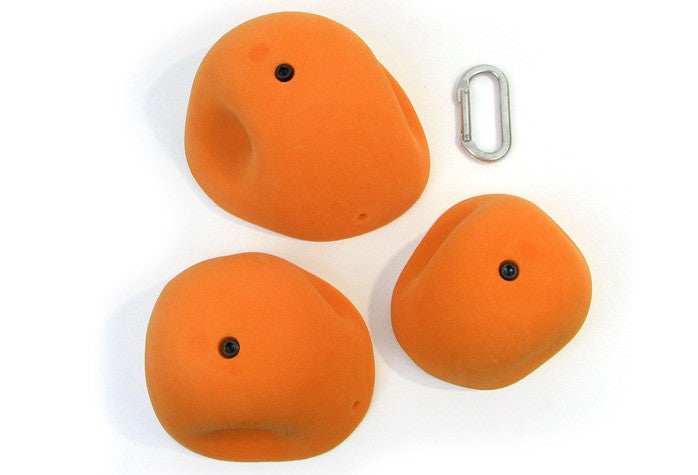 Every once in a while you need to break out of the small-footprint mold and put some money into larger holds. These rotate into diverse pinches, slopes, and fingertip jugs. A simple and fun addition to your quiver.
3 holds, $114; rockcandyholds.com
Atomik Positive Hedrons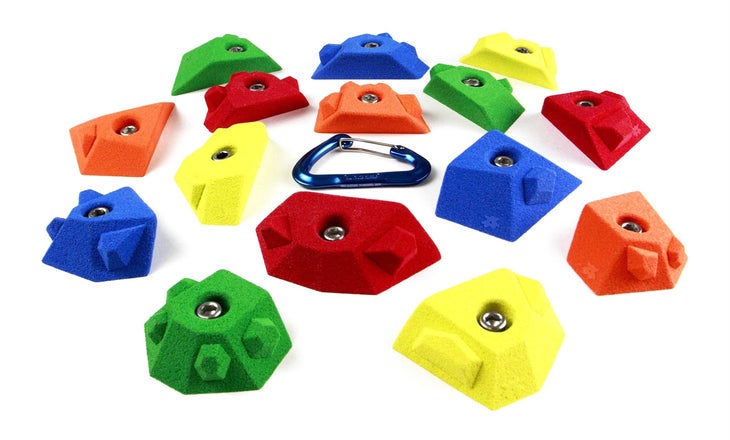 I assumed these would be too painful, but the Positive Hedrons won me over. The abrupt edges in the grip look like they should be tendon-rippers, but once I got them on the wall they were comfortable and bitey enough to grip on steep terrain. The plethora of thumb catches makes them adaptable to many hand sizes and angles. I even found that you can flip them to use the thumb catch as the main edge for more-vertical terrain.
15 holds, $43; atomikclimbingholds.com
Atomik XL Dripstone Steep Wall Slopers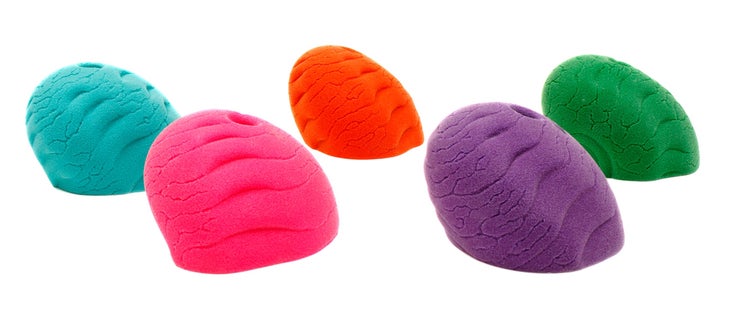 You can huck at these and you'll stick like glue, no matter your hand size. They're comfortable to latch coming from any angle. In my many years of climbing at gyms around the world, I haven't felt too many holds with this quality. The ball-shaped wonders are riddled with top and thumb catches all around. They are big and relatively expensive, but worth the investment.
5 holds, $86; atomikclimbingholds.com
Total: $1,001 for 172 holds
More options:
• Buy seconds: Many hold companies offer boxes of imperfect holds by the pound for a reduced price. It can be a good way to get a random mix for cheap if you don't mind slight discolorations or minor texture flaws.
• Ask your gym: Many gyms are cycling out their older holds that don't match the new trend of monochromatic route-setting or bombproof polyurethane.
• Subscriptions: Some hold companies, like E-Grips First Dibs program, offer a constant stream of new holds each month. It can save you money and provide great surprises.
Footholds Disclaimer
I didn't include footholds on this list because I've found them to be less important in home route-setting, compared to commercial gym problems. Basic, cheap, screw-ons, old relics from Ebay, or homemade jibs can all do the trick without affecting the four-star rating of your problems. If you do lack options, the 81-piece micro set from Synrock is a great starting point.
Check out the rest of our Home Wall Primer series: