How to Find Climbing Partners at the Crag
Photo: Andrew Burr 801-463-3821
Heading out the door? Read this article on the new Outside+ app available now on iOS devices for members! Download the app.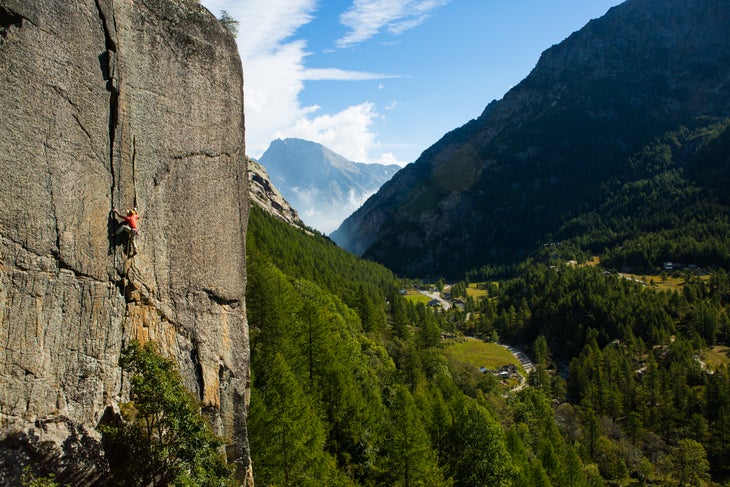 I pulled into the parking lot at Smith Rock State Park solo. I had opted not to put out a call for partners on Mountain Project the night before. I wasn't interested in spending the day checking my phone in hopes that another lonely climber would see my request. Instead, I told myself that finding a partner at the crag would be easy. Maybe it would even be fun to walk up to strangers and politely ask them to put their lives in my hands.
For the seasoned solitary traveler, picking up partners at the crag is normal, but for someone new to the process like myself, it was daunting. Inching through the parking lot, I wondered what I should say when I approached strangers. Should I puff out my chest and flex my forearms? Or quietly and meekly tap someone on the shoulder, with my face to the ground, and ask them if maybe it would be OK to climb with them? I pulled into a freshly opened parking spot, a rarity at Smith, sat in the bright afternoon sun, and came up with the following strategy.
Find an odd-numbered group
While you can certainly approach people climbing in pairs, an odd-numbered group gives you an advantage. It gives someone who isn't climbing the option to jump on the wall, and the entire group the opportunity to climb more throughout the day. This makes you an asset, not a burden.
Bring a rope and gear
You won't make many friends by walking up to a group, asking them to climb, and—Oh hey, can I use your rope and borrow 12 quickdraws? Bring your own equipment to show that you're willing to contribute equally to the group. You'll allow them to climb more by getting another rope up, as opposed to less by making them wait in line for you to finish climbing on their rope.
Be friendly
No one wants to climb with someone that adds stress and anxiety to the day. If you're like me, though, social anxiety is real. Approaching new people can feel like the most difficult thing in the world. Remember: You're all rock climbers, you already have something in common. Take a deep breath, smile, pull your shoulders back a bit, and say "Hi." If your guard is down, it's more likely that theirs will be too. Kevin Kent, an avid climber and traveler from Flagstaff, AZ, says that when he approaches new groups, he opens up conversation quickly and is straightforward. There's no need to awkwardly beat around the bush.
"I just walk up, exchange pleasantries, and tactfully launch right into asking them if they'd mind another person," said Kent. Simple.
Clean yourself up
Don't show up smelling like you have been sleeping in your car for a few weeks and haven't showered. If this is you (it was me), make yourself presentable. Take a deodorant bath and brush your teeth. No one trusts the smelly rando to give them a safe belay.
Show that you're a safe climber
When I approach a new group, I like to offer my services up as a belayer first. This shows them that I want to join their rotation rather than just get a belay. Some folks might be wary of someone new grabbing the rope. They may want to see that you're capable first. Be willing to do what's needed to make them comfortable. Go through the procedures: tie in, let them check your knot, check their belay, give the appropriate commands signals, and climb.
Make sure they're safe climbers
Of course, trusting your life to a group of random people is a risky endeavor for you as well. Don't hop on the sharp end without first evaluating your new partners; treat it like a first-time Tinder date and keep your eyes open for red flags. It's a good idea to watch them belay each other before you think about tying in. Make sure they know their knots and proper belay techniques. Look at their gear and see if they're using everything correctly. Make sure they're not being careless. Your safety should be your highest priority. That said, don't be intimidated by people that climb harder than you. Getting out with people that climb above your limit is a great opportunity to push yourself and learn.
Bring a thank you gift
I like to have a stash of beer to share with my new friends at the end of the day. It's my way of saying thank you. But just in case the group isn't the drinkin' type, bring some chocolate or salty food to pass around instead.
There are, of course, so many other ways to find climbing partners in today's wild world of social media. Here are some other options:
Local groups can be found on Facebook and are likely named after the closest city followed by "Climbing Community"
Mountain Project's forums and partner finder tool are great options if you have some time to plan ahead
Hang out at the local gear shop in the morning to catch groups picking up last minute items on their way to the crag
Ask around at the climbing gym the night before you plan to go outside. (Bonus: you and your potential partners can vet each other in the gym)
Many climbing areas have bulletin boards just for the purpose of finding partners
In my experience, climbers are usually friendly and open to adding new people to their group. I've met new partners on nearly every climbing trip I've taken since my nervous morning in the Smith Rock parking lot. Some have become good friends. I still chat with the group I met at Smith.The routes were great, but the conversations we shared as we crushed burgers and beers at Terrebonne Station are what I look back on.
So if you find yourself alone at a crowded crag, don't fret. Remember that you're part of a community of people that all share a common interest. Everyone just wants to have fun.