How to Get Your Mojo Back
Heading out the door? Read this article on the new Outside+ app available now on iOS devices for members! Download the app.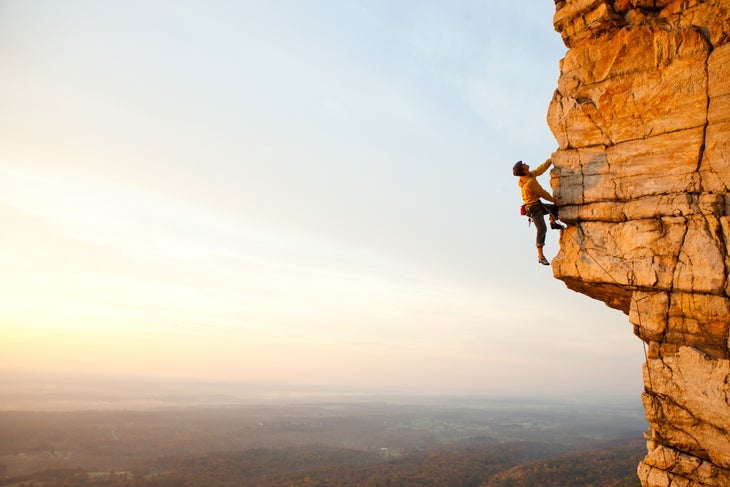 It happens every year: After going as hard as I can spring through autumn, I "crater." My muscles lack snap, my lead head turns to mush, my motivation tanks, and any projects get moved onto next year's wish list. Despite having climbed stacks and being in passable shape, my mojo slips away.
This is a common story among long-term climbers, and points to just how cyclical our sport is—we can't go hard all the time. Still, a "no-mojo" plateau can quickly turn into the dreaded slump, which can be difficult to escape. Fortunately, your mojo can be reclaimed through the tips below, gleaned from my own and other veteran climbers' experience.
Acknowledge the Issue
The first step is to admit you have a problem—to not just keep pushing yourself in hopes of a miracle breakthrough. It's likely that you're fatigued physically, mentally, and/or emotionally from pushing so hard; continuing to do so is not going to yield a different result. "No one can perform at their limit 100 percent of the time," says Matt Pincus, a climbing coach at TrainingBeta.com. "Whether your loss of mojo is physical, mental, or a combination of both, [first] be honest with yourself about it."
Pincus advises taking comfort in the knowledge that this state is temporary—you won't always "suck"—and then finding at least one way to mix things up short-term, such as a period of rest, moving away from trying to send the project, jumping back into a training cycle, or simply switching from routes to boulders. "No matter what change you make, just make one," urges Pincus.
Rest and Self-Care
If you're feeling physically hammered, your best first course of action may be to rest—to simply not climb. You might even take a break for the day—stop climbing—when your mojo's missing (see "Mojo self-evaluation" below). Perhaps you'll wake up the following morning feeling like a badass, or perhaps you won't; in either case, you first need to step away to begin resting for whatever duration. Once or twice a year—usually at the height of summer and in the depths of tendonitis-causing winter gym season—I'll take a dedicated week off, not touching stone or plastic. Sure, my fingers feel a little weaker the first day back, but after that I'll often feel stronger, fresher, and more psyched, my body having rebuilt itself. You can even use this time to plan for any upcoming goals, map out travel, and so on.
During your rest period, prioritize self-care—these often "unseen," unconsidered factors can have a profound impact on performance. Pro climber Timy Fairfield, who has established 5.14 and bouldered V14, suggests a few primary courses of action: Return to that healthy nutritional regime that made you feel like a wild animal; sleep in a few days a week; and reduce media distractions—stop watching TV, playing video games, etc. and give your mind the quiet time to recharge.
Get Back into Climbing
Once you're feeling rested and the psyche meter has risen again, or if you simply can't stomach time off and want to keep climbing in any capacity, the following tips will help reintroduce you to the sport in new, psyche-restoring ways.
Lower the bar
Climb at a moderate level for two to four weeks, with the goal of ramping it back up later. "Maybe you're bashing your head against the wall for your first 5.12d for ages," says Jonathan Siegrist, one of America's top rock climbers (5.15 sport, 5.14 trad). "Instead, you could do four 5.12a's over the next month. This will keep you fit and help you pick up some sends along the way—plus, it will likely force you to climb some new terrain, which is always a good thing."
You might also try mixing things up with skills games at the gym or boulders: climbing blindfolded or one-handed, or working on a certain style like slabs, dynos, or offwidths. You could also go onsight climbing if you have the option to travel to new cliffs, with the goal of onsighting as many routes as you can, even at "lesser" grades that might not have held your interest previously, exploring as much terrain as possible. The goal is to keep moving and to have fun!
Switch genres
Chris Weidner, a Colorado- and Vegas-based climber who's done 5.14 sport and 5.13 trad, says his go-to mojo boost is to explore a different discipline. It has, he says, worked for all 30 years of his climbing career.
"If I've been sport climbing consistently for a few months and have started to feel deeply tired or less motivated, or if I'm clearly not improving on a specific route, or in general, then it's time for something different," says Weidner. "That could mean dusting off the rack for some fun multi-pitch routes. Or going bouldering or peak-bagging. Or even taking it indoors to do some training." Weidner likes to let the seasons determine the genre, giving these transitions an organic flow: sport climbing spring through autumn, alpine climbing in high summer, then bouldering and/or gym training in the winter. "If your climbing interests are varied, you're less likely to get burned out," he says.
Weidner cites his campaign to send F-Dude (5.14a) at the Virgin River Gorge in 2000. One or two weeks into projecting the climb at the noisy, frigid, highway-side crag, Weidner needed a break from the stress. He took a hiatus to nearby Red Rock to climb long, easy solos and moderate multi-pitch routes. "When I hunkered down for my final week or two in the VRG, I was genuinely looking forward to getting up there and trying hard," says Weidner—who successfully sent F-Dude for his first 5.14.
Address your training
Finally, you may need to tweak your training—to get more focused or try something new. Heather Weidner, a Colorado climber who has done 5.14 sport and trad (China Doll in Dream Canyon, Colorado), says she often loses her mojo because she's flailing on her project—and that it's almost invariably because she's lacking power. "That's when getting my ass in the gym with a specific training cycle in mind is helpful," says Weidner.
While she used to hate the idea of fingerboard or campus workouts—"It sounded like torture"—Weidner has learned that when she has a specific program outlined with mini-goals it can be almost fun, as progress becomes measurable in a way that's distinct from her sending goal. "It really helps me to have a purpose for training, too, so that could mean an intention to return to the project or maybe an upcoming trip," says Weidner. "I find sticking to a gym workout for four to six weeks builds my confidence for outdoors, and ultimately my mojo comes back. It's a great balance keeping my focus on outdoors but enjoying the cycles."
Cultivate fire
If you're lacking passion for climbing, you may need to reclaim your fire. The first and simplest way is to find a route that rekindles the spark. "I find my mojo always comes back when I fall in love with a climb—the way it looks or makes me feel," says the pro Sonnie Trotter. "[The route] has to be meaningful—usually being beautiful is enough, but other factors can help inspire me too, such as a possible first ascent or something historic from the Golden Age."
It may also be that you need to get aggro. "Indifference is the enemy," says Timy Fairfield, who nearing age 50 still pushes as hard as ever. "Cultivate passion." Fairfield suggests a few methods:
Promote age-defiance—climb with younger, more motivated climbers.
Make your spouse/partner your No. 1 climbing partner, so that you can hold each other accountable while training.
Reintroduce sick humor—laugh at yourself, darkly.
Stop being convinced that you're satisfied—let yourself want more, even a seemingly "unattainable" project.
Develop your own relationship with climbing and training; spend time climbing and training alone.
Keep bouldering; don't retreat into sport climbing—win back your power and psyche.
Keep training power-endurance; don't just boulder—win back durability and technique. 
Mojo self-evaluation
"When someone loses their mojo, they're usually in denial," says Justen Sjong, a coach based in Colorado. "Often, they're projecting for too long, so they fail, fail, fail, fail, fail. You can see it in their body language of, 'I suck; I'm a loser.'" Of course, it's hard to note this tendency in ourselves, so you might ask a friend to watch how you move—simple things like how you put on your harness, walk to the wall, and don your shoes—and how you climb. If, instead of climbing with pizzazz, even on warm-ups and easier climbs, you move slowly or listlessly, then you've probably lost your mojo. It's time to step back and reevaluate.