How to Ice Climb in the Dog Days of Summer
Escape summer's heat and smoke by ice climbing in a "glacial pothole."
Heading out the door? Read this article on the new Outside+ app available now on iOS devices for members! Download the app.
The sun beats as I struggle to orient my ice screw in the Root Glacier's hard, glaring ice. I've never been so hot while ice climbing. Isn't this sport best served with a whipping wind and biting cold? I want 10-degree temps and a chill that cuts through my down jacket. Instead I'm wearing bug-eye glacier goggles and a synthetic T-shirt, about to lower my client into a moulin, a vertical shaft leading down into the glacier. 
Moulins form from cracks in the ice of a glacier. Water flows into the cracks shaping and carving away at the ice, forming a glacial pothole that connects into rivers that run underneath the glacier. Since starting work at St. Elias Alpine Guides, in Wrangells-St.Elias National Park, I have learned so much about glaciers. Almost every single day last summer I spent hiking or climbing on the Root, just one of 150 glaciers in the park.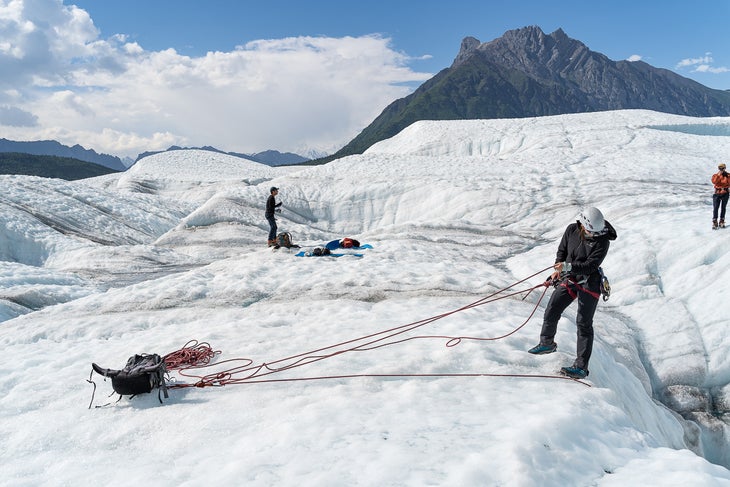 As I line up my V-thread anchor I recall how I got here. Three years ago, I began ice climbing in New York's Adirondack Mountains. When climbers think of New York the last thing that comes to mind is an ice-climbing mecca. Ouray? Sure. Cody, Wyoming? If you really know your stuff. But New York? In fact, the sheer cliffs and waterfalls that wind alongside Route 73 in Keene house some of the most accessible ice climbs in the US. Park alongside Chapel Pond and you have just a 10-minute approach to over 50 routes, some over 200 feet tall. 
*
The first time I swung an ice tool it bounced right back. While rock climbing was a puzzle I could easily solve, ice didn't make any sense—I couldn't even figure out the grading system. There were no puzzle pieces of a boulder problem to reassemble, no beta I could discuss with friends. Ice climbing, in contrast, was a canvas. Every swing and kick was an autonomous choice that allowed me to find my own path up each pillar.  
I returned to ice climbing time and again. Each day I climbed a little higher and with more confidence. I learned to climb with an A-frame stance, trust my crampons, and angle my tools so they wouldn't pop out. The next year I went all in, buying ice tools and mountaineering boots, and began ticking classic multi-pitches like Chouinard's Gully (WI 3). Two years later, I found myself standing on a glacier in Wrangells-St. Elias National park in Alaska training to be an ice-climbing guide. 
*
The screw breaks through to the other side and brings me back to reality. I smile, my V-thread is perfect. I take my baling wire, unwrap it, and bend the end into a hook before sliding it into the left screw hole. I feed my orange and yellow cordelette into the other hole and snag it with the hook, completing the V-thread. 
Considerations while climbing on a glacier
Ice screws are the only tools we have to build solid anchors on a glacier. And while glacial ice is stronger and more compact than seasonal water ice, there are several considerations to keep in mind while assembling your anchor. Before you even begin to drill your holes, pick a spot of ice that is void of cracks and striations. Then, start chipping a 16×16-inch square away at the top layer of white, sun-affected ice. 
Part of what makes climbing on a glacier so fun is the ice's exposure to the sun. The intense radiation creates tiny pockets in the ice, leaving us with walls of "hero ice." One swing and your tool's pick sinks deep into the ice. In fact, it's harder to remove your ice tool than to get it in there in the first place. But be warned: on cooler days deep in a moulin, glacial ice is more like swinging into set concrete!
How to build your anchor
Once you've chipped your workspace down to a solid blue layer of ice, dig a moat out of the ice on the top, left, and right side of the square. Now it's time for the V-thread. The upper right and left corners are an ideal spot to drill. Take your 22-centimeter ice screw and drill it into the ice at a 60-degree angle, burying its entire length. Remove it and drill another hole roughly 22 centimeters away from the first, aiming it toward the hole you've just created at a 60-degree angle. Once you've intersected the two, you can now thread your cordelette.
Add two 22-centimeter screws to the anchor about 8 inches from each other. Both of these screws should be screwed in about 10-degrees away from the direction of pull. Start by placing the screw at 0 degrees and then tilting it slightly away from the direction of pull. View your screw placement from the side for a better perspective. Add a carabiner to both ice screws, equalize the three anchor points with the cordelette, and tie a masterpoint. Then, take a locking carabiner and clip that through the masterpoint. Finally, scoop up the chipped-away ice and cover your anchor's ice screws with it. A screw's metal is a terrific conductor of heat; it's not an issue on cloudy, winter days, but in the heat of an Alaskan summer, your once-solid placement will quickly melt and fall out.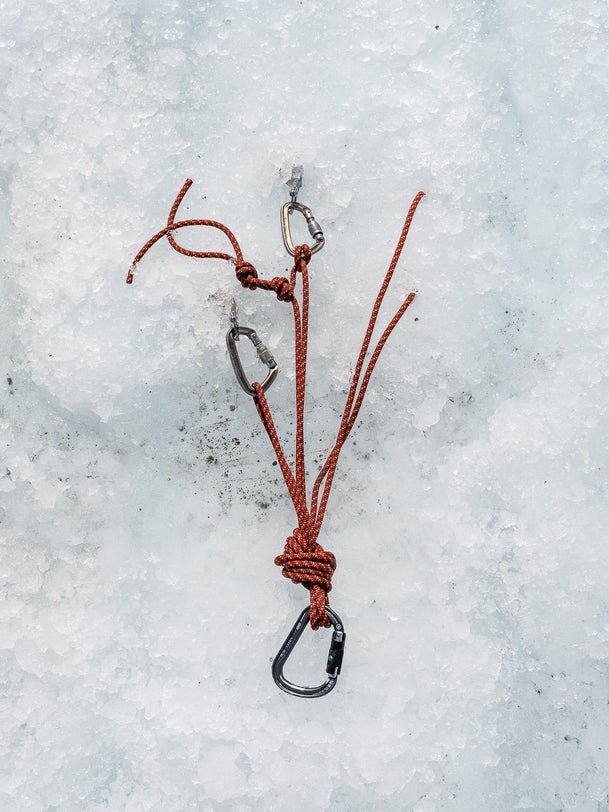 Flake out the rope. Measure out a length for your tether and clove hitch yourself to the rope using a locking carabiner. (You may choose to tie an overhand knot beneath this clove hitch as a back-up.) Using a locking carabiner, clip the other end of your tether into the anchor's shelf with an overhand knot. On the climber's side of the rope, tie a munter hitch onto the masterpoint's locking carabiner and put your climber on belay with a Grigri. This combination of munter hitch and assisted braking device provides plenty of friction and control as you slowly lower your climber over the moulin's lip. If you can belay at a spot where you can see the climber, even better. Don't be afraid to yell down to the climber. It's hard to hear anything but water gushing in a moulin.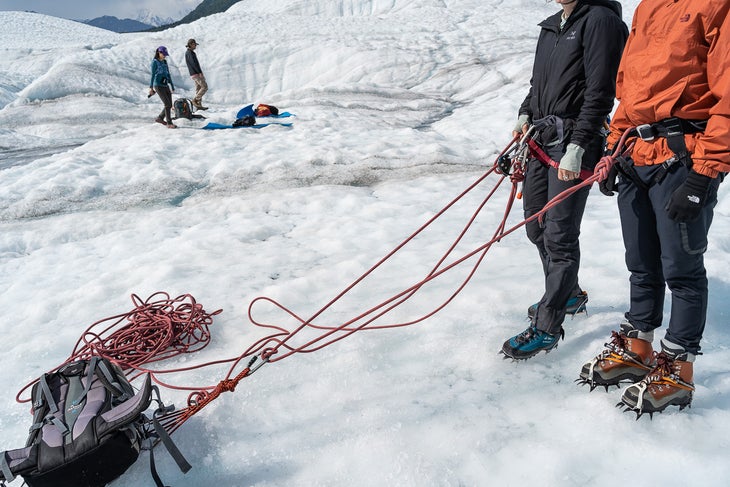 *
I straighten my back, stretching, while one of my climbing partners flakes our rope. Since I built the anchor, I get to go down first. I tie in and gaze behind me at the abyss I'm about to enter. Two weeks ago, this moulin, "Azule," was a blue pool filled to the brim with bone-chilling water. After ice-climbing training we all jumped into it. But the features on the Root Glacier are constantly changing; something unclogged beneath Azule and the pool slowly drained into a moulin. 
I am filled with excited energy as I walk back to its lip. I know what's about to happen. I'm about to enter a different universe. Water rushes to my right and pounds into the wall behind me. I peer down into the inky abyss and waves of unblemished ice stare back. Water meanders through the canyon below until it reaches a shaft around the corner. I can't see it but I know when the water drops off: there is a moment when the crashing meltwater free falls into nothingness. I could stay down here for hours. 
"Stop!" I scream 20 feet from the bottom of the canyon. The inside of Azule reminds me of home. The sun doesn't hit the ice down here, it's solid and hard, just like February in the Adirondacks. I dangle for another second taking in the cold air and gazing at the ice formations. 
"Climbing!" I yell upwards, breathing out and calming my nerves. No matter how many times I drop into a moulin, my stomach churns. This isn't where humans are supposed to be. I kick my feet out wide and stand up, pressing my hips into the wall. Water melts from above and runs down my pants. Two strong swings and I'm in an A-frame stance. The ice down here is vertical, like a subway tunnel tilted 90 degrees. I wrench my ice tool from the ice, cock it back, and place it again higher above. My placements are solid and I'm flowing. 
I'm out and looking back down all within seven minutes. I stare into the tunnel mesmerized by Azule's colors and shapes, some I can see, others I can only imagine. My climbing partner notes how fast I went. But all I think about is the next time I can get back in.
The Main Difference Between Rock and Ice Climbing. (And Why Not Knowing Can Maim You.)