Climb Harder By Mastering This Breathing Technique
Utilize the relaxing breath to improve on-route performance.
Heading out the door? Read this article on the new Outside+ app available now on iOS devices for members! Download the app.
It's strangely easy to forget about something you do 20,000 times a day, but taking a minute to focus on maximizing your oxygen intake while climbing can offer a considerable performance boost. Coach and world-renowned climber Justen Sjong has developed a breathing style that supports a relaxed body and mind, even when you're climbing at your physical limit. Keeping your breath soft and natural (not labored or forceful) positively affects your movement and stress level, helping you to climb efficiently and thoughtfully, and leaving you more energy and strength for cruxes. "If your body is getting more oxygen, you will maintain mental clarity to read the rock and move over it in the most effective way possible, plus it maximizes resting," Sjong says. Practice the following methods as much as you can so they become second nature on the rock, and you will find your performance across all climbing disciplines improves.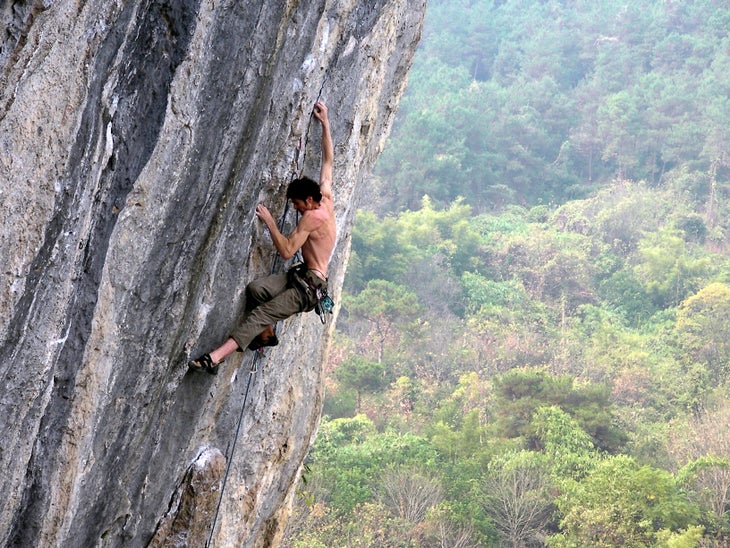 Start Here
Scout out a quiet place at the crag. Stand with your hands by your sides, loosen the muscles in your face, slightly purse your lips, and slowly inhale through your mouth. Hold the inhale for a split second, and then exhale through your mouth, maintaining a soft face and pursed lips. On the exhale, hear and feel the air leaving your lungs and let your whole body decompress (shoulders loosen, face and eyes soften even more, core eases, mind quiets, etc.). Repeat this inhale-exhale cycle three or four times. Each subsequent breath should take a deeper layer of stress out of the body until you reach total composure—both physical and mental. The goal is to find your "relaxing breath," or a moment when you feel completely at ease and comfortable, and your mind is clear.
A skilled practitioner can grab a juggy hold and drop into a deep state of rest on his first breath. He can also master his coordination and weight distribution to the point where a relaxing breath can be found in the middle of a challenging sequence while gripping two small holds. When faced with difficult movement, we tend to tense up, breathe quickly, and overgrip, and this not only unnecessarily exhausts you, but it also stops your brain from thinking clearly. If you can reach this relaxed breath, you will maintain a clear mind to make productive movements.
After becoming comfortable with finding your relaxing breath solo, choose a route or boulder problem you have wired and consider easy. This is important because you don't want to be distracted by falling, route-finding, clipping, etc. While completing these first few levels, your only goal should be to work with breath. It's also crucial to master a step before graduating yourself onto the next level.
Step 1
Breathe before and after every climb so it's habit.
After getting fully geared up and tied in, stand at the base and find your breath. Climb to the top. While being lowered, go back and find your breath. If bouldering, wait until you have jumped back to the ground or are standing on top of the problem. This step must be added to all of the following levels.
Step 2
Breathe while moving over rock. 
Start as for the previous step, but every few moves, stop and find your breath. Body position is important as the resting arm or arms need to be straight and relaxed. Your legs should be wherever is necessary to keep arms using minimal energy, whether they are directly below you or out to the side. Keep your core soft. Look down and to the side with a soft gaze; find something neutral to look at. Don't look up or down at the route.
Step 3
Increase climbing difficulty; re-find your breath on-route. 
Time to bump up the stress level. Go from toprope to lead, or an easy route to a hard one—one near the upper end of your comfort zone. Any line you won't fall off unless you really screw up is ideal. Repeat step 2.
Step 4
Push harder and find your breath at every rest.  
Choose something closer to your max and find your breath at any place you can stop and shake out. Feel how it affects resting and decision-making while onsighting. When you really start to breathe correctly, on-route recovery will be faster, holds will be easier to see, and reading sequences will come more naturally. Once you can consistently do this, cut yourself loose on projects.
Step 5
Slow down, find composure, and take a relaxing breath when really cranking.
The real mastery can be found here: finding your breath in the middle of hard sequences. The goal is to stop—regardless of how small the holds are, take one relaxing breath, and move on. This mini-break releases the mind from the haze of effort, and the ensuing clarity allows you to focus intensely on the next move or series of moves.
Step 6
Use this relaxing breath in your everyday life.  
Most people respond to the stress in their daily lives just like they respond to the stress of climbing: shallow breathing, sweating, foggy thinking, and a wave of heat going over you. This breathing practice can reduce stress and focus your mind in daily life, too.
Also Read: