Expert Advice for Advanced Resting Tactics
Terminally pumped? Follow these tips to achieve a restful stance on vertical rock, steep caves, corners, and more.
---
Join Climbing
Create a personalized feed and bookmark your favorites.
Join Climbing
Create a personalized feed and bookmark your favorites.
Join for free
The best way to maximize your staying power for enduro-packed routes is by resting more often and more efficiently during the climb. You may do endless training laps for stamina, but learning to cop strategic rests mid-route is more likely to win you the onsight on any terrain.
Vertical Rock
Your legs are much stronger than your arms, so look for stemming opportunities to relieve your fingers and forearms throughout a route. Corners are the obvious places, but many times you can also stem between knobs, pockets, ribs and tufas, or other rock features on a flat wall. To rest on a face climb or arête, wrap your instep over a crystal or edge, rock onto it, and then squat onto that foot, with the other leg dangling to keep your weight close to the wall.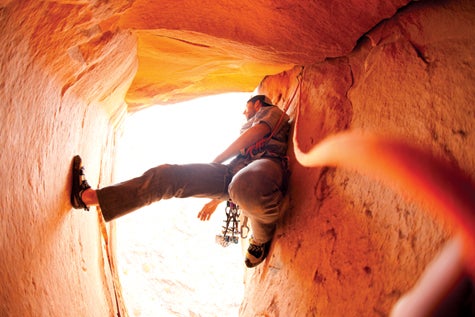 Stemming and thin face climbing may tire your feet and calves as much as your fingers and forearms, leading to imprecise footwork. Try standing on a good foothold with your heel—instead of your toe—to rest your lower leg. Alternate feet if possible.
A knobby wall provides plenty of opportunities to rest your fingers. Curl your thumb or crook your pinkie around a knob to give your fingers a chance to recover. When you reach an extra-large, flat edge, rest your forearm on the shelf instead of hanging on your hands.
If you have crack climbing skills, you can often find great rests on a face climb by hand- or finger-jamming in horizontal cracks or vertical pods. Pods or flares in a crack provide great pit stops during long laybacks—cam one foot into the pod, so you can stand up straight, get your weight over your foot, and stop pulling as much with the arms.
Overhanging Rock
Stemming is even more essential for resting on overhanging rigs, where your arms and core do most of the work. Even the shallowest corner or groove may present an opportunity for a quick stem and shake. When two planes of rock are too close together for effective stemming, you may still be able to milk them for a rest with a drop-knee: Turn your body sideways and drop your inner knee toward the ground, smearing with both feet in opposition, as if you're chimneying. With a good enough drop-knee, you may be able to lower one or both hands for a rest.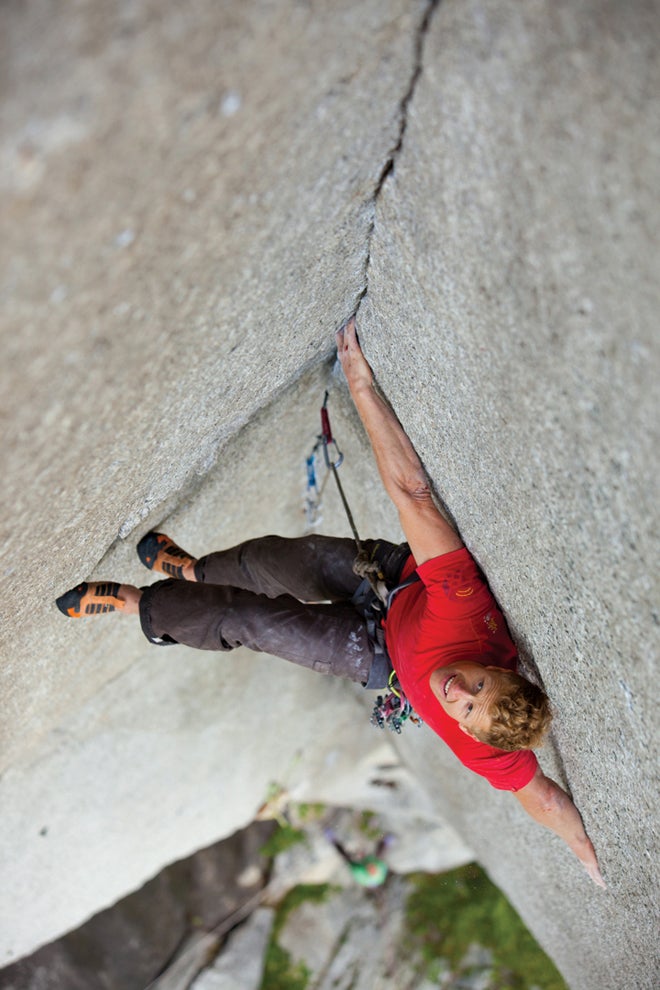 While stemming or dropping a knee, your upper body can help ease the strain on bulging forearms. Look for opportunities to "scum" a hip, shoulder, or even your head against a dihedral wall or a roof to hold yourself in balance.
The ultimate scum is the knee bar, in which you wedge your lower leg between two surfaces, with the foot and knee in opposition. Knee bars are commonly found under small overlaps or inside corners, with the leg turned sideways to press the knee against the corner wall. Strong abs will be required to use a knee bar for very long on an overhanging route.
The heel-hook is the most common rest on this terrain, and toe-hooks may also offer a good rest—an extreme version is the bat hang, in which the toe is hooked over a lip or inside a big pocket, and you hang completely upside-down to shake out. Knee-bars, heel-hooks, and other core-intensive rests often reach the point where loss of strength in your abs and legs outweighs the gains in your forearms in just a few moments. Often it's best to shake out, chalk up, and then move on.
Get the Best Rest
Hard onsights and redpoints often come down to managing your rests well. As you suss out a climb from the ground, try to identify good rests along the way. If the rock is vertical or overhanging, you'll want to climb without pauses between the rest positions.
When you get to a rest, hang straight-armed from the hold. Use an open-fingered grip (not a crimp), and see how little strength you can use to hang on. (Think skin friction versus grip strength.) Vary your hand position: "Piano" your fingers along a small edge to give each finger a breather; alternate fingers in a pocket; and switch to different holds, if possible, to vary the grips.
Hopefully the rest will be good enough that you can shake out each hand alternately. If necessary, adjust your feet and body position to keep your weight over your feet as you switch hands. Gently shake the hand and your loose limb, and wiggle the fingers. The goal is to get the blood moving and thus remove lactic acid from your pumped muscles. (A quick shake between holds when you're climbing is also effective and should become habit.) Trainer and author Eric Hörst helped popularize the technique he calls "g-tox in" which the climber alternates shaking out with the hand overhead and dangling at his side. Shake out in each position for five to 10 seconds before switching. A study by British researcher Luke Roberts in 2005 showed that this method is significantly more effective at speeding recovery than the simple dangle-and-shake, probably because gravity helps circulate blood out of pumped forearms in the overhead position.
Effective recovery is as much about relaxing the mind as resting the forearms. While resting, don't focus on anything specific. Gaze into the middle distance, take slow, deep breaths, and let your thoughts grow calmer with your exhalations. If the stance is excellent (with most of your weight on your feet or in a comfortable knee-bar or heel-hook), stay in the rest position until your breathing and heart rate slow to near normal. Take a moment to visualize the next sequence or organize your gear, and then purposefully resume climbing.