How to Send Projects With Alex Megos
Alex Megos shares his mindset for fast and decisive sending
Photo: Andrew Burr 801-463-3821
Heading out the door? Read this article on the new Outside+ app available now on iOS devices for members! Download the app.
This story originally appeared in the August 2015 issue of our print edition.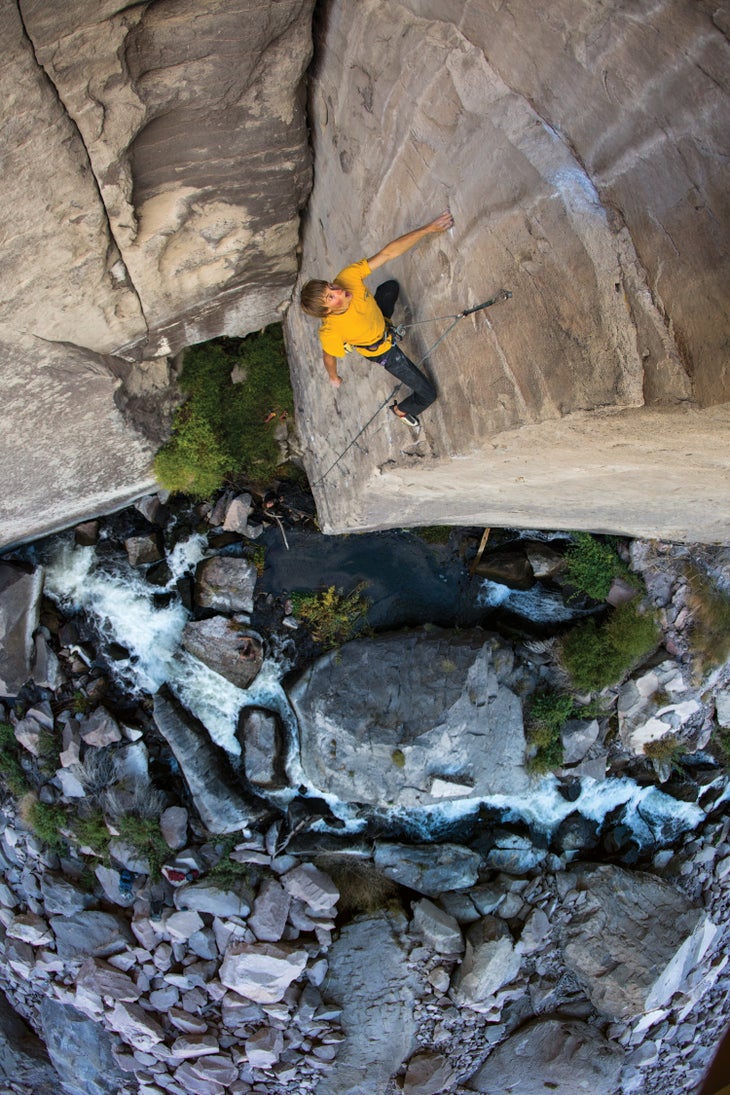 Sitting calmly under one of the most storied stretches of limestone on the planet in July 2014, Alex Megos silently rehearses the sequences of Realization/Biographie (5.15a) in his head as he straps on his shoes. He pulls onto the world's first consensus 5.15 route for the third time ever and silently dispatches the 35-meter line. While impressive by anyone's standards, sending difficult climbs quickly is Megos' forte.
In March 2013, Megos onsighted Estado Critico (5.14d) in Siurana, Spain, becoming the first climber to onsight the grade, meaning he successfully climbed it first try without any prior knowledge or beta of the route. A few days later, he almost flashed La Rambla (5.15a), but fell right at the top. He sent it second try, same for a 5.14d called A Muerte, both in Siurana. In October 2012 at the age of 19, Alex made waves in the U.S. after a killer season at the Red River Gorge, Kentucky, where he completed 11 routes in the 5.14 range in three tries or less, including a flash of Pure Imagination (originally 5.14d, downgraded to 5.14c). But his knack for speedy ascents isn't confined to route climbing. In 2014 Alex returned to the U.S. with his attention turned to hard bouldering. Within a week of arriving, he had sent The Swarm (V13/14), The Buttermilker (V13), and Mandala Sit Start (V14), in Bishop, as well as Meadowlark Lemon (V14) in Red Rock, "spending two short sessions on each problem."
"I just don't like falling; that's it," he says of his secret to climbing hard routes fast. He also has a tried-and-true process for working climbs: a positive approach, thoughtful projecting, and efficient attempts. "I convince myself that it's completely possible," he says. Once on the wall, he works his way through each move of the route until he's done them all at least once. "I just tell myself: I did all the moves, so why shouldn't I just do all the moves in a row now without falling?" He explains, "I just ignore the fact that you get tired or pumped during climbing—and that works very well!"
Megos started climbing in 1998 at the age of five, growing up on the steep limestone walls of Germany's Frankenjura. At 16, he distinguished himself within the local climbing community through speedy ascents of area standards like Drive by Shooting (5.14b, third try) and Pain Makes Me Feel Stronger Every Day (5.14c). He also flourished in competition climbing, taking home numerous first and second place finishes from 2007 through 2010. "I have good endurance and a very short recovery time after trying something hard, so I can do many tries in a day without decreasing my chance of doing the route because of loss of power," he says. "My [strength] level stays the same even after a few tries…which increases my chances of climbing a hard route in one day."
In January 2015, Megos got his first dose of projecting on Paul Robinson's Lucid Dreaming, a V15 on the iconic Grandpa Peabody boulder in Bishop. "I never really projected anything until now," he says of the 11 days he spent on the line. He worked the individual moves for six days in a row, took a rest day, and then gave it some serious attempts. On the last go of the day, he cut his fingers and had to take two rest days. His fingers weren't completely healed, but he said, "I couldn't have rested any longer, or I would have freaked out!" So he taped up three fingers and sent.
Megos' stellar track record shows no signs of slowing, and his undying enthusiasm for climbing ensures he will keep pushing the limits of the sport in the years to come. "You get to know so many friends very well, you've got a never-ending amount of areas in so many countries, and you've got so many different types of rock and so many different styles of climbing; it just never gets boring."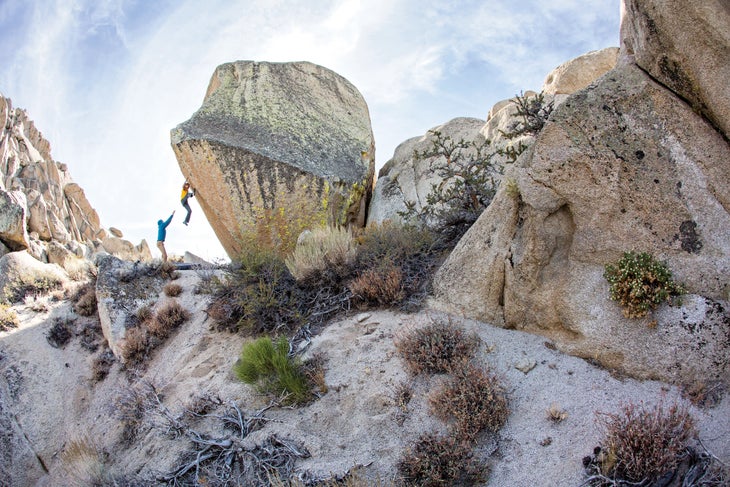 How to Project Effectively
1. Ignore Beta
Climbers too often focus on making single moves feel easy within technical sequences when onsighting. Sometimes this is necessary, but other times the best solution is to pick a quick sequence that works, even if it feels hard. Don't get caught up in the details, move quick, keep going, and bear down through the hard stuff!
2. Improve Stamina
When onsighting, time is perhaps the most limiting factor between success and failure. Getting the most out of your time means learning how to climb quickly, but also building your endurance by focusing on training volume so that you can handle more time on the wall if climbing quickly simply doesn't cut it.
3. Be Positive
From the beginning, I don't let doubt creep into my head at all. The mantra of the beginner's mind, with no expectations for success or failure, is a good place to start, but I try also to stay completely focused on the individual movements I already know how to do and on the route as a whole. If you doubt yourself, the battle is already over.
4. Don't Stress
If I think too much about an onsight attempt, it leads to unnecessary stress, which then leads to nervousness, which probably leads to messing up something simple. I try to manage my emotions and work to stay calm. I onsighted Estado Critico almost by accident, only realizing what I was doing during the last few bolts.
5. Have Fun
If you don't step out of the stressful aspects of climbing—the grades, expectations, and competitions—and make sure that you're still having fun, you might lose the enthusiasm and motivation you need to perform. The beauty of climbing is that when one facet begins to frustrate you, there are 10 others to switch to for relief.