Learn This: Conquer Chimneys (With Tips From Rob Pizem)
Heading out the door? Read this article on the new Outside+ app available now on iOS devices for members! Download the app.
Royal Arches, Yosemite. Kor-Ingalls Route, Castleton Tower. Durrance Route, Devil's Tower. What do these super-classic moderates have in common? They each have a physically demanding chimney. This term refers to any fissure that your body fits inside, ranging from a squeeze chimney (one to two feet wide) to much wider, where you must stem the gap with a foot and hand on each side. Each width requires its own set of unique movements, so we talked with wide-crack wizard Rob Pizem (who points out that this was one of the earliest climbing techniques) to break it down into a step-by-step process.
Movement
Squeeze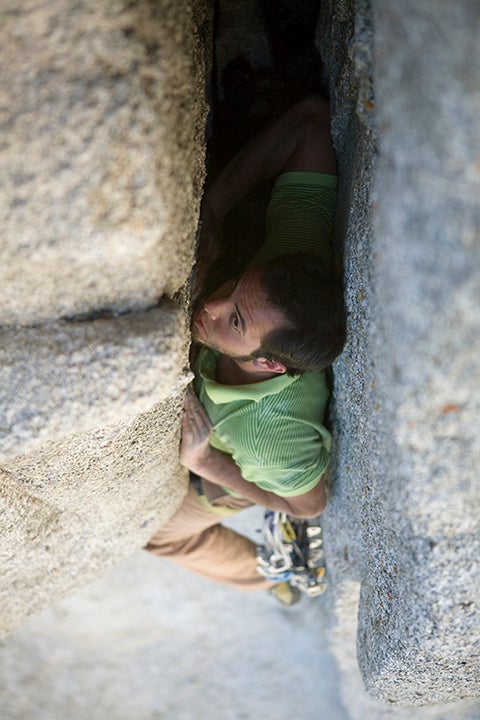 The tightest of the tight, where just breathing in can prevent you from moving upward. Remove any bulky gear (pack, shoes on harness, etc.), put it on a sling, and clip it to your belay loop so it hangs down. Choose a side to stick in first: If the crack gets tighter as it goes deeper, put your dominant hand inside for jamming, or if there are more edges on one side, face it so you can use them for holds. This style is "anything goes," but every movement should be small and approached with patience. Look for narrower sections to wedge your feet with heel and toe smeared on opposite sides, like you're standing. Try heel-toe cams, twisting your ankle so your foot cams sideways into place (Pizem's favorite), or a T-shape (feet perpendicular, with the heel nested into the arch of the other foot). Hands should be doing anything: finding edges/crimps (including on the face next to the crack!), smearing with palms, and arm-barring or using a chicken-wing (palm on one side and upper arm on the other)—try elbow up and down. Inhaling may lock you into place, so exhaling might release you.
Froggy Style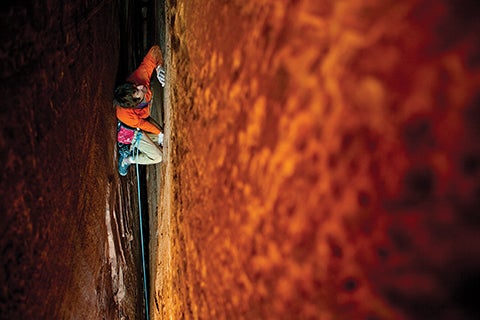 This is required for chimneys that are just bigger than squeeze but not expansive enough to fully stem. Back on one side, knees pushing into the other. With the soles of your feet pressing into the back-side, push out with your palms—fingers pointing down or to the side—kept low for leverage. Lean your upper body slightly forward, and push down and out with your feet and hands so you can scoot your butt and lower back upward. It will be slow and steady, but push with everything to hold you in place while your upper legs lift your body. Repeat pushing to slide your legs up.
Stemming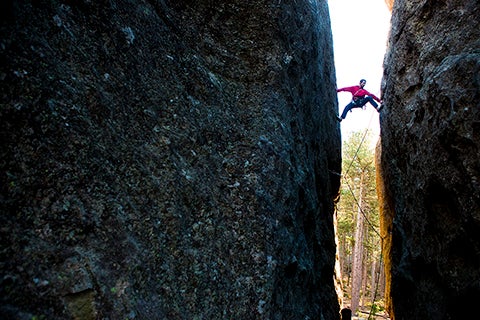 For the widest chimneys out there, put your left foot and hand on one side with the right hand and foot on the other. Press and push your feet and hands outward, trying to maintain as much external pressure as possible. "Think about pushing through the wall," Pizem says. "Most people slip because they are pushing down when the holds actually require them to push out." Always be looking for edges, bumps, or slabbier sections to use as footholds. Pull down on holds above or palm the wall to get some downward force so you can move up one foot at a time.
Chimney Cheats (With Rob Pizem)
Gear
>> No tight, downturned shoes; think flat, stiff, and supportive.>> Check belay loops, waistbelt, and leg loops for damage.>> Use a webbing strap to move your chalkbag (side or front).>> Pants, pants, pants! Protect your legs with jeans or canvas.>> Put all pro on a sling. If the chimney gets tight, hang the gear down and out of the way by clipping it to the belay loop.>> Tie your knot with a longer bight so it's below your crotch.>> Take your helmet off—just put it back on when it's over!
Mental
I tell myself that the first ascensionist would have placed a bolt if it were really bad! The only reason you'll fall is if you quit or go limp. Start on shorter chimneys to build endurance and technique, then attack the longer ones. Plan on being runout at times, but totally secure. Breathe and climb from rest to rest. This will keep you focused on the few feet in front of you.
Protection
Place when you can, not when you want to. That means taking everything you can get: small nuts, slinging blocks, or walking a huge cam up next to you. Look for spots on the face, too. Pro will be limited, but your position is surprisingly secure.
Rest
Find a way in which you are not applying external pressure but you still won't slide down. Turn your upper body so your shoulders are wedged, or inhale to lodge your chest in place. In froggy style, lean forward so your chest is against the rock, or sit down on your wedged feet. Look for any holds, bumps, or edges to put your feet on. You have to rest your way up. //