Heading out the door? Read this article on the new Outside+ app available now on iOS devices for members! Download the app.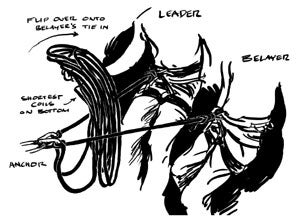 Stacking ropes on multi-pitch climbsGood rope management at belays saves time and headaches. When you belay on a ledge, feed the rope into a small pile, about two feet around, as you take it in. Compact the growing rope pile with your hands or feet to keep it stacking bottom to top, and to keep it from sliding off the ledge. If your partner leads the next pitch, just pay out rope from the top of the pile. If you're leading in blocks, you'll want to "pancake" the pile: Once your partner has arrived at the belay, flip the rope pile like a pancake so your end is now on top.On tiny ledges or hanging belays, you won't be able to pile the rope. Instead, stack the rope in loops, draped back and forth across your tie-in point. If you make the loops all the same length, they'll tend to tangle. Instead, make them gradually longer or shorter, depending on who's leading the next pitch.
If you are swinging leads, make the first loops long—I like them to hang down about 10 feet on each side—and make each successive loop about three inches shorter than the last. This allows the rope to pay out without the top loop tucking under other loops and forming tangles when your partner is leading.
If you'll be staying in the lead for the next pitch as well, start with onefoot loops and make each gradually longer. When the second climber is anchored at the belay, have him grab the stack of loops by its center and bring it toward his lap. Then, while he holds the stack, flip it onto his tie-in so it ends up with the short loops on top, ready to feed out cleanly.