Our Top 10 Training Articles Of The Year
2022 is just around the corner. Here's a little training inspo.
Heading out the door? Read this article on the new Outside+ app available now on iOS devices for members! Download the app.
The ancient Babylons are said to have been the first people to make New Year's resolutions, primarily revolving around the health of their crop. About 4,000 years later, the tradition continues, although modern agriculture has made wishes for wheat far less common. 
But, dear reader, we already know what one of your resolutions is—your project is not going to send itself. 2022 is the year to get it done, so here's our top training articles of 2021. Start planning!
***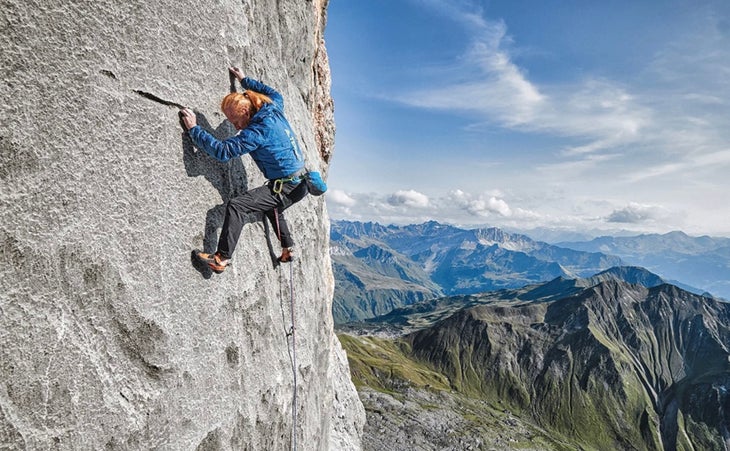 Oh, how times have changed! Masters are defying the data by bouldering V10 and redpointing 8c-9a (5.14b-d) in their 50s and 60s. This level is very difficult to achieve by training endurance alone, and we now understand that there are safe and effective strategies for getting stronger well into our later years.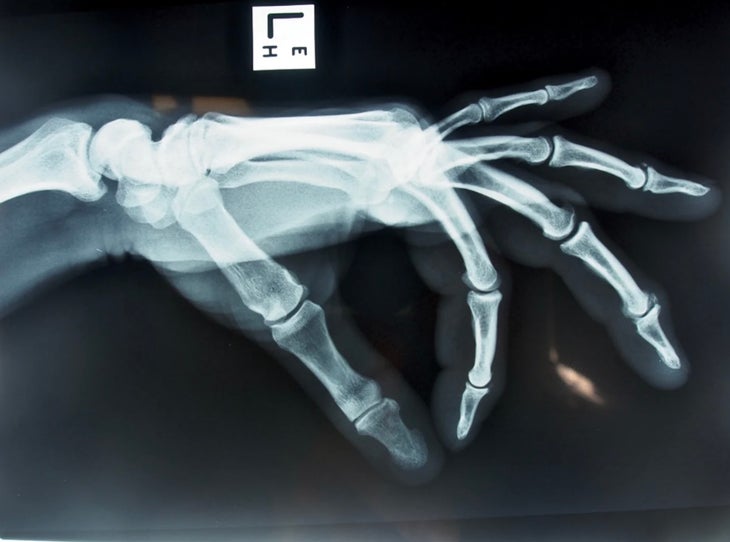 Osteoarthritis is defined by degeneration of the joint surface known as either hyaline or synovial cartilage. Although acute and chronic injury can speed up the onset of osteoarthritis, sport in general is ironically protective even at a fairly intense level. Athletic activity causes cartilage to become more robust and muscles to offer greater stability, thereby affording the joint some resistance. This has been amply demonstrated in runners in particular. If, however, you add a single serious injury—say, an anterior cruciate rupture (the ACL is one of the main stabilizing ligaments in the knee)—you are almost certainly looking down the barrel of earlier degeneration. Translation: Snapping pulleys and ligaments around the fingers will probably not serve you well, nor will chronic damage inflicted by inordinately large mechanical loads on fairly small joint surfaces.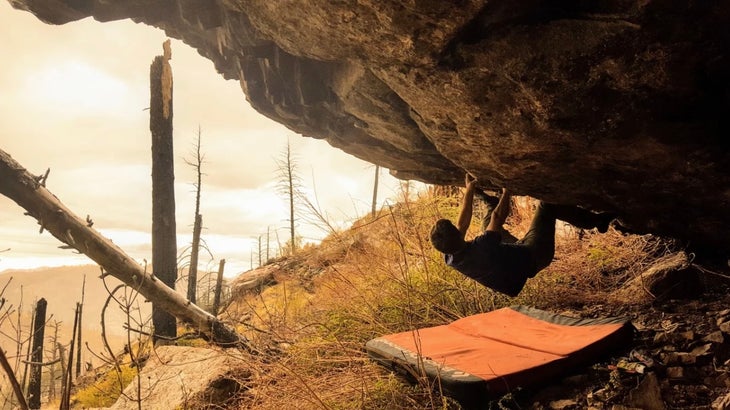 Are you putting in the training but failing to see a payoff on the bouldering wall? Maybe you are plenty strong and have good climbing technique, but you are lacking muscle power. Rock climbing performance, and particularly bouldering performance, is not only related to the force that you can develop but is strongly correlated with the rate that the force is developed1. In essence, even if you are very strong, if it takes too long for you to produce full force, you may miss the dynamic moves every time.
This article will provide boulderers the resources to make their training regimen more focused and effective for developing upper body power. By mimicking the physiological demands of bouldering, these exercises will prepare boulderers for dynamic movements and make them more confident on the wall.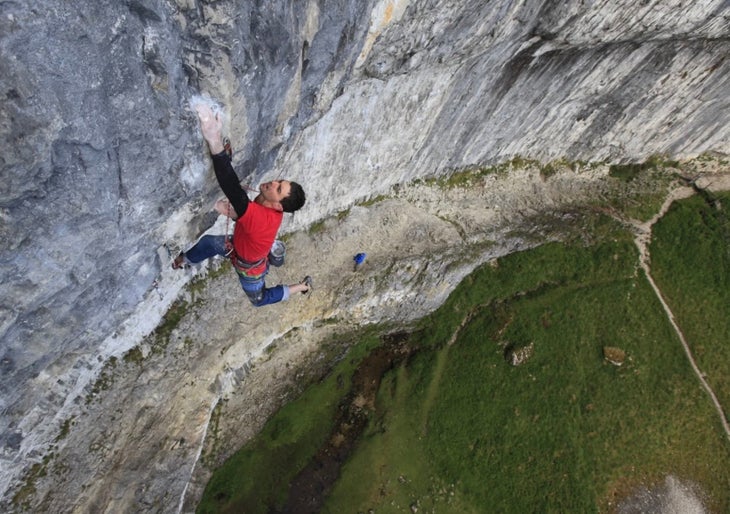 There you go, I've said it. I think that most climbers are taking the wrong (or should I say "too narrow") approach with their strategies to improve strength. This is important because the ability to exert incredible levels of force from our body onto the rock makes a big impact on grade. Athletes looking to push their performance to the next level shouldn't be satisfied with taking an ineffective or incomplete approach to improving strength.
If you're ready to improve this element of your climbing then there are a number of areas you should focus on:
Applied strength technique
Muscle size
Inter-muscular coordination
Muscular recruitment
Fascicle length and rate of force development
Many climbers get a few of these right (in different combinations) but very rarely, unless they are being coached and managed, will they hit all or most of them. If—and it's a big "if"—you do tackle all or most areas then you can say hello to strength improvements and maintenance for the rest of your life.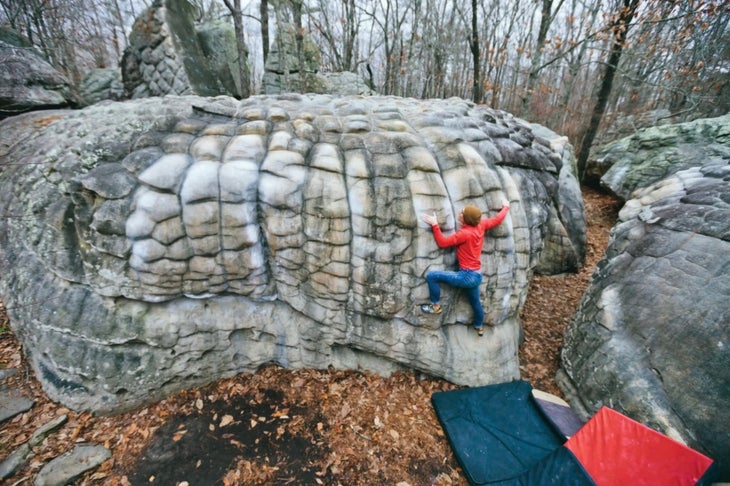 In the last few years, "compression" has become a buzzword in the climbing world, denoting a specialized style that involves squeezing, friction-dependent slapping, and chest-centric movements. Because this type of climbing involves more pushing muscles than pulling, many climbers struggle with the subtle strength required because the majority of their power comes from overdeveloped backs and biceps. Routes with big squeezes, similar to mantels or slabs, have a reputation for being sandbagged and esoteric, and you might find that a slopey V3 requires the same thoughtful approach and try hard as a steep V11. However, there are a few basic techniques that can refine and upgrade your compression skills. Combine that with a confident mental approach, and you'll be hugging your way up the blankest features out there.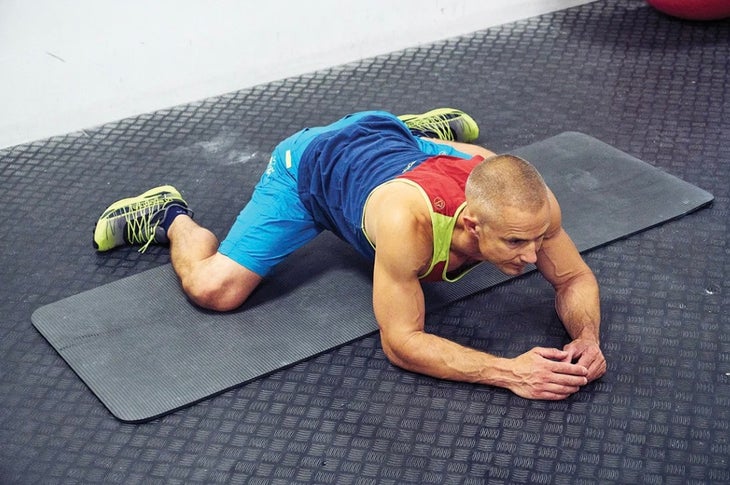 Everyone knows the type: that dude who's so obscenely strong he can do one-arm pull-ups and campus wearing a 20-pound weight vest. 
"I'm surprised he doesn't climb harder," someone says—again. 
How many times at the gym have we heard this banter? Today we see mutants cloned en masse, yet in climbing, strength can be both a blessing and a curse. Remember, power is nothing without control. The best climbers aren't necessarily the strongest, but the ones who have the X-factor in movement. Watch footage of Adam Ondra or Margo Hayes, as well as veterans such as Lynn Hill, Peter Croft or John Bachar, and you will see that they share a balletic, aesthetic movement style. It takes talent and years of experience to hone technique; and flexibility and mobility are key to the process.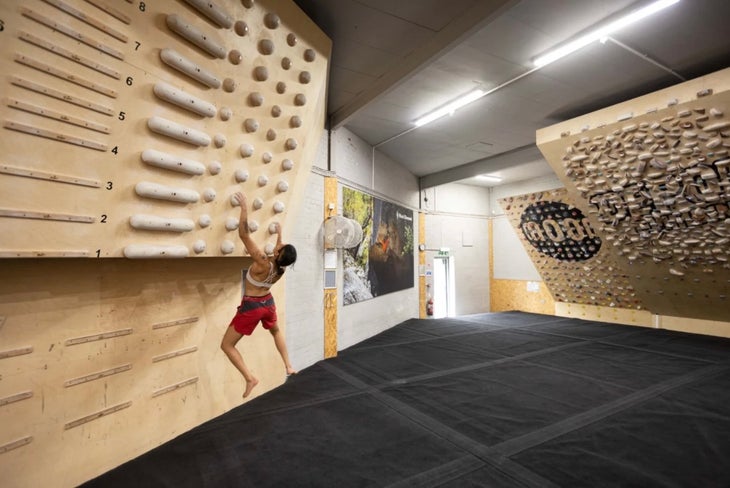 Pull ups are a must for almost all climbers who are serious about their progression and longevity in the sport. Year on year improvements in strength are essential for grade progression and the lowly pull up is an incredibly versatile tool for this. In essence, it involves the resistance training of the main upper body prime movers in climbing: lats, rhomboids, biceps, trapezius and infraspinatus just to name a few. Add to this the fact that there are almost infinite variations on the pull up and you've got an exercise that will serve your performance for literally decades. Addressing the strength element in training is key for longevity in the sport and injury prevention. With the pull up, we have an exercise that – along with its variations – is capable of building strength in almost every muscle in the arm and upper body.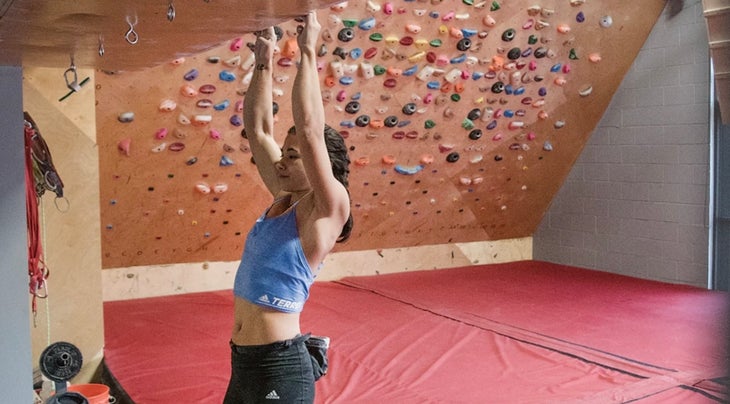 Fingers of steel are the foundation of harder climbing, and as long as you have a solid base of climbing experience (climbers just starting out will find maximum benefit from just climbing), finger-strength training is an excellent addition to any climber's training regimen.
Max finger strength is your ability to grab a hold for 5 to 10 seconds, and it is employed in lockoff cruxes or on moves that require latching tiny or slopey holds. Finger-strength gains can come from any climbing that has moves or holds that are taxing on the fingers, like bouldering at your limit, but the extraneous movement won't translate directly to finger strength. Hangboarding targets this important element of climbing.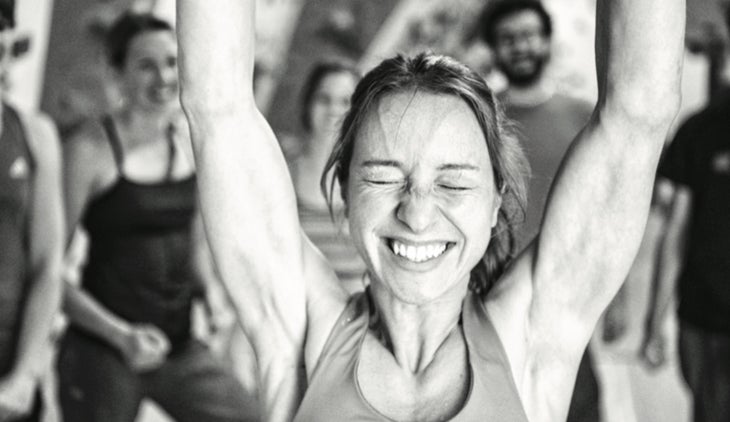 A climber with great wisdom once said that if you can climb 5.11, you can climb just about any mountain, cliff or wall in the world. That's about right.
Once you start moving into 5.11 terrain, you will often be on steeper and more overhanging walls than before. The pumpy sections may not last for the entire route, but will require you to hold lock-off positions for a number of seconds and maintain a more sustained effort of climbing, though the moves are often interspersed with large hands- off rests. Use the following exercises to step up your game.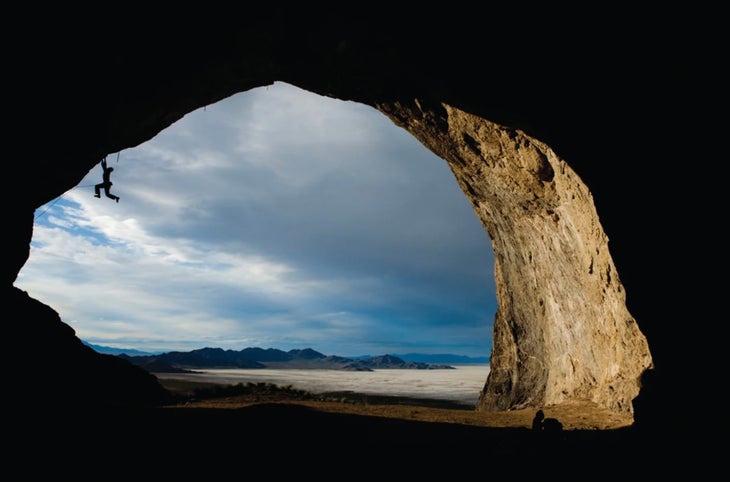 While most people might jump right on the wall and crank out lap after lap at a comfortable grade, that type of training by itself won't really help you tick harder grades or improve at steep sport climbing. Ten laps on a 5.10 will help build endurance on other 5.10s, but when it comes time to work that 5.12 project, you'll be left wanting.
We collaborated with expert trainer, world-champion climber, and famed climbing coach Robyn Erbesfield-Raboutou to create a simple, effective four-week training program that's designed to have you ready for the Red River Gorge, Kentucky, a destination known for its killer caves and steep walls.
The plan will focus on technique, endurance, core strength, power-endurance, and perhaps the most underestimated but important part of climbing overhangs—resting.