So You Dropped Your Belay Device Halfway Up a 900-Foot Route… Now What?
These gear tips can help you avoid being stranded on the wall... or taking terrible risks to get down... or simply allow you to continue enjoying a climbing day.
Dropped, forgotten, destroyed, or mysteriously vanished gear can ruin a climbing day or even be life-threatening. But with a little know-how, you can recover from most bone-headed mistakes and either keep climbing or descend safely. As an added bonus, you'll impress your friends with your level head and savviness.
When you've ruined one of your ropes
If you trash your trail rope during a multipitch climb, you can still make double-rope-length rappels to get off. Feed the undamaged lead line through the anchor point, and attach it to the damaged line with a bulky knot that can't pull through the rap rings. (This method is sometimes called the Reepschnur rappel and must be backed up.) Don't use it with an anchor that has webbing or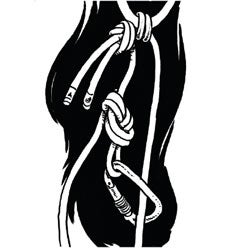 carabiners at the rap point; the smaller the rap rings, the better. Next, rig a back-up by tying an overhand or figure-eight on a bight on the damaged line, near the knot, and clipping the loop to the lead line [see illustration]. With the knot jammed against the rap point, you can rappel single-strand on the undamaged lead line, then pull the damaged trail line to retrieve your good cord. This method can also be used to temporarily anchor one strand of a double-rope rappel so you can rap with a Grigri or other single-rope belay device. (see figure 1.)
For more details, see "Two-rope rappels with one chopped cord"
When you've run out of quickdraws
If you run out of quickdraws, you may be able to substitute a chock. The cable loop on many wired nuts can be pulled away from the nut, exposing the end of the loop; clip a carabiner into each end of the wire for an instant quickdraw. (If the cable is soldered or glued at the nut, this method won't work.) For a back-up long runner, carry a gear sling rated to full strength.
When you've dropped your belay device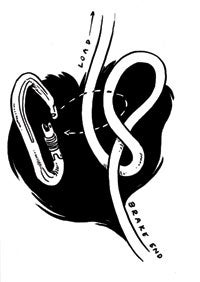 If you drop your belay or rappel device, use a Munter hitch. You can belay or rappel with this simple knot, using only the rope and a locking carabiner. Ideally you'd use a large, pear-shaped carabiner, which allows more room for the knot to move and "flip" freely so it can engage or release braking power, but if you don't have one any locker will work. You can even use two non-lockers with the gates opposed and reversed. Tying the Munter is simple—see figure 1—but make sure the knot you tie looks exactly like figure 2. Check that you've done it correctly by pulling the rope back and forth —the knot should "flip" as you change direction.
To see other good uses for the Munter hitch, read "Munter Magic"
When you roll up to the crag sans harness
If you show up at the crag without your harness, all is not lost. For single-pitch climbing, you can share your partner's harness; the climber wears the harness while you belay directly off an anchor at the base: a sling around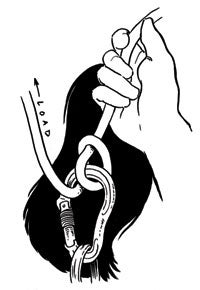 a tree or boulder or a gear anchor (see figure 4 below). Make sure the anchor is bombproof and good for multi-directional pulls, especially upward. Note: this sort of belay will be fairly static, which may result in somewhat harder catches, so it's not the best for taking lots of falls.
When you forget that ice axe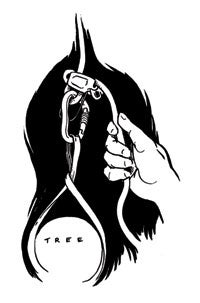 When most of the snow is gone in your local hills, it's tempting to leave the ice axe behind; unfortunately, any snow you find may be rock-hard. But you can cross short snowfields by using a rock to cut sharp-edged foot-holds and hand-holds into the snow. You can supplement this by using a nut tool as an ice dagger, but it's more important to cut good steps and stand in balance, since catching a slip on a nut tool is (a) quite challenging and (b) quite painful on the hands. Both nut tools and hard snow (which is very abrasive) are touch on the hands, so it's best to don a pair of light gloves for protection.
Do you really need rock shoes and chalk?
So, you've emptied your pack, but shoes and/or chalkbag are nowhere to be found. Take a deep breath, open your mind, and step back into the 1960s. Layton Kor and Royal Robbins climbed 5.9 and 5.10 in footwear far inferior to your average climber's approach shoes, and they never bothered with chalk. Get out there and make it happen… But steer clear of hard crimping or limit moves: slipping off holds is a great way to injure a tendon.