Should You Train Full Crimped?
Heading out the door? Read this article on the new Outside+ app available now on iOS devices for members! Download the app.
The following is an excerpt from Chapter 8 of  Beastmaking, by Ned Feehally. Feehally, co-founder of Beastmaker, is one of the world's top climbers. He wrote this book based on his own training experiences, as well as insights from other top climbers, including Alex Honnold, Shauna Coxsey, Adam Ondra, Alex Puccio, and Tomoa Narasaki. Buy the book on Vertebrate Publishing or Amazon. Stay tuned for a review of the book.
***
It's often said that training full crimped is 'dangerous'. But, in my opinion, it's really important to train the full crimp grip position because a lot of hard moves on rock revolve around crimping really hard on small holds. You want to be ready for this when you go climbing for two reasons: first, you'll be stronger and better adapted to it, and second, it will minimize your risk of injury. 
Don't be shy of the crimp.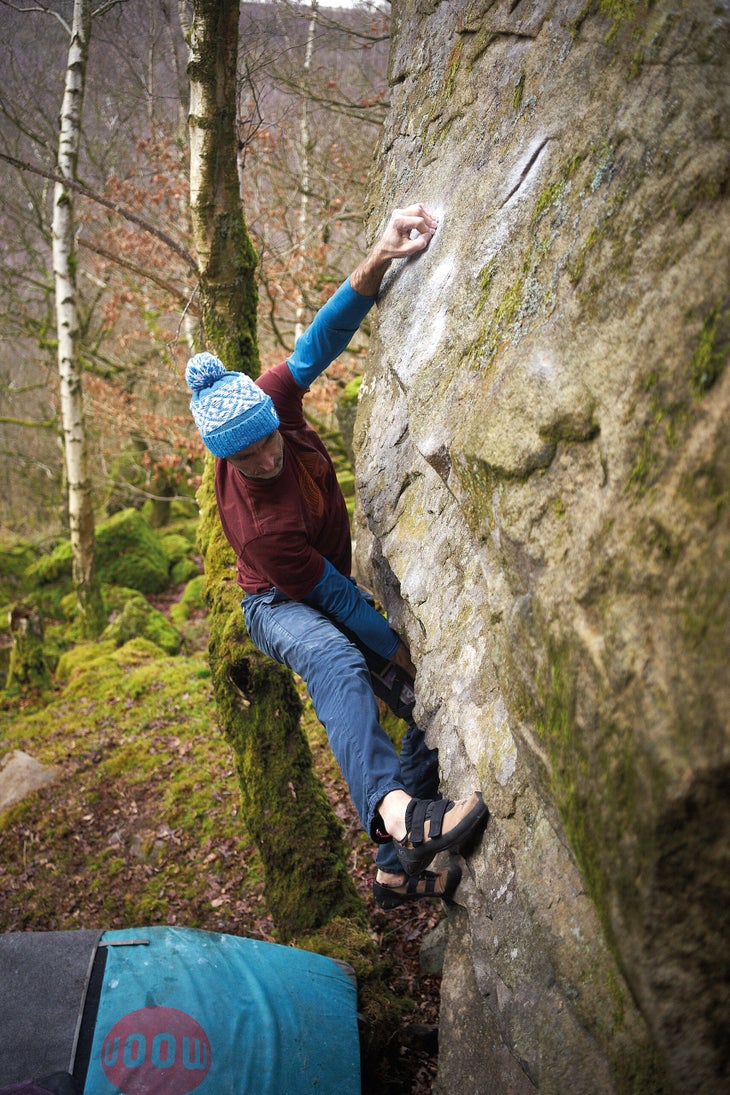 HALF VS FULL CRIMPING 
Half crimp training alone cannot fully prepare you to crimp with all your might on a tiny edge. Full crimping is a much more active gripping style than half crimping. 
As discussed in chapter 4, full crimping is mechanically stronger than open-handing or half crimping when on small holds. The flexion in the DIP and PIP joints means that the fingers are at an advantageous angle for holding on as the levers are shortened. This finger position is partly achieved by flexion of the MCP joints further down the hand – this allows a more acute angle to be achieved in the PIP joints. The lumbrical muscles in the palm are responsible for this movement and for holding the hand in place so the fingers can work. Flexing these joints also brings the thumb closer to the index finger – so it can wrap over the top for added strength. The interossei also work to stabilize the fingers as they become more flexed.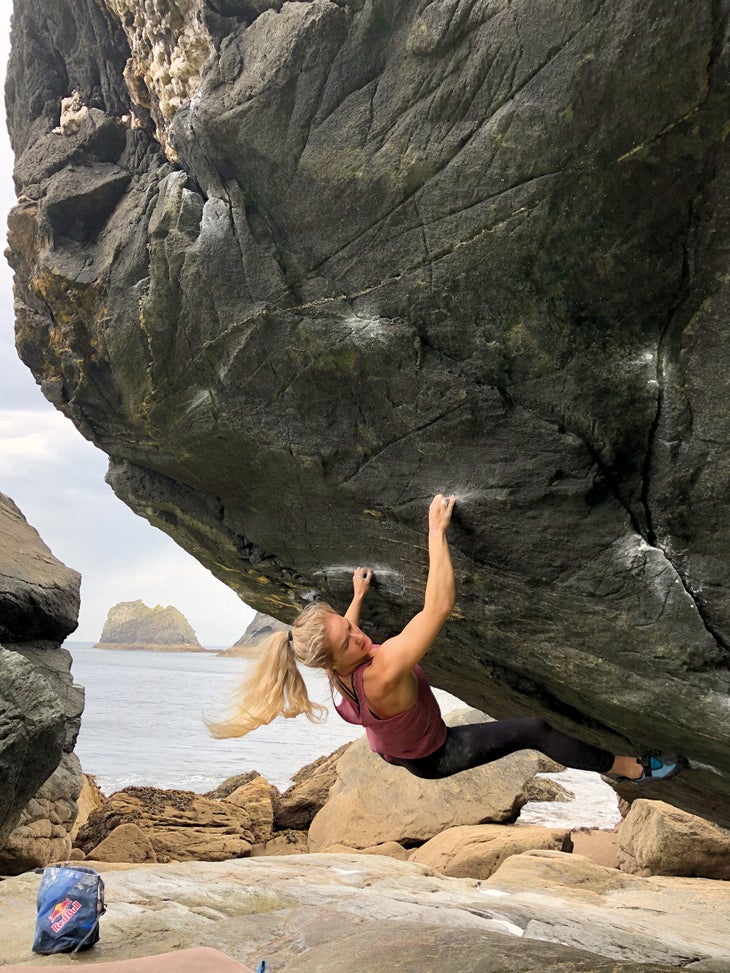 Also consider that the increased flexion of these joints in the hand creates more tendon/ pulley interaction when under load, further adding to gripping power. 
Fortunately, training the full crimp in total control on a fingerboard is relatively safe – although it is not 100 per cent risk free. There is none of the movement around the holds or out-of-control swinging about on the fingers which you simply cannot avoid while climbing. 
Only ever training in a half crimp or openhanded position and then expecting to be able to crimp to your maximum on a project seems like madness to me. 
Fortune favors prepared fingers.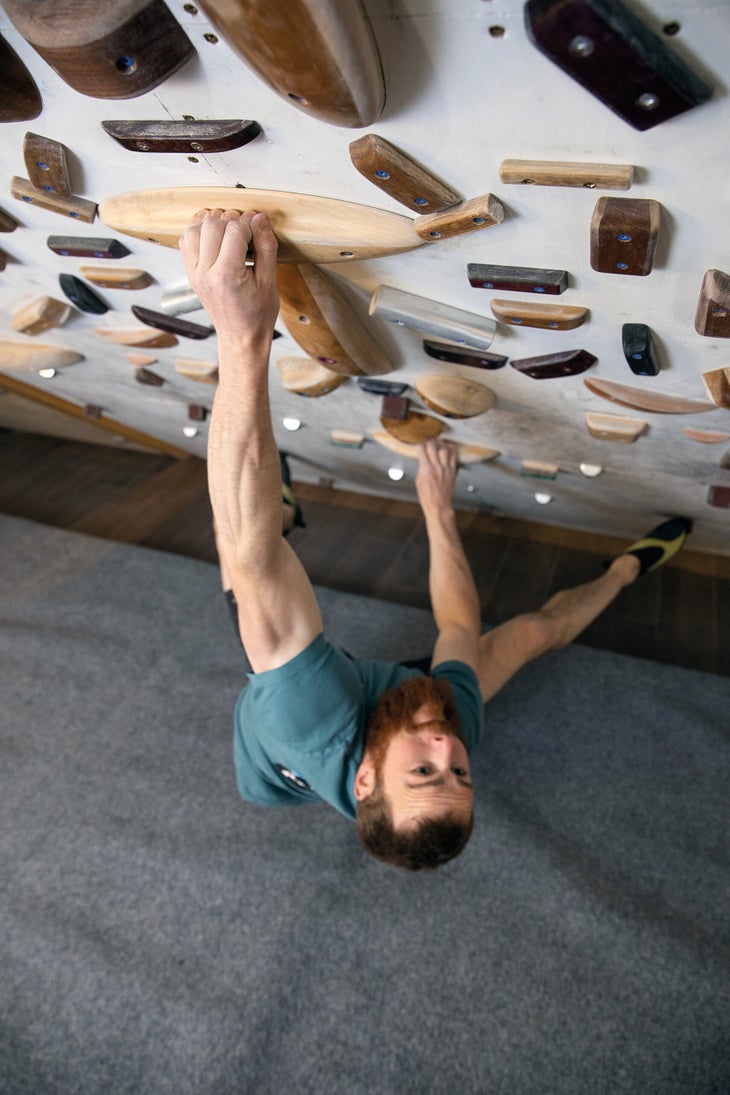 GETTING TO GRIPS WITH YOUR FULL CRIMP 
A lot of climbers feel like they lack full crimp strength, or feel that crimping is so unnatural that they simply can't do it. Their fingers just uncurl into an open-handed position while they climb. Crimping isn't necessarily a natural or comfortable way to hold on to a handhold, so lots of climbers tend to avoid it and as a result are quite unfamiliar with and unpractised at it.
If this is you, then slowly building up to being able to hang in a full crimp position is likely to really help your climbing. I have seen a lot of quite experienced climbers who have only ever open-handed holds and are totally unable to hang off a hold in a full crimp position. I know it's usually more comfortable to open-hand, but if you're serious about climbing as hard as you can, you absolutely have to be able to full crimp. 
As discussed previously, full crimping requires strength in the lumbricals and interossei in the hand. If you're very unpractised with full crimping then you may have weakness in these muscles and building strength here is an important first step. To be honest, I think most climbers – crimpers or open handers, at every level of experience – should do some work on these muscles to keep their hands healthy and minimise the risk of injury. The health and condition of climbers' hands is often overlooked, which seems crazy given the punishment we put them through. We should look after our hands! 
Check out Hand & Upper Body Maintenance (chapter 16) for some exercises you can do to help take care of your hands. These exercises should also help you to get your hand into a more advantageous position for crimping, and also hold it there while you crimp. 
The next step is to get your body more used to having your hands in the crimp position. I recommend doing this in three stages. 
STAGE 1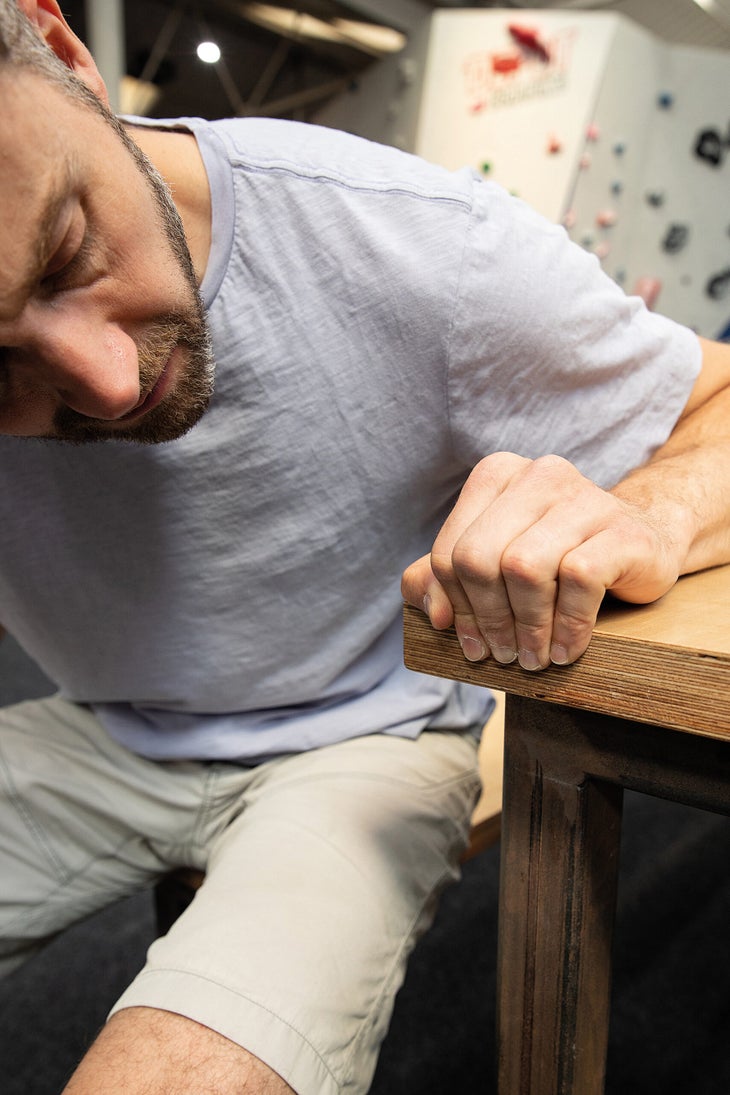 Grab hold of an edge – it could be the edge of a table, a door frame or a chair – and try to form a crimp grip with your hand: notice the position that your fingers naturally end up in. 
Use your other hand to manipulate the crimping fingers into the full crimp position (all PIP joints, including the pinkie, at 90 degrees) while you pull gently on the edge of whatever it is that you're holding. At first this will feel very strange and may be slightly uncomfortable. 
Repeat this over the course of a few days and weeks until your body becomes familiar with the position and your crimping fingers begin to naturally find the correct position.
STAGE 2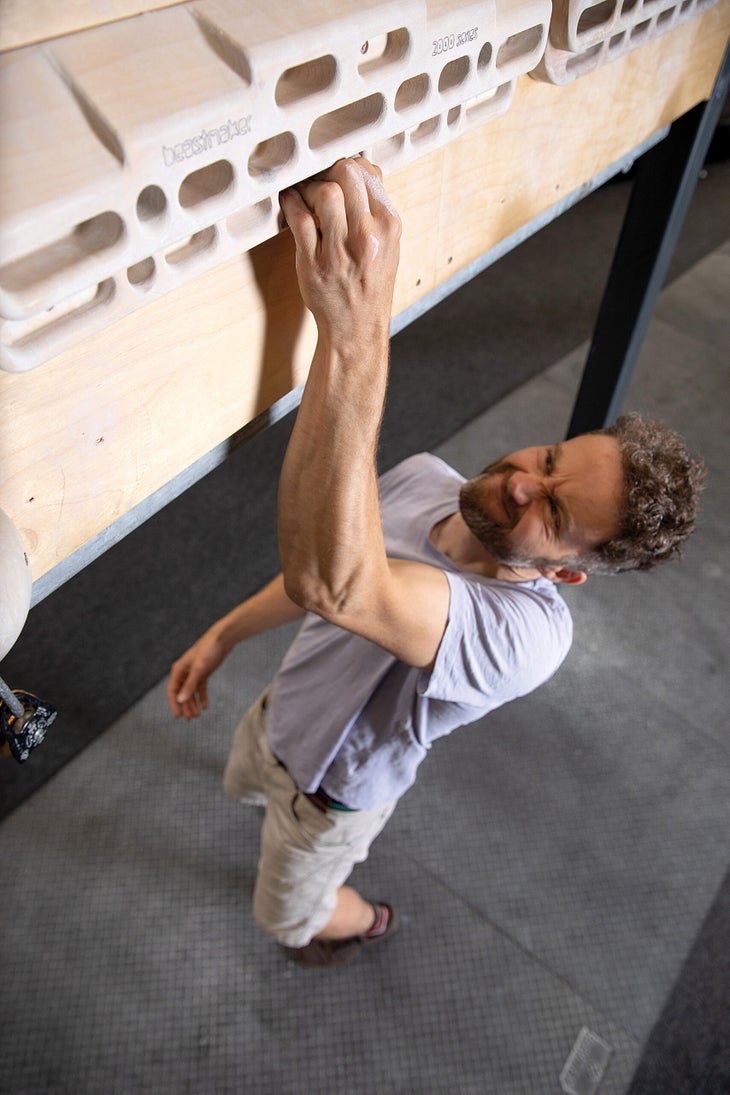 Let's start to introduce load, but first make sure you've done a good fingerboard warmup and you're ready to pull hard! 
Stand below a fingerboard or edge. Grab the edge in the full crimp position and gradually start to pull on it. Keep your feet on the ground! Watch very carefully that your fingers maintain their form. Simply stand and pull for 10 seconds per hand, as hard as you can while maintaining form. Perform about five sets per hand with plenty of rest in between. Over a few sessions you should see a pretty big improvement in how hard you can pull while maintaining a solid crimp position in the fingers. 
Use a flat or slightly incut edge to encourage a crimp position, rather than a sloping edge which may cause the fingers to roll back into a more open position. Arm angle isn't really important, just try to keep your arm in a comfy position, not fully straight and not fully locked off, but somewhere comfortable in between. 
STAGE 3 
You should now be quite comfortable in the full crimp position, and able to notice when your form is good without having to constantly look at your fingers. Now is the time to get both hands involved at the same time. 
Reduce the load accordingly, and slowly work up to being able to hold your body weight on two hands while maintaining the full crimp position. 
You should now notice that when you're climbing, you're way more comfy on crimps, and hopefully a lot stronger. 
From this point onwards you can start to train your crimp strength with all the usual fingerboarding exercises – max hangs and so on. 
SUMMARY
Don't be shy of the crimp – embrace it. 
If you're new to or inexperienced with crimping, take care and build it up slowly.