Heading out the door? Read this article on the new Outside+ app available now on iOS devices for members! Download the app.
Three exercises for better balance
Along with a good pair of shoes and a positive attitude, balance is crucial for successful rock climbing.
Without it, your body won't move naturally on the rock, thus eliminating efficiency and style. We tapped into trainer and hardman Eric Hörst's knowledge of climbing performance (
How to Climb 5.12
,
) and he gave us three fun exercises to improve your balance. Beginners should practice these drills at least once a week, and the more they're done, the faster you'll notice improvements. They can be done during your gym sessions or outside.
Model: Caryn Courcier. Photos by Ben Fullerton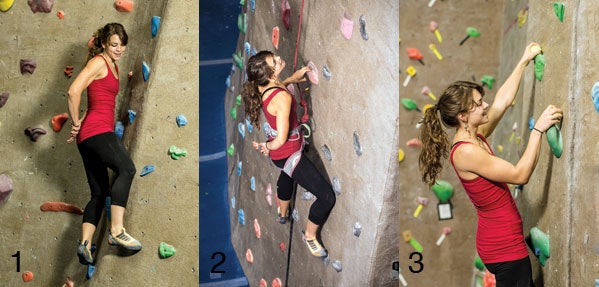 1. Climb No-Handed Find a place you can safely boulder on a less-than-vertical wall, and try to move up using only your feet. Keep your hands behind your back or at your sides to prevent cheating—you'll be surprised at how your body position changes as you eliminate using your hands for balance.
Hörst says: "You can develop kinesthetic awareness of how to shift your center of gravity over your feet to best maintain balance."
2. Climb One-Handed This exercise also utilizes a slabby wall at your gym. Pick an easyfor- you route (this may constitute one of your warm-ups) and tie into the toprope. Balance your way up the entire route with only one hand.
Hörst says: "Learn how your hip position affects your balance. Developing this proprioceptive feel— acute awareness of what your feet are doing, and how your center of gravity and movement affects balance—is a master skill that will pay off big-time when climbing on thin, hard, vertical routes."
3. Climb while carrying Tennis Balls Locate an easy route with extralarge jugs. Climb the route holding a tennis ball in the palm of each hand—"rub" or "press" the ball into each hold for purchase.
Hörst says: "This can turn a juggy 5.7 into a challenging footwork- and balance-building drill for intermediate to advanced climbers."