Improvise, Overcome: Survival in the Backcountry
Heading out the door? Read this article on the new Outside+ app available now on iOS devices for members! Download the app.
In the context of medical emergencies, the wilderness is defined as anywhere beyond an hour from definitive medical care. That includes nearly every climb featured in this issue. However, that doesn't mean you need to pack an ambulance-worth of specialized equipment for an overnight trip. Bring a small first aid kit of items you can't improvise (like an Ace bandage or ibuprofen, for example), and then learn creative ways to treat common injuries with what you've got. This primer is a starting point, but no replacement for wilderness–first aid training. Find a wilderness first responder course near you at wildmed.com.
ROPE
On-route, the rope is your lifeline, and if you or your partner need to be evacuated, it can also be your ticket back to the trailhead. To create an improvised "daisy chain" litter, lay out 15 to 20 loops of rope across seven linear feet (1). Build the best frame you can with what you've got: duct tape or cord and tent poles, trekking poles, and sticks. Then place a tarp and padding (a sleeping pad and two packs shown here) on top (2). If weather is iffy, sandwich the victim between two sleeping bags and wrap him inside a tarp. Then begin to lace up the daisy chain, starting at the feet (3) and tying off the ends. This is useful for a victim who cannot walk on his own. If you suspect a spinal injury and don't have training, seek an evac.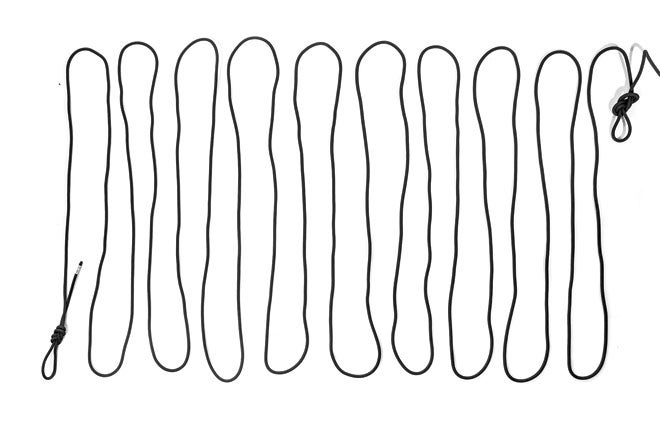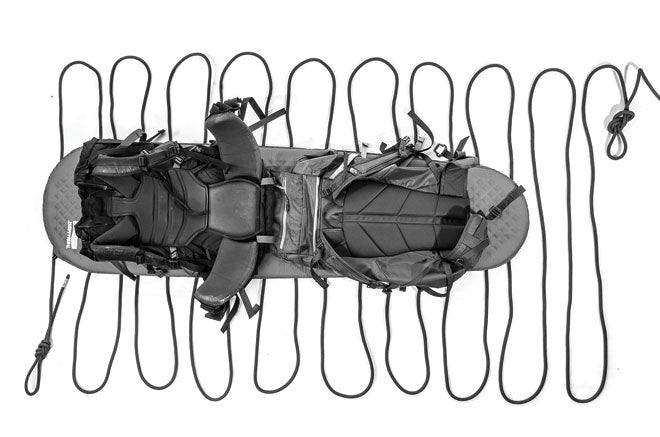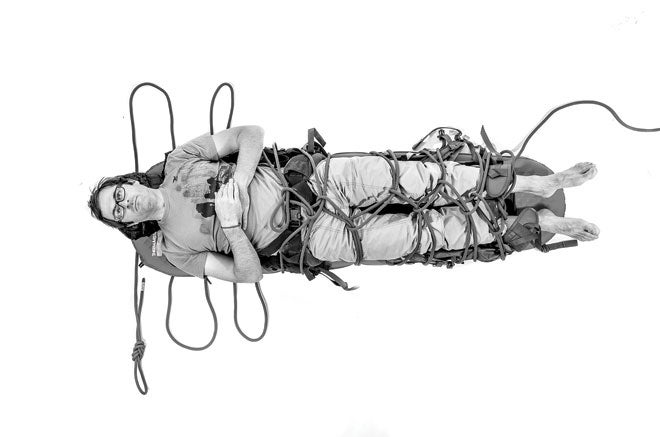 STUFF SACK
Suspect a spinal injury? If your partner took any impact to the head (from falling rock or a climbing fall), decked (especially from a distance more than twice his body height), or lost consciousness, you should.
Step one is to stabilize the head and neck and keep your pal as still as possible. One way you can stabilize his head and neck while you make a plan for assessing, treating, and likely evacuating is to fill a stuff sack with enough sand or clothing to use as an improvised head immobilizer, which allows you the freedom to do a head-to-toe exam. This may require gentle alignment of the cervical spine (neck) into a neutral position. If you must realign, do it slowly and stop if it requires force or induces pain. Learn more about the principles of spinal assessment in our iPad edition or at climbing.com/spinalassessment.
SLEEPING PAD
Among the most common climbing-related injuries are lower-extremity sprains or fractures. This is also a common hiking-related accident, so be on high alert in the backcountry. It's important to get the victim off his feet and to stabilize the injury to prevent further damage. A doubled-over sleeping pad can make a great splint. Before you start constructing, check circulation, sensation, and mobility below the injury. If it's the ankle, can the victim feel his toes? Are they warm and pink? Can he move them? Now splint the injury in a comfortable position. Immobilize joints above and below a possible fracture, or the bones above and below an injured joint. Secure with cord or anything you can tie securely. Re-check circulation.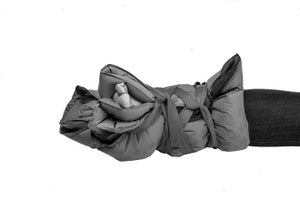 HYDRATION RESERVOIR
Slits happen: an over-zealous swipe of a blade while cutting a rope, or a laceration or puncture sustained during an ugly fall. Your top concern is to stop the bleeding, and then to calm the victim and monitor for shock. But in the backcountry—hours or days from medical care—infection should also be on your list of possibilities to account for. The best way to mitigate? Irrigate. Fill a reservoir with clean water (if you can drink it, it's clean), hold the nozzle one to two inches above the wound, and forcefully squeeze the bladder. Repeat until no visible debris remains. Now, dress the wound. No reservoir? Fill a zip-top bag with water and puncture a corner.
WEBBING
For a climb-ending but not life-threatening injury, like a sprained ankle, self-evacuate. If the victim can bear weight, distribute her gear for others to carry and lend a shoulder or trekking poles. If the injury it too severe, improvise a piggyback-style carry using about 20 feet of webbing (or rope or cordelette). Make a bight in the center, pass it through the victim's legs from behind, wrap the ends around the legs, and bring them through like a girth-hitch (1). Bring the two ends over your shoulders like pack straps (2), wrap around the victim's backside (3), bring to the front, and tie off like a rope backpack (4). Rest often, and rotate carriers if possible.