Heading out the door? Read this article on the new Outside+ app available now on iOS devices for members! Download the app.
Taking the teeth out of a sketchy aid lead.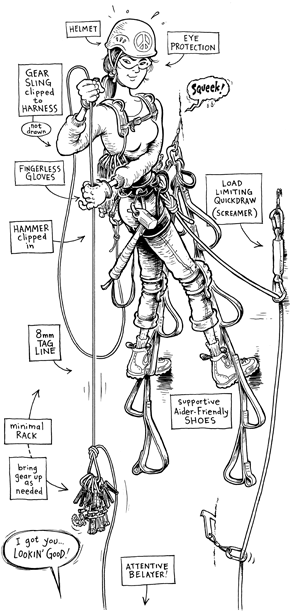 Sketchy aid climbing can be a brain-numbing, adrenal-gland-tapping affair, especially when the consequence of falling is a monster whip or a trauma-inducing impact. Despite the notion that honed aid artistes keep company with the Grim Reaper, and head up onto horror-show leads with a blasé attitude, most experienced wall climbers employ a few tricks to keep themselves from visiting the dark side.
Stack the odds.
Wear a helmet. Folks have been maimed by slipping out of their aiders and flipping upside down on clean A1. Now imagine what your noggin might collide with during a lengthier fall … yikes. Fingerless gloves are another great idea, as are eye protection and supportive, aider-friendly shoes.
Clip the iron.
If you're carrying a hammer, clip it into your
harness
when you're not using it — an ice-climbing clipper biner works great for this task. During rapid descents, that hunk of steel can do some serious damage when it's dangling on its leash. (Hooking, bounce testing, and free climbing are three prime instances when a fall is possible and pounding pins isn't necessary.)
Light is right.
Eyeball your pitch from the belay, and only take the gear you need to climb the first twenty or so feet. Paring down the rack can easily cut 10 to 15 pounds — this weight reduction just might be enough to keep that number-one head or tipped-out TCU from ripping. When more gear or a specific piece is required, the belayer can send it up.
Another weight-reduction strategy is to use an 8.5- or 9-millimeter dynamic tag line. When the leader hits the belay, she can pull up one end of the static haul line, along with the jugs, hauler, cordelette, locking biners, and any other gear she needs to set up the anchor and hoist the pig.
Attention.
Keep your belayer aware and ready. Make sure she is positioned near the anchor's hard point, with her brake hand securely gripping the rope. It's disconcerting to look down and see your buddy stretched out and half asleep on the portaledge when you're strung out above multiple copperheads. One strategy is to frequently request gear to be zipped up, forcing your belayer to be more interactive, and thus more attentive. If the leader is a heavyweight, the belayer may wish to anchor in with a directional to keep from kissing the rock should her fall-management skills be tested.
Limit your loads.
Carry a few load-limiting
quickdraws
. Several companies make these nifty draws, but Yates has
cornered the market with aid-specific load-limiters. When hit with a fall, their specially designed bar-tacks rip sequentially, absorbing some of the impact's energy. Load limiters also increase the time over which force is transmitted to a fall-arresting piece, allowing the rope to dissipate more energy than normal. Clipping load-limiters to micro-nuts or tied-off knifeblades might give the suspect gear a fighting chance if fallen on. Old rusty bolts and rivets are another great place to hang these shock-absorbing beauties.
Buckle up.
Clip your double-sided gear sling into your harness. Every now and then, an unlucky soul has his or her rack stripped from their body when they come to a screeching, upside-down halt at the end of a cartwheeling whip. This unfortunate scenario may leave the party in a very serious position, as rapping off or climbing upwards without the lost equipment may be impossible. Also, using a full-strength chest harness with double-sided gear slings is a good idea for a lot of aid routes.
Last resort.
By using a skinny dynamic zip line, you have the option of a second lead line should you encounter an extremely hazardous, rope-cutting scenario. The leader can retie his zip line into his harness' hard points, clip the zip line into the last solid piece of gear, and yell down to his belayer to put him on belay with both the lead and zip lines. The leader must remember, however, to lower down and unclip the zip line from the protection after climbing past the rope-cutting section — otherwise, pulling up the haul line at the end of the pitch will be impossible. If you ever find yourself in a situation where this technique may be needed, weigh all of your options and proceed with extreme caution.