Heading out the door? Read this article on the new Outside+ app available now on iOS devices for members! Download the app.
"Damn it — I know what I'm doing, Bennett!" shouted my partner, Cedar Wright."Uh, OK, Cedar, but you're still kinda tangled up in the . . . never mind," I said. I watched as Cedar — as solid on cracks as the day is long — ran out a sandy 5.10 offwidth in Canyonlands, the rope twisted around his leg. Even as I hoped for the best, I pictured the worst. Fall with the rope wrapped around your leg and it will flip you, bringing you noggin-first toward the rock.I got schooled in this worst-case scenario a decade ago, after a 30-footer off a 5.10d dihedral splitter called Axis, in Yosemite. I was trying to milk a better placement for a No. 3 Camalot when my feet popped. With the rope barely over my heel, I felt myself pulled instantly backwards and headfirst — with just enough freefall time to ponder how nice a helmet would have been. The slight overhang meant I missed the rock . . . by inches, escaping with just a few visits to the chiropractor. That said, you can do a few simple things to safeguard against this.
Wear a Helmet
It amazes me how few rock climbers wear helmets. It's prudent to don the helmet at all times — not just when climbers are above you or you expect loose rock. Routes that have ledges or jumbled features, or wander, are good candidates. (In the latter case, a traversing climb increases the chances your cord will sneak behind an ankle.) So get some pithy stickers for your brain bucket, wear it 24-7, and know that it loves you.
Speak Up
As the belayer, you're half the team, so don't be afraid to tell the leader her ropework's lax — you both risk an epic if she pitches upside down. We can all get sloppy, especially when things get stressful, so agree on a "correct-the-rope" command in advance, especially for cases where the leader might be high off the belay, or when fi ghting wind noise, etc.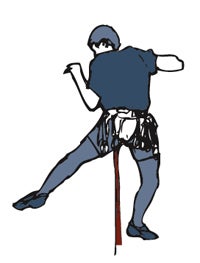 Avoid the Tangle
This is the crux: if the rope fondles your ankle, calf, or hamstring, teach it some manners. On straight-up splitters and sport routes, I like to keep my rope dangling straight between my legs. It's also easier to pull clipping slack when I can quickly locate the rope there. When you deviate from the direttissima, the rope should come from the harness over and across the hip on the same side as your last piece (see below).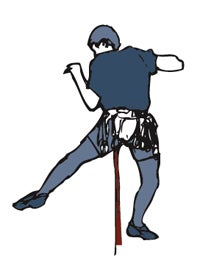 Rule of Opposites
On wandering climbs, follow this simple rule: left is right, and right is left. That is, trail the rope off your left side when heading rightward, and vice versa when heading leftward. Also, to avoid unclipping your fancy bent-gate carabiners in an arcing fall, point the rope-side biner's gate away from your direction of travel.
Clean Air
When falling, spread those legs and avoid nailing your quickdraw or pro. Also extend your arms, keeping them slightly bent to absorb shock, as if ready to patty-cake the rock (think good bouldering- spotting stance). This also lets you protect your face or grab the cord just above the knot to stay upright. Also try to fall like a cat — landing on your feet. Meowrrr! You can even practice falling in the gym or on clean, well-protected routes outside. Make sure your belayer is dialed on the dynamic catch (a small bump of slack) to minimize shockloading the gear, rope, and you.Say you bobble your rope management and end up whipping ass over teakettle — what then? One thing I've seen work—if you're strong of limb and quick of reflex — is to grab your rope right at or above the knot and try to right yourself, putting as much of the impact with the rock on your back and shoulders (and off your noggin) as possible.
Make It a Habit
If you make a conscious effort to think about how gravity and the rope will act upon your hurtling body, after a few routes you'll gain intuitive awareness and need only make a few mid-route scans. For example, at cruxes and/or when clipping gear, I habitually check the rope's orientation and note where it will be as I move toward my next pro. Soon, good ropework will become a motor program.
Homework Assignment
Look at photos in the latest
Climbing
and construct the dynamics of a fall at the specific point the image was snapped. I bet some of the climbing models are flirting with disaster. Your mandatory reading will be
Accidents in North American Mountaineering
(by the American Alpine Club), which compiles annual statistics on the circumstances leading to epics and injuries. One recurring theme is the upside-down, helmetless fall: of the 19 climbing deaths reported in the United States for 2008, five were attributed to "no hardhat." Don't become one of these.
Double Ropes: Bonus Points
On wandering routes, a double-rope system can be crucial: left rope clips left, right clips right, and keep clear of the center when possible — i.e., keep each rope running off each hip. Double ropes, however, can equal twice the trouble if you aren't careful. I use two distinct colors and decide beforehand, with my belayer, upon names for those colors. Otherwise, I might scream, "Slack on green!" only to hear, "Wait, do you mean the chartreuse one or the lime one?"
Freelance writer/photographer Bennett Barthelemy proudly claims chicken in his lineage and, as such, is pleased with his stellar career as professional bailer/faller from routes across the globe.