Tech Tip – Alpine – Snowshoeing for Climbers
Heading out the door? Read this article on the new Outside+ app available now on iOS devices for members! Download the app.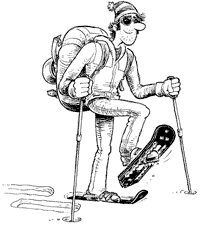 During the 1992-1993 winter, while training for a spring attempt on Everest's north side, I climbed a Colorado Fourteener every weekend. I sought full-on winter conditions, and the Colorado mountains didn't disappoint. My approaches often required the use of skis or snowshoes. Always curious about gear, I borrowed a pair of "shorty" snowshoes and gave them a go. They were definitely more versatile and manageable than skis, but their tubular frames were slippery on hardpack, they didn't traverse worth a hoot, and their aluminum crampons wore out quickly. I set about inventing a better design, which I sold to a leading outdoor equipment manufacturer. With today's technically advanced snowshoes and lightweight, fast-drying winter garments, snowshoeing has become a mainstream winter activity. It also has much to offer climbers. Applications. When should a climber use snowshoes? • To avoid post-holing • To approach or retreat from ice and alpine climbs • To ascend or descend non-technical mountaineering routes • For winter approaches that are difficult to ski — narrow and steep with lots of switchbacks, trees, and brush • For skiable approaches/retreats if you're a lousy skier — snowshoes will get you there and back without dangerous crashes • For training — aerobic/endurance/winter adaptation Don't use snowshoes if the terrain ahead looks dicey, where a slip or fall could cause serious injury or death. To prepare for such conditions, take off your snowshoes, put on your crampons, and get out your ice tools.
Modular extension tails offer flotation options.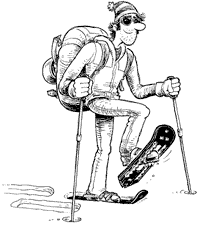 Selections. The best snowshoe is the smallest and lightest model that will effectively handle the snow conditions you'll encounter. Smaller, lighter snowshoes are more maneuverable and less tiring than larger, heavier ones, but snow conditions rule. Don't be misled by the convention that says the size of your snowshoe is directly related to your total weight (body weight plus clothing and pack). Using total body weight as a criterion for selection is only valid if you'll be breaking a lot of trail. Serious trail breaking requires a larger snowshoe — 8 x 25-to 9 x 30-inch. But, if you'll often be on packed trails, where traction is your main concern, a pair of 8 x 22-inch shoes will suffice, regardless of your total weight. The must-have features of a climber's snowshoe are: • Excellent traction. The best snowshoe traction is provided by vertically oriented metal traction blades that run the length of the snowshoe's underside • Steel crampons that rotate on a door-type hinge • Waterproof and durable materials • A binding that is fiddle free, fits well, and stays on all day without adjustment • Light weight Other desirable features: • Women-specific models to accommodate a female's stride • Modular extension tails that give several flotation options • A wire-bail heel lift to reduce calf strain on uphill approaches Technique. Snowshoeing is simply walking, but even a small (8 x 22-inch) snowshoe will increase your underfoot bearing surface by over 300 percent. This extra surface area can cause tripping. Pick up your feet a little higher than usual, establish a rhythmic high-stepping stride, and you'll be fine. Adjustable-length ski poles help you balance, recover from a fall, and probe the terrain ahead. Also, you can use their steel tips to stab into lake ice should you break through (or keep your ice tools handy for better results). As with crampons, adjust your snowshoe boot-to-binding fit before going into the field. Work out the techniques to firmly and quickly put on your snowshoes. When I put mine on, I keep the heel-strap buckle on the inside of my boot. This puts me in the strongest position to tighten the heel strap. Kneeling on one knee, I fasten the front straps, and then grasp the heel strap with both hands and crank it firmly. When headed up a long, somewhat steep slope contouring or zigzagging, rather than attacking straight on, works best. If your snowshoes have traction blades, the technique for going up a short steep section is to walk "toe out," putting your blades at an angle to your direction of travel. If you have tubular-frame snowshoes, the steep-uphill technique in soft snow is to stomp steps. On hard-packed surfaces, tubular-framed snowshoes simply don't have as much traction as snowshoes with traction blades — whether going up, down, or traversing. When you're going down a steep descent it's best to seek soft, unconsolidated snow, as this gives you control. If you must descend a steep icy section, be prepared to sidestep, making sure to plant each step firmly — just like climbing with crampons. Bill Forrest, former owner of Forrest Mountaineering, is a prolific big-wall first ascentionist and a renowned outdoor equipment inventor. One of his articles appeared in the first issue of Climbing.