Tech Tip – Sport – The basics of falling
Heading out the door? Read this article on the new Outside+ app available now on iOS devices for members! Download the app.
When taking practice falls, have plenty of rope distance from your belayer; make sure your fall zone is steep and clear.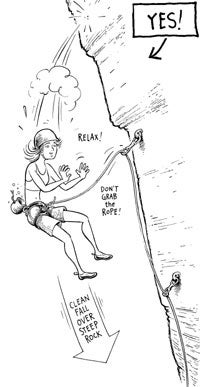 Falling is part of the climbing process. A hold breaks, we slip, pump out, and we're off. It's important to find appropriate ways to practice falling so we learn to do it safely. Embrace. When we fall, intentionally or otherwise, we risk injury or death. To embrace the situation we need to be fully aware of everything that could happen. We need to honestly assess all the possible outcomes rather than block them out. By accepting the possibilities — death, injury, or no injury — we become fully aware of what we are getting ourselves into. This awareness is critical for effective and appropriate decision-making. Once we are conscious of all the possible outcomes, we can make effective, appropriate decisions that limit the kinds of fall consequences we engage.Engage. By practicing falling we improve our ability to respond to a fall. Even though we want to embrace the possibility of injury, we want to minimize the chance of that outcome. Your fall practice zone should be free of any protruding ledges and should have bomber protection. In the beginning of your practice, choose a fall zone that is slightly overhanging to help reduce the possibility of injury. Then, as you gain experience, you can practice more hazardous falling situations, such as those on vertical rock or with slightly swinging falls. Have plenty of rope in the system — at least 50 feet of rope between you and your belayer — to absorb the fall force. The rope will stretch during your practice session, so, after a few falls, lower off and let the rope regain its shape and length. If you're new to falling, engage it gradually. Begin on toprope. Get used to the feeling of hanging on the rope, perhaps "running" or "pedaling" back and forth across the rock. Then, tell your belayer to leave some slack in the rope while you climb up a few moves and take a fall. Next, try practicing your lead falls. Begin by simply letting go right by the bolt. Then, climb a move or two above the bolt and take a fall. Increase your fall distance in small increments. Maintain proper form as you practice falling. Proper form includes keeping your arms and legs slightly bent with your arms out in front at chest height so you can respond to potential impact. Don't grab the rope. Step off gently rather than jumping out and back, which can cause you to slam into the wall. Pay attention to your breathing and how relaxed you feel. If you are holding your breath and feeling tense, then you need more practice before progressing to the next increment. When taking diagonal falls, pay attention to the rope in relation to your feet. If you are directly above the bolt, then the rope needs to be between your feet. If you are to the right or left of the bolt, then the rope needs to be outside of your feet. Enjoy your flight!