Tech Tips – Aid – Froggy goes a juggin'
Heading out the door? Read this article on the new Outside+ app available now on iOS devices for members! Download the app.
Figure 1. The initial set-up for the Frog ascending system.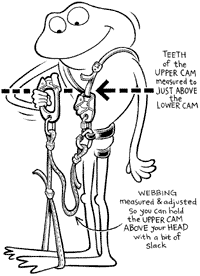 You're back at the base of El Cap, ready to jug the ropes you fixed on the radically overhanging Tangerine Trip. Nothing to do but clip on your ascenders and start jugging. Ten minutes later, however, you've ground to a halt not even 50 feet up. Your biceps are toast, but you've still got over 300 feet to go! Your "Yosemite system" worked fine on low-angle rock, but it's debilitating on a free-hanging rope. Take a lesson from cavers — pale, anemic offspring of the underworld with nothing better to do than perfect jugging systems — and convert your rig to the Frog System. This highly efficient "sit-stand" method moves your lower ascender up the rope "automatically" as you climb. The first step is to take one of your ascenders (a Croll is best, but any ascender will suffice) and mount it as low as possible on your harness. Use the smallest locker you have (or even a quick link) to get the jug low — otherwise it won't work — and orient it so the ascender sits flat against your abdomen. You'll need to keep this ascender upright as you move up. Chest harnesses don't work well, so many cavers use a loop of shock cord round their necks. Keep this loop small — just big enough to squeeze your head through — so when you're standing on the ground you feel "hunched over" by the elastic. Pad the elastic with an old t-shirt and some duct tape. In a pinch, you can substitute a slightly shortened shoulder-length sling. Better still, get a Petzl C26 Torse chest harness (under $20) made specifically for the Frog System. It'll improve your efficiency substantially over the shock cord, and the adjustment buckle lets you crank it tight to "hunch" you on the vertical, then lets you back it off at belays. Your upper ascender is attached to your harness by a daisy, with a foot loop tied from one-inch tubular webbing (Figure 1). To operate the system, turn the upper ascender away from your body, and put both hands on top (Figure 2). Put the rope between your toes, and separate your feet as you lift your legs. When you stand, the single foot loop squeezes the rope between your toes and pulls it through your lower ascender. Push down, not out, with your feet. At the top of each stroke, arch your back and thrust your hips to get a few extra inches. If you're touching the rock, use one foot in the loop, and the other against the wall. Using this method, an old fart like me can jug 200 free-hanging feet in under three minutes.
Figure 2. Assume the Frog position and prepare for takeoff.