Tech Tips – Alpine – The future is now
Heading out the door? Read this article on the new Outside+ app available now on iOS devices for members! Download the app.
Slimmed-down boots, bolted-on crampons, and welded-on mono point heelspurs are keys to the new mixed game.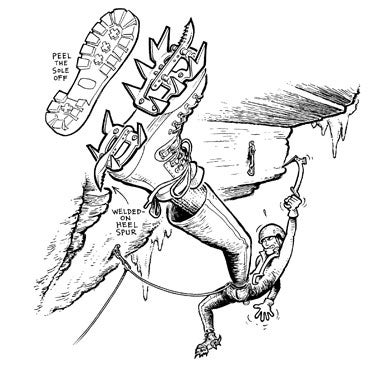 Footwork for the mixed realm
The cat is out of the bag and the buzz is on about "new- school" ice- and mixed-climbing techniques. Leashless tools can open up many doors and avenues previously unexplored, such as efficient crossovers and hassle free clips — now it's time to learn how to combine these weapons with bolt-on crampons to really cut loose on your next scratch-and-dangle mixed affair. Bolt'em on. Start by bolting your crampons directly to your boots. This will give you a lighter and more precise tool for effective footwork on technical rock sections. Also, it's a more secure method for attaching the crampon to the boot than a normal step-in system — very important when you're dangling from heel spurs. Ideally, your crampons should have horizontal rails and vertical frontpoints — a few manufacturers now make crampons with bolt-on mounting in mind. Begin by removing the adjustment bar, front bail, and rear clamp. Drill holes, if none are pre-made, in the rails. Now cut the rubber sole off your chosen footwear and align your crampons in the desired position on the midsole. Mark the bolt holes, drill'em, then bolt on the crampons. Take a recess. For greater precision and less calf strain, when you bolt on your crampons recess your front point(s) a little more than you would for traditional ice climbing. This will put the point of contact closer to your big toe and the ball of your foot. However, be careful to leave enough of the point protruding for adequate ice penetration — about one inch should do it. Spur yourself on. Use a front point from another crampon and get it welded into an upside-down position on the rear cage, so that it actually points down when you're bat-hanging. You can now cop a heel hook on any edge that you would hook with an axe. You can also slam your heel into ice to get a "stick." If an edge is too narrow for both the pick and heel spur, you can often hook the spur onto the bottom of your leashless ice tool — purists may scowl, but it is a cool and crafty move nonetheless. Note that it can be difficult to make a long reach while in a high heel hook — if you have to make a big move, drop your heel and get back on your arms. Fly the flag. On overhanging terrain, scant holds can dictate fewer options for secure foot placement. Often, climbing with one foot on and the opposing leg flagging in the air for balance is the most efficient method, just as in sport climbing. This dynamic style of climbing is contradictory to the slower, more conservative methods used on traditional ice climbs. However, it will get you through powerful sections more quickly, conserving your tool-swinging strength should you reach some ice. Steady on, mate. Unlike climbing in rock shoes, it's hard to "feel" the hold on which you're standing: The slightest movement may cause your front point to skate off. To help keep your foot secure, maintain steady, even pressure on the hold and rotate your foot as little as possible.