The 10 Commandments Of App Setting
How to create high-quality problems on an app-driven wall.
Heading out the door? Read this article on the new Outside+ app available now on iOS devices for members! Download the app.
Back when I thought I could somehow improve at climbing, in my mid-40s, by doing the occasional, half-assed four-by-four, I derided app-driven walls like the MoonBoard, Tension Board, and Kilter Board as "light-up woodies." It was easier to avoid them and wallow in ignorance than to actually try. In 2019, on a downsloping performance plateau, I gave up the posturing and went all in on MoonBoarding, and have been a convert since. The raw finger power, body tension, and "jump-and-catch" accuracy you build make cruxes feel easier. Heck, I've even taken to setting myself, adding problems to the MoonBoard database for the hardcore international community to flash and ruthlessly downgrade!
If you're likewise curious about setting, I'd encourage you to go for it. Lots of "trash" gets submitted via the apps (abstract designs, columns of holds, micro-crimpers eight feet apart with a problem name like Good Luck [V14]), but lots of classics do as well, problems that would be badass on any medium. To help you become an A-List app setter whose problems will be instantly benchmarked, I spoke to Will Anglin, co-owner of Tension Climbing; Jackie Hueftle, co-owner of Kilter Grips; and Kyle Knapp, a longtime MoonBoarder, setter, and now admin for MoonClimbing.
How To

C

reate A

G
ood Crux
It's difficult to create a cool, memorable crux that's not also a stopper move (Commandment VII), but it can certainly be done. One common trap, however, is thinking that the crux must be a big move or a jump—always. "It's easy to fall back on big moves, but small moves can take as much or more tension and precision to execute," says Kilter Grips' Hueftle. "One fun trick is to try smaller handholds but use bigger feet so your legs and core can be involved." As a foundation, you might also emulate the crux or some element from another user's problem. Says Hueftle, "Feel free to copy it and build your own problem around it if that deals with challenges you enjoy." Eventually, you'll have so much experience that other setters will be copying your cruxes—Hallelujah, you're the Lord of the Board!
Embrace

T
he Thrutch
As opposed to the more obvious fun, flowy problems, ones that require time and effort to decrypt are often the best teachers. "Climbing is about adapting oneself to challenges, not adapting challenges to oneself," says Tension Climbing's Anglin. So instead of giving up on problems that initially feel "thrutchy or awkward," he urges climbers to put in the time to learn to manipulate the body gracefully through seemingly awkward positions, and/or to watch other climbers doing them (friends or video) to see how the moves go. "Holds in a sequence just exist," he says. "They aren't thrutchy, gross, or tweaky in and of themselves"—it's our subjective experience of moving through space using these holds that is. And it's an experience that can start to feel comfortable given enough time, muscle memory, and beta refinement.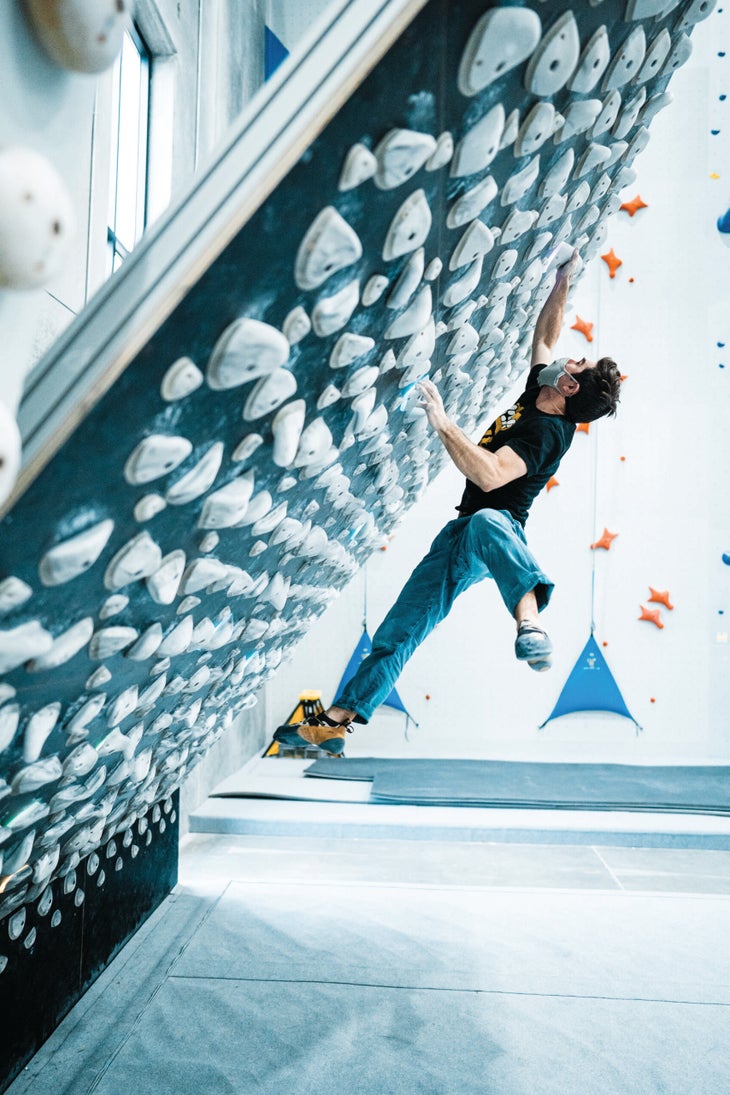 I.

Thou shalt make thy problem fun.

Consider how your problem looks aesthetically when the user first pulls it up: Are the holds friendly, do the moves look consistent in difficulty, and do the sequences look interesting or intriguing? If so, then it will likely climb well too. "If you don't come off the send feeling like you would enjoy doing that one again, then it's not getting the nod," says Knapp. And, as Hueftle puts it, "Good climbs draw you in and give you an enjoyable experience." So make your problem inviting—you want people to say "Sick!" when it lights up on the wall.
II.

Thou shalt make thy problem functional.

Ideally, each sequence will occupy at least one functional or skill-based niche: power-crimping, tensiony pinching, undercling and bicep power, cross-throughs, hand-foot matching, flagging, etc. In other words, don't just add random moves for the sake of adding moves, but instead decide what your problem will be about and then consider specific, movement-based ways to accomplish it. This keeps your problems varied and interesting, whether you're teaching a new movement or refining a specific style.
III.

Thou shalt make thy problem flow.

Moves that, as Anglin puts it, "harness the natural momentum of the previous move or position" have flow. It's kinaesthetically the most fun way to climb. However, complicating flow is the fact that we all have different strengths and body types. To encourage flow more universally, Hueftle suggests including enough feet for multiple sizes of climbers while keeping the same hand sequence. (The Tension and Kilter apps let you designate footholds, while the MoonBoard has optional screw-on feet, or you can just add holds in foothold positions.) 
IV.

Thou shalt consider thy audience.

Because we're all different weights and sizes, your problem will never please everyone—but you can try. "If I can reach 60–70 percent of my user base, I'm pretty happy," says Knapp. For tall setters who favor stretchy or dynamic moves, this might mean putting positive holds at the crux, so that shorter climbers can travel farther off them. And for short setters who like getting balled up, consider that taller climbers also typically carry more mass, "So putting super-small crimps with hand-foot matches on them probably isn't going to work for us beefcakes," jokes Knapp. Also avoid setting super-bunchy starts where a taller climber will be so origami'ed up they can't pull off the ground.
V.

Thou shalt forerun before submitting thy problem to the database.

Just like the gyms have staff forerun problems to edit sequences before opening them to members, so too do the apps have spaces for you to refine before going live. There's a reason for this—it rounds off the rough edges. So try the moves multiple times alone or with friends, looking at what works for each of you and what doesn't. Sometimes small tweaks, like swapping out a single handhold, can turn a "trash" problem into a "classic." Many walls are adjustable angle, too—will your problem work well at both 30 degrees and 50 (albeit at different grades)?
VI.

Thou shalt not set only to thy strengths.

It's easy to set what you know and like, but boards are at heart training tools, meaning you'll only increase your own strength and skill set by leaving your comfort zone. For me, an old-school sport climber who likes static crimping and high stepping, this has meant setting jumpy problems that address my biggest weakness: explosiveness. Over time, I've come to appreciate the style, and now I set that way probably 50 percent of the time, to a positive reception from other users.
VII.

Thou shalt not put stopper moves, especially at the start.

Stopper (heinously hard) or morphological (body-type-specific) single moves are rarely popular, though it may inflate your ego to see how few repeats your problem is getting. Worse yet is imposing such moves at the opening crux—when climbers can't pull their ass off the ground, they'll swipe right. Instead, integrate a crux in the middle or top of the problem; let climbers get momentum first so they stay psyched on trying.
VIII.
Thou shalt not overly complicate or force things.
Overly complicated on an app wall typically means too many holds—pointless intermediates, feet everywhere, lights flashing at you like some goddamned Christmas tree. As you forerun (Commandment V), consider what you can eliminate and still achieve the desired difficulty. On the flip side, sometimes having too few holds and forcing a sequence to go only one way—my way or the highway—turns people off. As Hueftle puts it, good setting encourages you to do the moves a certain way and rewards you for doing so. But poor setting forces it, often at the expense of quality.
IX.

Thou shalt not tweak thy fellow climbers' fingers.

"The wall should be a training tool, not an injury one," says Knapp. This doesn't mean you should avoid small holds per se, but instead consider how they'll be used. For instance, on the MoonBoard, I've never felt at risk of a major finger injury using the smallest, Original School Holds (the yellows) when I can go to them statically or have decent feet, but as soon as things get jumpy I'm way more cautious, or I simply move on if the move isn't happening.
X.

Thou shalt not mindlessly sandbag.

It's tempting to fall into the sandbag trap with the apps—the benchmarks are stout, and it's often a game of one-upmanship to see how hard of a problem you can label "V3" and still keep a straight face. But if your problem, however good, is way too hard for the given grade, it won't be fun (Commandment I) and will fade into obscurity. Instead, use objective criteria when grading, says Hueftle: hold difficulty, move size, and move difficulty. "We have a saying in the Routesetting Institute which is, 'V3 holds? V3 moves?'," she says. In other words, "If a move is harder than V3 or a hold is harder than V3, then it's not a V3. Also, five V3 moves in a row may actually add up to V4." 

 Matt Samet is the editor of Climbing magazine. You can find his problems on the MoonClimbing app under the username "Pinklebear."