The Allfreefi: Maximize Big-Wall Efficiency with an Adjustable Fifi Hook
Heading out the door? Read this article on the new Outside+ app available now on iOS devices for members! Download the app.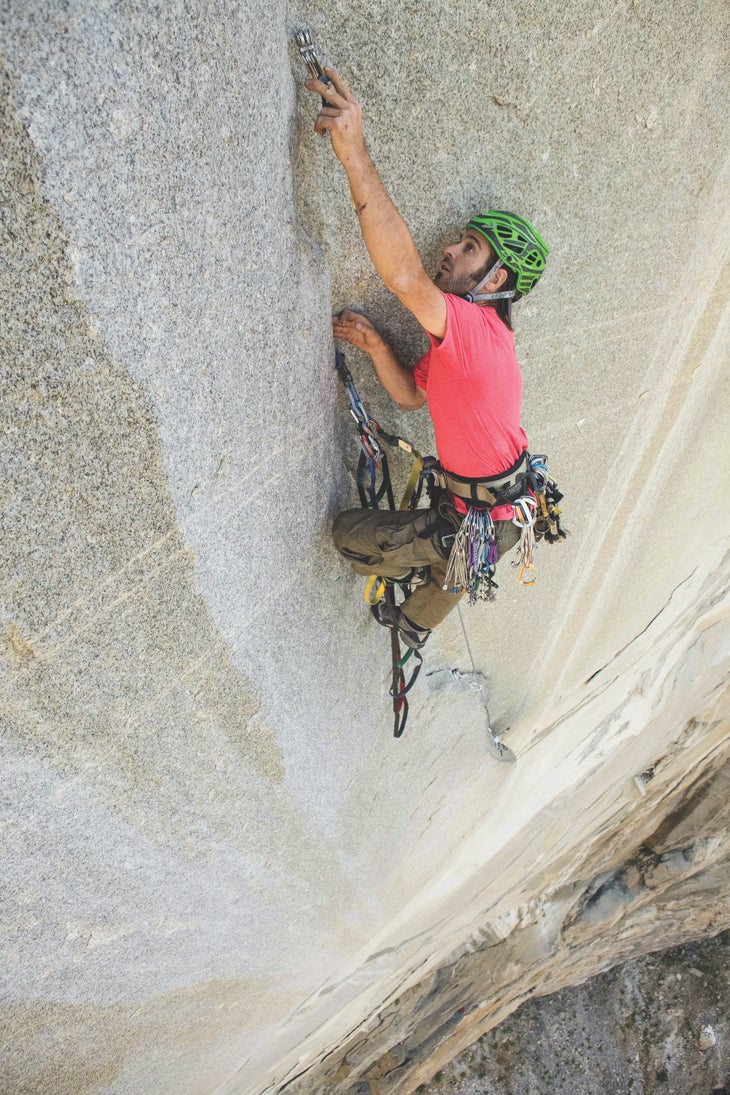 I cursed my puny biceps as I gripped a carabiner with one hand and, feet in aiders, crawled up Southern Man (V 5.10 A2) on Washington Column in Yosemite. Using my other hand, I frantically stabbed a fifi hook toward my daisy chain; it missed twice before finally catching in a loop, leaving me gasping from exertion. I sagged onto my daisy and prepared to repeat this grueling, inefficient process another thousand times.
While the fifi system—keeping a small hook on your harness that you place in your daisy chain to snug up to a high piece—has long been a staple of aid climbing, I knew there had to be a better way. So I began experimenting. Adjustable daisies were OK, but I ended up having to tinker with and loosen them only to tighten and tinker again. And when I ditched the daisies altogether and just went in direct to my high piece with the fifi, I couldn't top-step (stand in the highest ladder rung to place the next piece). After devising and tossing out dozens of homemade systems, in 2009 I finally came up with a crude but useful tool. Eventually dubbed the "Allfreefi" by my friends, it comprised a cam buckle (a one-way metal buckle you can cinch and release by depressing a small button) and an attached fifi hook.
This new tool let me simplify my movements. With each placement, it only had to go one place—onto the carabiner holding my aid ladders. This prevents the need to stand up, hold on tight, and move the fifi, reducing several strenuous steps. After over 50 ascents of El Capitan and 15 or more speed records using the Allfreefi, I can confidently say that this simple device revolutionizes aid climbing.
The Steps
Aid climbing is a slow, methodical, repetitive process. Being efficient at each step eases and speeds ascents. It starts with standing on your top piece.
Place the piece
Start by placing your piece as high as possible, standing tall in the rungs of your wall ladders. From what I've found, the second rung down is often the sweet spot—the highest step lets you reach farther, but will force a strenuous body position, especially on steep terrain. Meanwhile, if you place gear while standing below the middle step, you are losing easy and valuable reach—though you should be prepared to use these lower steps based on the terrain.
Bounce-test the piece
Avoid airtime by bounce-testing your gear, either via your legs or hips.
Bounce-testing through the legs
Once you've placed and clipped into your high piece, step into the lowest ladder rung; now, shift your weight onto that leg and apply cautious (read: not full) weight. The piece holds? Great! Now hop all of your weight onto it, bouncing up and down a few times to seat and fully test the piece.
Bounce-testing through the Hips
After placing and clipping into your high piece, step back down into your lower aid ladder until the daisy on your new piece tightens. Now, with feet in the lower ladder, slam your hips and harness onto the piece. Hip/body testing will apply more force, but requires descending to the end of your daisy chain, making it a less efficient movement. However, this method is also more secure—if the upper piece blows, you're closer to and more securely positioned on the lower piece.
Weight the piece: Moving the adjustable fifi
After you've tested and confirmed the reliability of the piece, it's time to snug up to it using your Alfreefi. By using this adjustable fifi, you won't have to fiddle with flossing the fifi into your daisy chain as you climb the ladder. Instead, you can just pull yourself up. Here's how
Shift your weight onto your new, high piece.
Holding tight to the piece's carabiner, use your other hand to grab your Allfreefi. Depress the trigger and pull it to full arm's length; as you do so, place the fifi on the carabiner of your highest ladder.
As soon as you've hooked this biner, sit down and save your arms.
Breathe, and then repeat the process with your next piece.
The Tricks
Top stepping
While essential to efficient aid climbing, top stepping is often strenuous—especially on overhanging terrain where it may actually be unnecessary. The trick is to find the right balance between the difficulty of placing gear and the distance between pieces.
Using an Allfreefi allows you to crank the buckle tight to your waist and easily sit or stand around your ladder's third step down. This will be the sweet spot most of the time. As you climb into the second step from the top and then the top step, you can carefully release tension on your adjustable fifi and climb up. As your waist travels above the piece, crank the buckle tight, pulling downwards hard from your harness to the piece. Lock your knees, drive your hips into the wall, and embrace the discomfort of the harness pulling down on your hips. Place your next piece, get it clipped, and then get out of this uncomfortable position!
Steep terrain
Steep terrain tends to be safer because there's nothing but net below. However, it is also the most difficult/time-consuming for aiding, with the rock's angle forcing you to place gear closer together than on vertical or slabby ground. Stand higher and more easily on steep terrain by using your legs to press down into your ladder. Tighten your core, squeeze your glutes, and drive your hips toward the wall, and then tension the Allfreefi into your stiff body. Now you can reach overhead with both hands to place cams and pound pitons.
Transitioning to Free Climbing
With all of the excess gear and "tentacles" everywhere, stepping out of the ladders and moving into free-climbing mode is one of the more difficult aspects of wall climbing. As I've learned, it's often best to ditch the ladders first. To do so:
Free your daisy chain from the ladder then climb to the top of it.
Climb right off the end of the ladder, leaving it behind for your partner to clean.
As you free climb, drape your daisy chain, Allfreefi, and ladders (if you bring them) over your shoulder. Here, they can hang from your harness up onto your back, remaining easily accessible without getting caught in your feet while you climb.
Making an AllfreeFi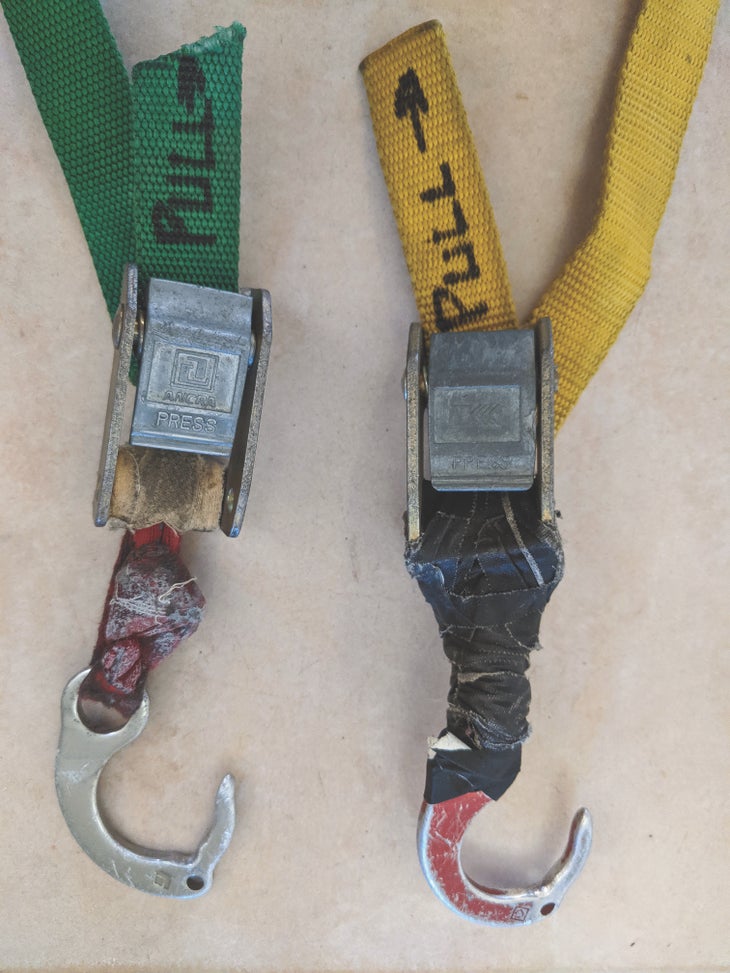 Buy a cam buckle from the hardware store or reappropriate an adjustable daisy chain.
Tie a fifi hook on the end of the buckle using 1" webbing and a water knot. Use pliers to tension the knot, making it and the sling length as small as possible.
Wrap the knot and fifi bottom with tape to create a stiff hook. This helps with holding the buckle and placing the fifi on biners. (Note: You can buy a premade "Alfifi" at skotswallgear.com.)
David Allfrey, a longtime wall climber, is currently stepping into his next big adventure as a father. In between changing diapers and squeezing in some MoonBoarding, he'll undoubtedly be on the walls of Yosemite, Red Rock, or Zion.