Trad Climbing Skills: Stuck Rappel Ropes
Everyone gets their rope stuck at some point. Internationally certified mountain guide Marc Chauvin recommends two solutions to help you solve most stuck rappels.
Heading out the door? Read this article on the new Outside+ app available now on iOS devices for members! Download the app.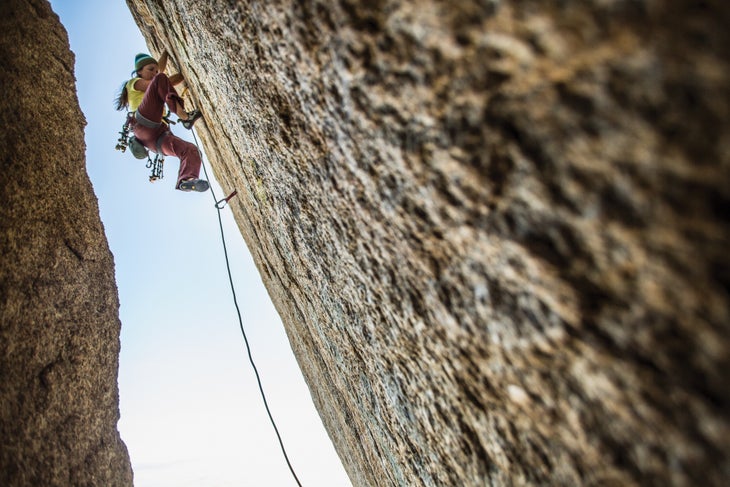 It happens to the best of us, most often in the alpine or inevitably every time we visit Red Rock and the wind kicks up and it's getting dark: stuck rappels, with our rope hung up at the anchor or on some flake or other feature. Suddenly, our fun day out is shaping up to be a nasty epic when all we want to do is get back to the ground. Luckily, there are two simple solutions that can solve the majority of stuck-rappel-rope scenarios.  
Assess your situation
To begin, you need to first assess the situation before taking any decisive action. So: What are the hazards? Loose rock? Are you at a stable, protected, or otherwise anchored stance? Many climbers have made their lives worse (or over) by pulling loose rocks down with the rope or flying backward off a ledge when the rope suddenly "pops" free—don't let this happen to you. 
1. Pull harder
In most cases, Solution 1 should be the first you try. The easiest solution is to have both members of the party pulling down simultaneously, ideally with gloves on, to try to get the rope to budge. However, if this isn't working, it may be time to use a 3-to-1 mechanical advantage.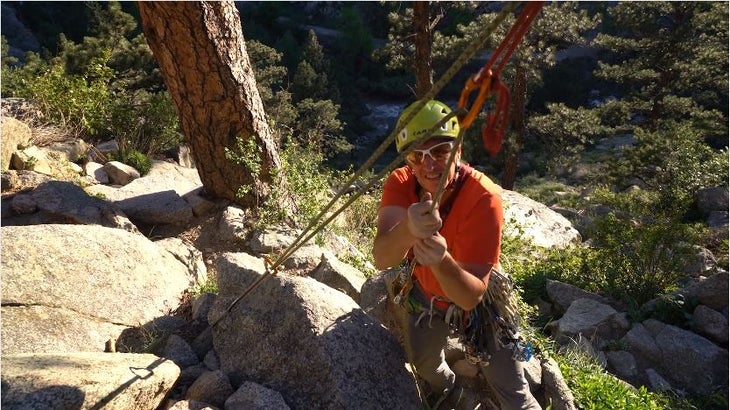 Caution: If the rope is stuck behind loose rock, tugging the rope can also dislodge the rock onto you or your partner. Only use this solution if you are confident there's no loose rock above you.
Pro Tip:
Scan for loose rock as you rappel. If you see choss, take note of it so that you don't "pull harder" later to free a stuck rope. It's not worth pulling a death-block down with it. 
2. Relead the route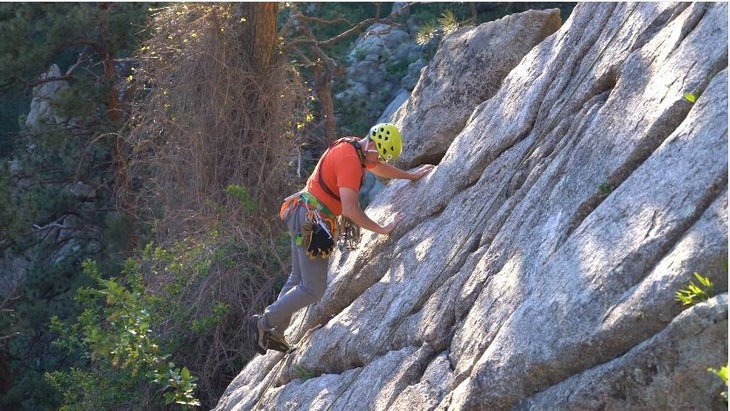 If your rope hasn't budged—or barely budged—despite your best efforts, then your next option is to relead the pitch up to the jam to try to free it. This assumes you have enough free rope on one end—or one line—to safely reascend the pitch. Once you reach and free the jam, taking whatever steps you need to take to keep it from happening again, you'll need to get back on rappel. If the jam is at the anchors, you can simply anchor in, set up your rappel device, untie your lead end and drop it, then clean the gear below you as you descend. If the jam is only partway up the pitch, you may be able to build a temporary anchor or go in hard to a single piece—staying on belay!—while you free the jam, set up your rappel, and continue back down as described above.
Note: This only works if you are rappelling the route you just climbed or another route within your grade range. Sometimes your rappel route will be separate from your climb, often down a blank face that you will not be able to lead. Don't let this deter you, however: Your rope is less likely to become stuck in the latter situation—on a clean, obstacle-free, and well-thought-out rappel route. 
Pro Tip:
Always research the rappel route ahead of time and leave extra time at the end of the day in case of stuck ropes on the rappel.
Think trad is rad? Learn essential trad skills, from gear-placement strategies to rack management, in Climbing's Intro to Trad Climbing online course, taught by professional mountain guides Marc Chauvin and Rob Coppolillo.