Trad Climbing Skills: Rack Management
Internationally certified mountain guide Marc Chauvin explains how to prioritize which gear to use while leading a route.
Heading out the door? Read this article on the new Outside+ app available now on iOS devices for members! Download the app.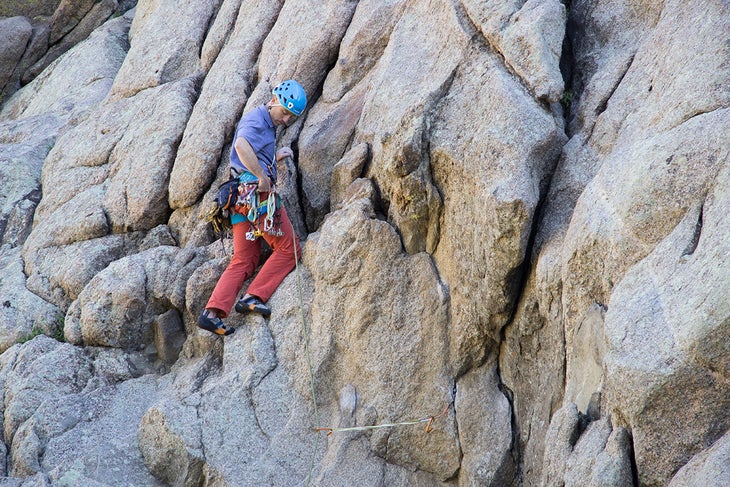 While racking up for a trad route, you carefully consider the array of sizes of gear you'll need to protect yourself. But, once you're climbing, you might just go for whatever's most handy or fits at that moment. However, professional mountain guide Marc Chauvin, the co-instructor for Climbing's Intro to Trad Climbing online course, says that we should keep an active inventory of gear while climbing—a process he calls "rack management."
The goal of rack management
"The goal is to deplete your rack such that you always have as wide a range of potential pieces of gear as possible," says Chauvin. This helps ensure you can make safe and effective gear placements throughout the route, instead of painting yourself into a corner by using up all the pieces in a given range down low, leaving you without that key piece you need up high.
Keep an inventory
"You have to keep a running inventory of what you've used," says Chauvin. Make a mental note of the gear you used for the last anchor, and at previous protection points on the route. When you hit a stance, look down at your harness and confirm what you still have. Then, look up and try to assess terrain and potential gear opportunities.
Save the most versatile for later
Along the route, "you'll have opportunities to choose" between different types of gear that fit the crack, flake, or seam you plan to place pro in. For these situations, you need to know which pieces of gear are more versatile, meaning they have more overlap with different sizes and can therefore be used at a greater number of possible locations.
Tricams, for example, are a great addition to a rack, because of their ability to fit in many different features and act as either passive or active gear. In midrange sizes, they're both more light and versatile than other similar-sized gear. They can serve as a "duplicate" of both nuts and spring-loaded cams. 
Offset nuts are great multi-taskers as well, given the wide size range you get from varying the angle/rotation of placement. In contrast, hexes usually require cracks with constrictions. Hexes therefore aren't as versatile as cams, which have a wider size range and work in parallel, fixed-width cracks.
At a given stance, especially early on in the pitch, "When you have a choice of what to use, use pieces that are less versatile," says Chauvin, thus saving pro that can fit in a greater variety of features until later in the climb. This then leaves you with more options higher on the route.
"If the pieces that you're keeping are more versatile, have a wider size range, or have a wider variety of crack configurations that you can fit, then you're more likely to have the correct piece the next time you stop, all the way up until you reach the anchor," says Chauvin.
Want to learn more about how to climb trad? Take Climbing's Intro to Trad Climbing class, and learn from two internationally certified guides.