Heading out the door? Read this article on the new Outside+ app available now on iOS devices for members! Download the app.
Got a peak like Mt. Rainier on your tick list? If you have Alaskan or Himalayan aspirations, you should. Rainier's classic Disappointment Cleaver route is the perfect introduction to mountaineering: You'll get a taste of glacier travel, extreme weather, and altitude, on a route that's never steeper than 45 degrees and that most can easily pull off in a long weekend. To mitigate the risk of falling on steep, hard snow or ending up in a crevasse, it's essential to travel on a rope team, so here are the basics. Practice in an area with no consequences—or take a day-long snow-travel course to get your team dialed before you attempt a climb.
Numbers How many people should be on a rope team? If you're a party of two or three, your answer is easy. But what about parties of four or six? Consider the practical challenges of the route. Smaller teams travel more efficiently through technical terrain and can quickly change into belay or short-rope mode on firm, steep snow. But a team of more than two has greater stopping power (weight) during a crevasse fall—a major concern on early-season climbs and when the snow is soft. On Rainier, for example, break your party into groups of three or four for the best balance of speed and arresting power. Rainier has enough crevasse risk that it's nice to have the extra braking heft, but teams of this size can still quickly navigate obstacles like Cathedral Gap and the Cleaver.
Stopper knots These are knots (generally butterfly knots; learn to tie them at climbing.com/skill/the-butterfly-knot) tied in the rope between climbers to create greater friction to stop a crevasse fall—handy for small rope teams (two people). A caveat is that these also increase resistance to hauling and are impossible to pass through a hauling system. However, the rescuer can simply drop a new strand or loop from the leftover rope to start a separate haul system that doesn't include the stopper knots.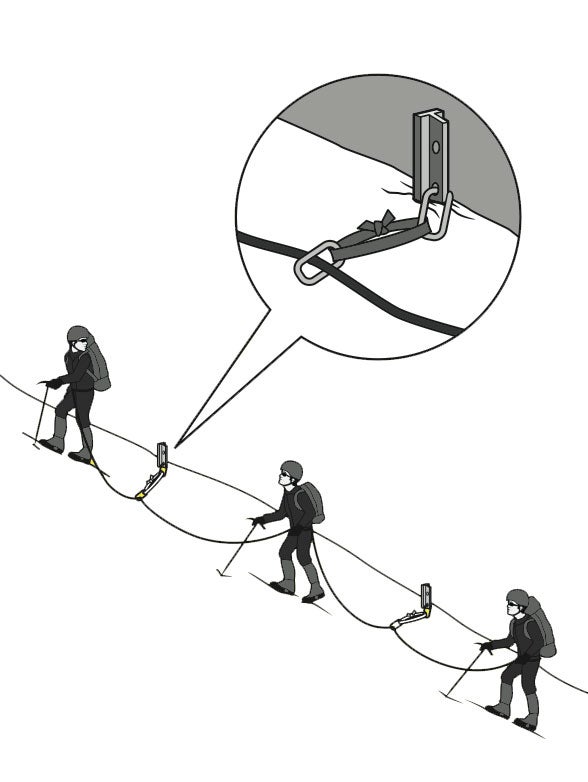 Spacing Keep about 30 feet of rope (or roughly five to six wingspans) between each climber. Increase spacing by five feet on small rope teams (to allow more time to arrest), or if pulling sleds or traveling across Alaska-size snow bridges. Decrease distance to around 25 feet if traveling on a team of four (which will have more arresting power due to added weight). Start from the middle of the rope and measure out, tying figure eights on a bight for team members to clip into using reversed and opposed carabiners (one locking, one non-locking). For a three-person team, tie a figure eight on a bight in the middle of the rope, and then measure 30 feet in either direction for the next two figure eights. Coil up the slack on either end for the first and last team member to store in his pack to deploy in case of crevasse rescue.
Prusiks Many rope teams pre-rig prusiks (or other friction knots) on the rope, so the victim of a crevasse fall can quickly attempt to self-rescue by ascending the rope. However, this setup has the disadvantage of limiting a team's ability to transition to belayed climbing, short-rope scenarios, and changing the distance between climbers. Most guides recommend racking prusiks on the harness until needed because crevasse falls, while potentially catastrophic (and scary!), are actually quite rare.
Tension Ascending, traversing, and descending a snow-draped peak while tied to two or three other people can be a thing of beauty—or one of the most annoying means of foot travel you've ever experienced. Here are some pointers to help ensure it's the former. There are two main rules: 1. Don't let slack build up in the rope ahead of you. 2. When the rope behind you allows you to walk forward without tugging, go for it—unless doing so breaks tenet number one. The length of rope between climbers should drag along the snow but arc up to your harness so that you are not tripping over it. (Think about a smiley face where a few feet in the middle of the rope lightly contacts the ground, and it goes up on both ends to connect to the climbers.) Excess slack in the system allows any fall, be it into a crevasse or down a snowy face, to generate speed, making it harder to arrest.
Pickets For running belays and crevasse-rescue anchors, pack a couple of 60cm pickets. On steep, hard snow where arresting a fall might be tricky (or impossible), drive a picket just uphill from the rope team about 10 degrees away from the potential direction of pull. Hammer it until it's at least two-thirds buried, and then clip the rope behind you into the carabiner. When the next team member arrives, he'll get stable, unclip the rope in front of him, and then reach back to clip in the rope behind him. The last member on the team will remove the picket and rack it, delivering it to the first team member at the next rest break.