Sliding off gym slopers? Try water, not chalk
Heading out the door? Read this article on the new Outside+ app available now on iOS devices for members! Download the app.
Winter is here, with its wind, dry air, and cold temperatures. For folks with sweaty skin who rue the warmer months, this is great news, but for those of us with dry, glassy, easy-cracking skin, it's a nightmare. As I wrote about last year, years of dealing with crappy winter skin and comparing notes with fellow sufferers helped me create a list of a few fixes and hacks. These tools, all combined, help, but I was still finding myself sliding off holds more than I wanted, especially slopers or slimpers—sloping crimpers—at the gym.
My go-to method on these holds had been to moisten my hands with a spray bottle, dry them lightly on my pants or shirt, chalk up, then pull on while they were still a little bit wet—basically, simulating what it would be like to have normal, slightly sweaty skin but still be chalked up. (This also seemed to work pretty well on wood holds on training boards, or with wooden hangboards.)
Yet I still found myself dry-firing on occasion, losing precious layers of skin and growing frustrated.
The Cure for Dry-Firing?
My friend Brandon and I were up at Whetstone Climbing a couple weeks back, trying an overhanging problem on what I call "bowtie holds"—those Kilter pinches that demand the utmost precision and intentionality with your thumb. I did my usual spray bottle, dry, chalk method, but kept getting about halfway up the problem then dry-firing, even squeezing as hard as I could with my thumbs to keep my fingers on.
"What if you just got your hands wet but didn't chalk?" asked Brandon. "The holds are already covered in chalk, so even if you don't chalk up at the start, chalk will end up on your fingers anyway." He had a point: The problem had been up for weeks, and the purple holds were slathered in white powder—there was no shortage of chalk on the grips. So I tried it—and sent the problem, all while enjoying nearly perfect friction, in which you can feel each and every grain of texture under your skin.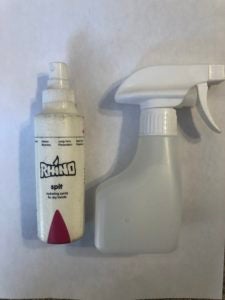 So that's pretty much the hack: If you have dry skin and are climbing on holds that are already really chalky—like overused gym slopers—you may be more in need of water than chalk, or water + chalk. So spray your hands down with your spray bottle, pat them dry or let them air-dry to the point that your skin feels tacky, then immediately pull on. (You can also do this hack with Rhino Spit—it usually takes at least a minute to dry.) This works pretty well on wood holds, too.
Two Other Water-Based Hacks
I also learned of two other water-based hacks that friends use. One friend, the minute he gets to the gym, goes to the bathroom and runs warm water over his hands to soften his skin up; he may do so multiple times during a session. Another has two chalk bags: One contains his chalk, but the other is just an empty chalk bag that he gets wet at the start of each session. Before each boulder problem or climb, he'll dip into the wet bag first with each hand, then into the bag with the chalk.
Sure, this might sound like a lot of fuss just to hang on to some gym holds, but for me it's been a game changer. I used to think  that I somehow got a lot weaker each winter, but now that I've drilled down and realized much of this was due to slidey skin, it's been worth the extra effort to combat the problem.
This article is free. Sign up with a Climbing membership, now just $2 a month, and you get unlimited access to thousands of stories and articles by world-class authors on climbing.com, plus you'll enjoy a print subscription to Climbing and receive our annual coffee-table edition of Ascent. Please join the Climbing team today.