They Climbed On a Home Depot Rope—Thought A Real Rope Was Too Expensive
They figured they knew enough about climbing to wing it, but took a dangerous risk that could have cost them.
Heading out the door? Read this article on the new Outside+ app available now on iOS devices for members! Download the app.
During my senior year of high school, my friends and I were bored. We decided we collectively knew enough about climbing for it to be safe. We went to the local outfitter and bought harnesses, carabiners, and belay devices, but we scoffed at the price of a rope. It was way outside our budget. Instead, we went to Home Depot and bought 100 feet of poly cord that was rated for 200 pounds. We climbed on that rope all day, just easy 5.3 climbing on toprope. I've included a couple photos. It wasn't until I was lowering at the end of the day that I realized what a mistake I'd made. The 100-foot rope had stretched to about 200 feet, shrinking to the size of 8mm cord. I bought a real climbing rope the following week. Wanted to share because we are all new at some point and even with the best intentions mistakes are made. We should collectively work together to improve safety across the sport. I wish someone would have stopped us from climbing on that poly rope.
—Kyle Harris, via email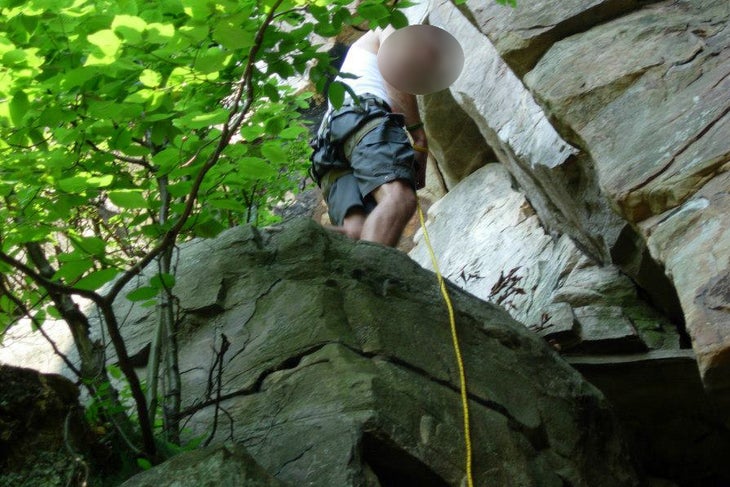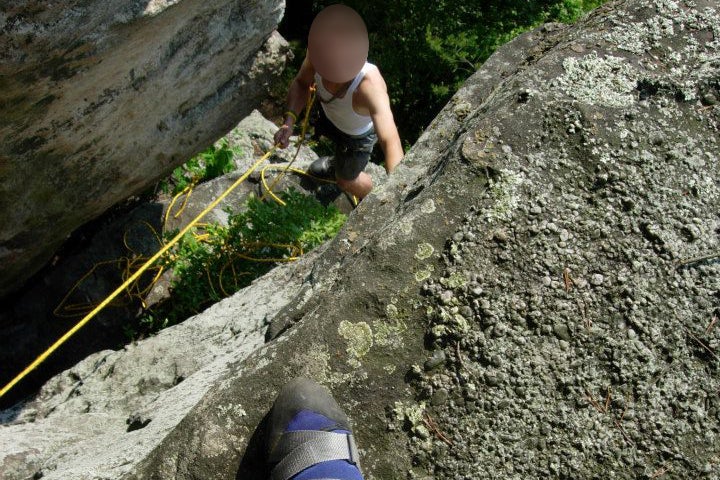 LESSON: Modern climbing ropes include a number of climber-friendly features. They can hold thousands of pounds of force. They have durable sheaths that prevent abrasion and cutting. They have the ideal amount of stretch to catch a fall softly, and then bounce back to their original length and diameter. They're supple and easy to tie and untie. They're tested to meet rigorous safety standards. And they work great with modern belay devices. A random hardware store rope is not designed with any of these goals in mind, and can't be expected to meet them. Always use proper climbing gear designed and rated for climbing.
These Kids Used Parachute Cord For Slings …. Said They Learned It From The Boy Scouts
Want more? Check out more installments in our ever-growing hall of shame: 
Lucky He Didn't Die. Lowered From a Toy Carabiner
Unfortunate Groundfall, Fortunate Landing
Leader Decks When Experienced Climber Bungles the Belay
Saw Through Someone Else's Rope
Belayed With Hands Only—No Device!
Smoke Brick Weed and Go Climbing
Belay With a Knife In Your Hand
Don't Let a Clueless Dad Take a Kid Climbing