Heading out the door? Read this article on the new Outside+ app available now on iOS devices for members! Download the app.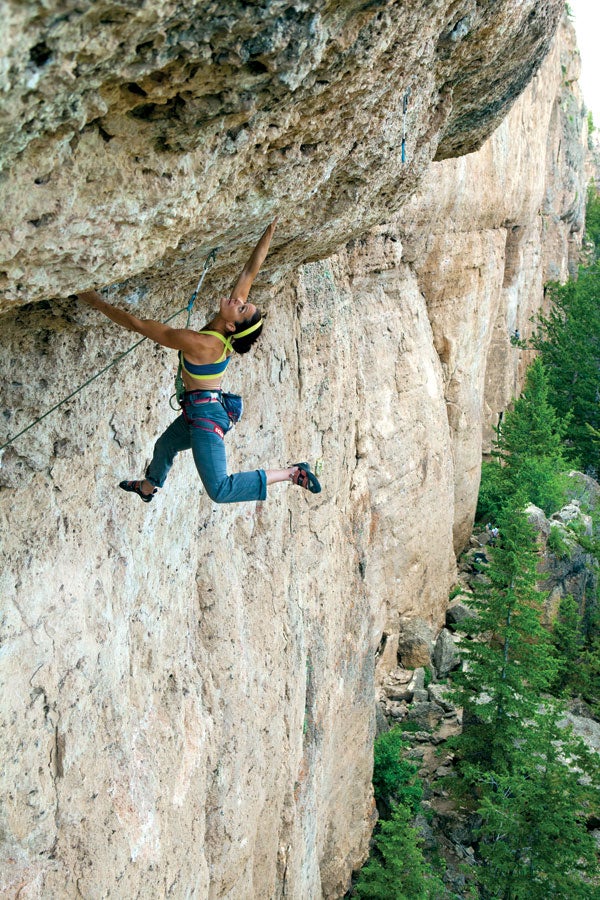 "I'm a fairly solid 5.11 sport climber. I've redpointed some easy 5.11s and a couple of 5.11c routes. I love Ten Sleep's crimps and pockets, and really want to climb Cocaine Rodeo (5.12a) next year. What do I do to make the leap?"
This goal is attainable for most 5.11 climbers who are willing to work for it. (If you're a 5.10 climber looking to jump to 5.11, you can follow the same guidelines—just knock the difficulty down on your climbs and training.) Whether it's strength or endurance or technique holding you back, the following plan provides guidelines to help you achieve your goal by June of next year. Because this plan goes through the winter, gym training comprises most of the climbing you'll be doing, but it can be adapted to any time of the year. Your mental game could also be holding you back, so make a concerted effort to master those areas (shaky confidence, fear of falling, lack of focus, etc.).
Although this guide is tailored to Ten Sleep, similar training principles can be applied to any area or climb, though the areas of technical focus likely will be different.
General Guidelines
Climb
Establish a weekly training schedule and stick to it.

Climb 2 to 4 days/week; never more than 2 days in a row.

Warm up with light aerobic exercise, dynamic stretching, and easy climbing.

Take at least 1 day of total rest each week.

Focus on holds, angles, and moves encountered in Ten Sleep; use your route's beta to guide training route setting.

Spend 1 or 2 first-days-on (your first day climbing after a rest) bouldering each week.

Incorporate 4×4 power-endurance training 1x/week. Climb 4 12- to 20-move boulder problems 4 times each, with 1 to 5 minutes of rest between each problem.

Incorporate high-intensity endurance training 1x to 2x/ week. Climb 3 to 7 routes with 20 to 25 pumpy moves to a resting hold. Shake out and recover, then climb for another 15 to 20 moves.
Strength
Weight train 2x/week right after climbing or the day after; don't climb to exhaustion and then weight train.

Rest 2 days between each weight session.

Day 1: Pull-ups/lat pull-downs; tricep push-downs/dips; rows; wrist curls; reverse wrist curls.

Day 2: Deadlifts; squats; bench presses/push-ups; military presses; captain's chair leg lifts.

Rest 3 minutes between sets of same exercise.

Do weighted finger curls 1x to 2x/week. See "Efficient Finger Training" sidebar.

The last week of each month, do 1 set (lighter reps) of each exercise, and take extra rest days.
October
Climb: Even mix of bouldering and endurance days.
Technical Focus: Toprope or bolt-to-bolt several 5.12a's. Select your project and draw a beta map. Begin daily route visualization.
Strength: One warmup set followed by two sets of eight to 12 reps to fatigue (meaning you can't do more than eight to 12 reps using the weight chosen). See guidelines below for specific exercises.
November
Climb: Same as October.
Technical Focus: Quiet, precise footwork on small crimps and pockets. Watch your feet connect with every foothold.
Strength: Increase weights as you gain strength.
December
Climb: Same as November.
Technical Focus: Keep your arms straight by bending your knees and lowering your hips. Practice this on small handholds and footholds; relax your grip.
Strength: Increase weight so that you reach fatigue at eight reps in sets two and three this month.
January
Climb: High-intensity bouldering 2x/week. Create boulder problems that mimic the crux movements on your project, but are a bit harder. Work problems 1x to 2x/ week. Decrease endurance days as needed for recovery.
Technical Focus: Lock off on small crimps and pockets on vertical or gently overhanging angles.
Strength: One warmup set, then one to six reps to fatigue for sets two and three.
February
Climb: Same as January.
Technical Focus: High-step on small footholds on vertical/ gently overhanging angles, plus January's lock-offs.
Strength: Same as January. Increase weight if possible.
March
Climb: Decrease bouldering to 1x/week and increase powerendurance and endurance. Include 4×4 training 1x/week, and endurance training 1x to 2x/week. Incorporate 5.12a crux boulder problems from previous months into sport routes that mimic your project.
Technical Focus: Start breathing audibly on the ground, and breathe continuously while climbing. Return your breathing and heart rate to normal while shaking out at rests.
Strength: Set the weight on pull-ups/ pull-downs, tricep dips, and rows at a level where you can perform two sets of three to five reps quickly ("dynoing" the weight) while maintaining technique. Stop when you can't move the weight quickly. Maintain other lifts as in February.
April
Climb: Build up to repeating last month's project-simulation routes three to five times in a climbing session, one or two days/week. Continue bouldering 1x/week; work power-endurance 1x/week.
Technical Focus: Mentally rehearse the moves ahead while resting; move quickly/ accurately through hard sequences, using precise footwork.
Strength: Same as March.
May
Climb: Weekend trips to Ten Sleep; climb outside midweek. Solidify your 5.11 base; aim to redpoint four 5.11c's and three 5.11d's similar to your project.
Technical Focus: On your first day on, do one to two burns on your 5.12a project. Note any areas that still need work. Visualize the moves daily.
Strength: One to three sets of one to five reps for all lifts.
June: Redpoint!
Climb: Sending your project will likely take more than a day, and you can't put in more than two to three solid redpoint burns in a day. Have some secondary, easier projects to work on day two. If you want to try your project two days in a row, don't try anything hard after your attempts on the 5.12a. Instead, do a warm-down pitch, stretch, and call it a day. Let go of expectations and enjoy the process, learning everything you can from the route. Remember that climbing at your limit ALWAYS includes more days of "failure."
Technical Focus: Establish a two- or three-pitch warm-up routine for the area to help you judge whether you're recovered. The final warm-up should get your blood going, but not be so hard that you're pumped. Hanging the draws or going bolt-tobolt on your project is effective, but don't sabotage your day by going for the send first thing. Rest at least 30 minutes between redpoint attempts.
Strength: Throughout the summer performance months, maintain a light training regimen so that you don't lose your strength gains while you're climbing outside. Keep the volume low and the weights manageable; don't train to fatigue. If you're tired or sore from climbing—it's better to skip exercises and avoid injury.
Efficient Finger Training
Do weighted finger curls using dumbbells or a barbell 1x to 2x/week along with the other strength-training exercises. Warm up with 2 sets using high reps/low weight, then perform 3 to 5 sets to fatigue using the reps listed below, then do 2 warm-down sets using high reps/low weight. Rest at least 5 minutes between sets. Stretch forearms thoroughly afterward.
October to December: 12 to 30 reps per set; light weights
January to February: 3 to 8 reps per set; more weight
March to April: 30 seconds to 1 minute of continuous curls
May to June: 12 to 30+ reps per set with light weights for maintenance. Maximal climbing efforts in Ten Sleep may leave your fingers too torched for training.
Alli Rainey lives in Ten Sleep, Wyoming, and has climbed several 5.14a's, all first female ascents and all after turning 35. She climbs, trains, and runs an online coaching service at allirainey.com.