Memphis Rox Is Saving Lives—Can Solar Help?
Watch Memphis Rox's Jarmond Johnson and Alex Honnold explore how solar energy can help communities like Memphis keep the lights on.
Photo: Peter Walle @peterrwalle
Heading out the door? Read this article on the new Outside+ app available now on iOS devices for members! Download the app.
Memphis Rox is one of the best climbing gyms in America. 
Sure, it has state-of-the-art bouldering and rope climbing, and enough free weights to build a 5.15 climber. It has a youth team and climbing coaches and yoga classes and fantastic setting. 
But Memphis Rox, more than any other gym we've seen, is making real, measurable impacts in the lives of its community. They cater not just to the über-psyched gym members who pull down from open till close but to the non-climbing members of the wider South Memphis community. That's why Reel Rock made a feature film about the gym, and that's why the Honnold Foundation is working with Memphis Rox right now: to help them keep their lights on despite an expensive and regressive local energy policy.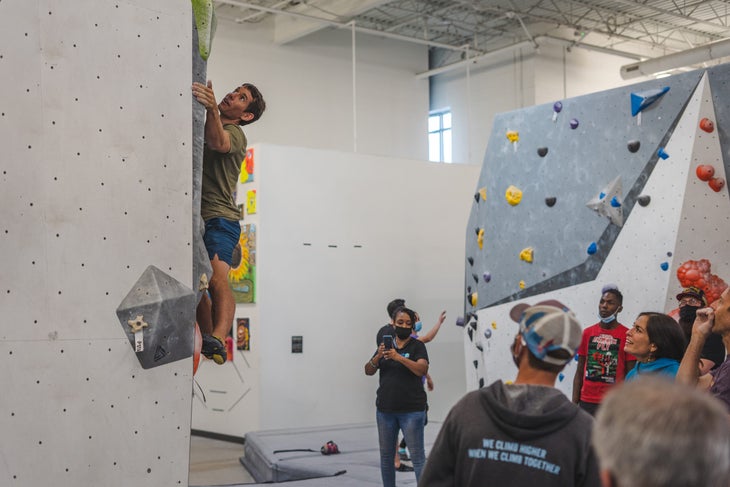 "Memphis has some of the highest utility rates in the country," says Pearl Walker, the Civic Engagement Coordinator at the Southern Alliance for Clean Energy, in the film "Keep the Lights On." "A lot of people feel like Memphis Light, Gas and Water (MLGW) is collecting all this money … and they're not taking into consideration what's in the best interests of the people and the planet." South Memphis residents spend up to 25 percent of their income on utility bills—a shocking figure, especially when you consider that most Americans spend around 5 percent.
"MLGW is playing the backgame," says Jarmond Johnson, Memphis Rox's Outreach Coordinator and Gang Activist. "They know the people in our community can't afford solar [if there's no equitable incentives]—it's too expensive." Johnson says the South Memphis community has received many empty promises in the 22 years he's lived in the area, from "big [social] organizations saying they were going to do a lot for us but never did." That's why working with the Honnold Foundation, he says, was such a positive experience: an organization that stepped in to provide financial support (by installing solar panels to offset the maximum 20 percent of the gym's energy use) while allowing Memphis Rox to focus on connecting with the community.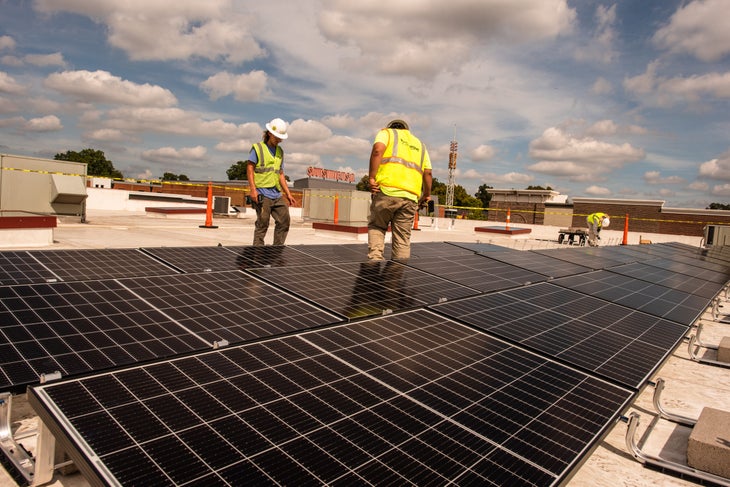 "The goal of the Honnold Foundation is that we're just helping community organizations do what they do, but a little better," Alex Honnold says. "They already have good ideas, they already know how to execute it, all we're doing is helping them save a little money so they can do their work at an even higher level." Honnold adds that working with Memphis Rox was especially meaningful because of how stifling MLGW is. "That's what makes it even more satisfying to do work there, because sometimes you just want to say F You to the man. Utilities that don't want to get on board and do what's right for the community…it makes it even more satisfying to [provide solar energy.]"
 From free-lunch and afterschool programs to a steady decline in the area's crime rate since its opening, Memphis Rox continues to positively impact the Soulsville community. "Memphis Rox grabbed me out of the place I was in," Johnson says. "You know, without the gym I'd probably be in jail or dead." And that's what makes the area's energy policy all the more frustrating: money trumps community impact every time. Memphis Rox has big goals for the future, including building a woodshop to teach trade skills to its members, a grocery store, and a medical clinic—if it can keep its lights on.
To learn more about the gym and to donate to their cause, visit the Honnold Foundation's website and watch "Keep the Lights On" below.