A Roll of Tinfoil Got Hazel Findlay Up This Wet, Scary 5.13 R Trad Line
"It wasn't the experience I'd signed up for, but a more challenging experience I'll learn from. I'm glad I didn't back down that day."
Heading out the door? Read this article on the new Outside+ app available now on iOS devices for members! Download the app.
It was meant to be called "Muy Picante"—very spicy—but Tim Emmett decided "Muy Caliente!" just sounded better. Either way, it's pretty spicy.
I remember the video of Tim power screaming through the 30-foot runout on the overhanging wall, pushing higher and higher above his gear as it moves out of shot. The gear itself is only 33 feet off the ground, which doesn't leave much of a margin for the belayer to play with. Apart from being spicy, Muy Caliente! is also known for being one of the best routes of any grade in Pembroke—sporty, 8a+ (5.13c) climbing on impeccable rock and plenty of added spice is the perfect recipe for a world class E9.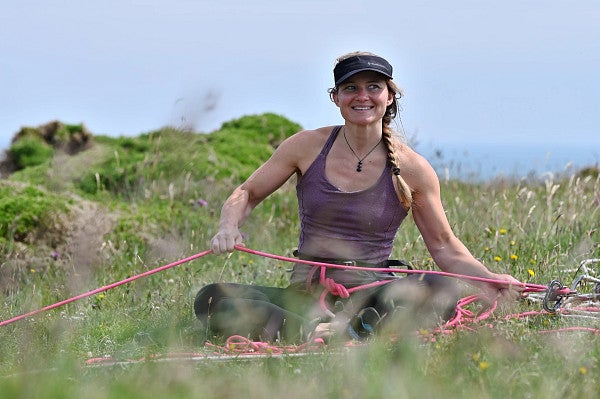 After trying it on a fixed line I knew leading it would be just what I want from trad climbing. You'd want perfect conditions and a clear head—you can't hang around on that runout for long and falling there would be ugly. On the day of the send, I sat amongst the seaweed and boulders at bottom of the wall for hours trying to keep my stress levels down, managing my breathing in the damp, salty air.
The route was there: a proud, blue-grey wall that was seeping, coated in a thin layer of sea grease. Fighting through slippery holds for that 30-foot runout until a wet pocket denies you the long-awaited gear wasn't what I'd signed up for. I had spent most of the previous night awake thinking about what it would be like to leave the route for another trip, or fall off it, two options that seemed painful to my sleepy mind. Looking up at the blank wall from the exposed seabed, I couldn't bring myself to have no experience at all. I decided I could easily make it to the good gear before the runout. I could even take a look at the tiny crux crimps before backing down. My partner Angus had remembered an old Frankenjura trick of lining damp pockets with foil. If the foil worked, I could probably make it to the safety of the gear and then falling wouldn't matter anyway.
I set off, moving swiftly over smooth limestone edges, not committing to anything. I would just put the gear in, then check the little crimps. They were greasy. Somehow it didn't feel natural to back down in the flow of climbing, so I pressed on, high above the gear, snatching at the crimps, then snatching again through the runout. There were a thousand things to worry about, but I wasn't thinking of any of them. My fingers bit into the wet foil-lined pocket and I reached for the offset Z4 placement. In disbelief, and tiring quickly, I fiddled a purple Z4 into another pocket, skipped the final piece of gear and power screamed into another run-out. Fighting through safe, sporty climbing, leaving my gear behind I slapped my way up towards the glory ledge. At the top I was elated; relieved, exhausted, psyched. I don't know how I pulled the ascent off but, focussing on the climbing, I managed a lot of fear and anxiety and had a great, albeit intense, experience.
It wasn't the experience I'd signed up for, but a more challenging experience I'll learn more from. I'm glad I didn't back down that day.