Sunshine, Baguettes, and… 5.14 R Trad? Babsi Zangerl's Perfect Holiday.
Barbara "Babsi" Zangerl and Jacopo Larcher are one of climbing's most dominant trad-climbing couples. They have sent up to 5.14 together, alongside several free routes on El Capitan. Last year, they travelled to Annot, France, to explore one of the country's hardest trad lines: Le Voyage (E10/5.14 R), and to document their process.
Heading out the door? Read this article on the new Outside+ app available now on iOS devices for members! Download the app.
When we heard about a sandstone climbing paradise in the south of France, we were curious.
At the time, besides some long granite routes in Chamonix, I didn't know about a single place to trad climb on sandstone in France. Well, apparently such a place existed, and it was just above the village of Annot in the southwest. Annot actually holds four different spots in one: there's a trad climbing area, a bolted area, a bolted area on chipped holds, and a famous bouldering area.
After the first days spent in Annot, it was amazing to see how much this place had to offer. In April it was already quite warm, but we found perfect conditions in some airy canyons to try the harder lines as well.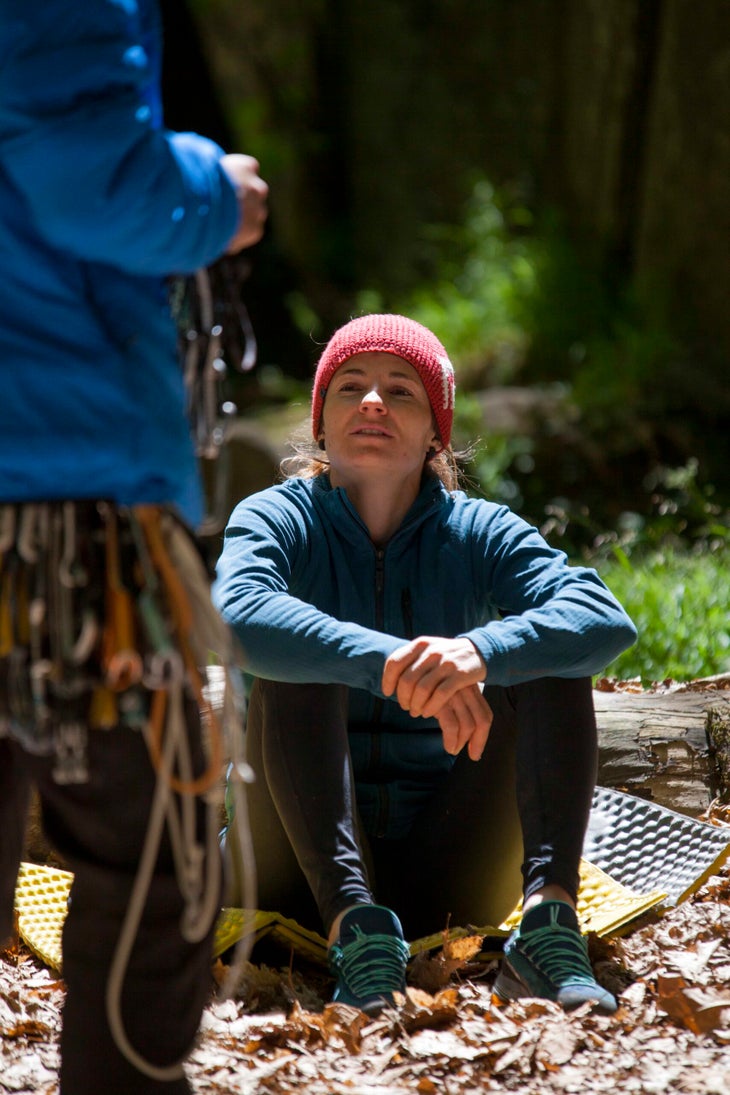 It felt like a real holiday to us. In the past we've usually sought out good and cold conditions during our rock climbing trips, but his time we enjoyed the hot sun while at the same time we could still try hard in the windy cold canyons. What a combo to enjoy the French sun and the chill lifestyle. The campground was as cozy as we could have wished for, and the highlight was the delivery of fresh baguettes and croissants from the local bakery directly to our van every single morning!
After the first days we cast an eye on this mega line called Le Voyage. First climbed by James Person in 2017, Le Voyage (E10, 7a) is a 38-meter line at the La chambre du roi sector. This new addition is definitely one of the best trad climbs France has to offer. A new hard test piece featuring face climbing with pockets, cracks, crimps, and tricky gear placements.
E10 7a may seem like some incomprehensible letters and numbers. In some ways they are, even for the Brits who have invented this complex grading system that combines a route's danger with its pure technical difficulties. I would call this line difficult but quite safe, at least for the crux section and for the following sections: the higher you get, the better placements you find on it.
But the middle part of the line is definitely risky.
It was quite a mental game to climb the traverse at 1/3 height of the wall. I was pretty nervous to place the gear there, because you also need those pockets as hand holds. This makes it a bit tricky to find a good way to protect this part of the climb before entering the real crux of the route.
The crux is really powerful, and it requires a lot of body tension. It felt always insecure to me. Even while trying it on toprope I fell off most of the time. So, I decided to do some lead tries for keeping the motivation high and also in case I would be lucky enough to catch the final jug after this tricky technical sequence.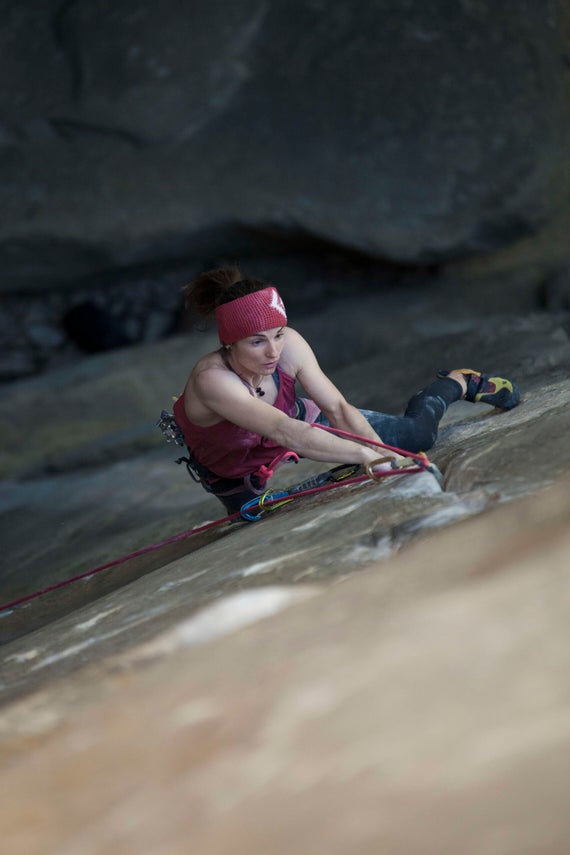 Jacopo was the one who climbed the route first out of our group making the second ascent of Le Voyage; Siebe was next on the sending train. We had different beta for this route which was pretty cool to see. Everybody found their own method after trying all the different beta.
This article is free. Please support us with a membership and you'll receive Climbing in print, plus our annual special edition of Ascent and unlimited online access to thousands of ad-free stories.
We only had three days left before heading back home. The pressure was on as I racked up. I really wanted to send this perfect line. On my first try of the day, I messed up, spending too much time placing the gear and getting pumped before I even reached the crux. I needed to get everything perfectly dialed to save power and place the gear I needed. On the send, it was a real battle. But I was finally able to climb those 38 meters of perfect sandstone.
We all really enjoyed the process, and the team psych was always high, which was an extra source of motivation for all of us.
It's a real gift that this natural line exists, without any chipped holds and with just enough features to go naturally. To me, it's as perfect as it can get. Routes like this are rare to find.