Watch Madaleine Sorkin Attempt 5.13+ On Wadi Rum's Biggest Wall
Heading out the door? Read this article on the new Outside+ app available now on iOS devices for members! Download the app.
"Valley of the Moon" is available to all Outside+ members, part of an extensive library of climbing and adventure sport films found in the Outside App. Watch the full film, or download the app here.
Growing up in Israel, Eliav "Eli" Nissan heard stories of Wadi Rum—a vast expanse of Jordanian desert "with canyons you could get lost in for days"—but was unable to visit. The two countries were at war and crossing the border was impossible.
Years later, after Israel and Jordan's 1994 peace agreement, Eli started to hear about Wadi Rum again—and its miles of climbing potential. When he finally visited, he was stunned by the dramatic landscape and the ubiquity of beautiful sandstone walls. 
Reel Rock's "Valley of the Moon" follows Eli and his teammates on their journey to climb beyond the boundaries that once divided two countries and establish Wadi Rum's first world-class route. 
Eli joins forces with Mohammed Hussein, a local guide who strikes Eli as "the James Dean of Wadi Rum," and Elad Omer, an Israeli guide and climber. They quickly identify the proudest line on the largest formation in the area, Jebel Rum. Their goal isn't just to climb a proud, hard route—their hope is that by climbing a proud, hard route they can attract other climbers to a region whose main industry—tourism—has seen declines due to decades of conflict in the Middle East. 
But there are challenges in establishing a big-wall route when the nearest hardware store is a country away.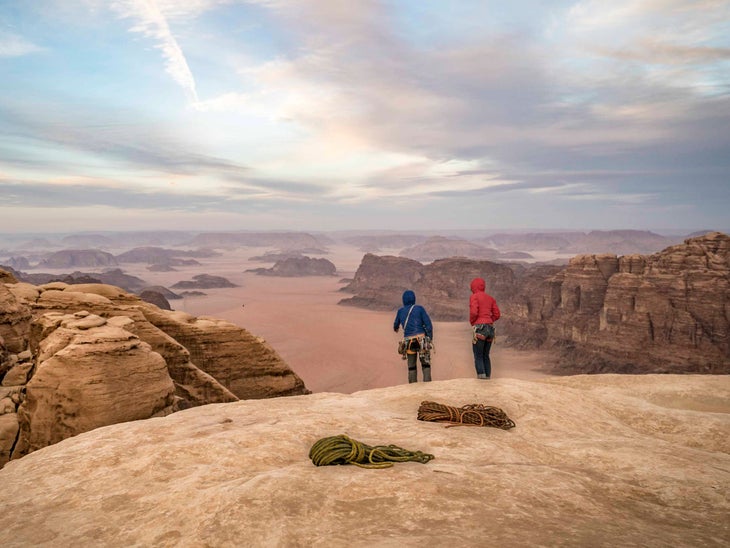 Season after season, Eli and Elad join Mohammed and forge upward. As the line grows, so does their friendship. But the 1800-foot, 14-pitch Sultan ul-Mujahidin (translation: "Spiritual Warrior") is a hard route and doubt begins to set in, so they enlist pro climber Madaleine Sorkin to give them a much-needed boost. 
Meanwhile, they're cheered on by the residents of Wadi Rum, who treat the climbers to their famous Bedouin hospitality. As Madaleine finds her sequence up the crux fourth pitch (5.13+), prayer calls sound in the village below and echo throughout the mountains. 
Will the team and people of Wadi Rum get the "Hefla" celebration they're looking for? Or will Sultan ul-Mujahidin be left for future climbers to send? 
Watch "Valley of the Moon" to find out.