Climbing Dissed For Olympics by Sports Pros
Heading out the door? Read this article on the new Outside+ app available now on iOS devices for members! Download the app.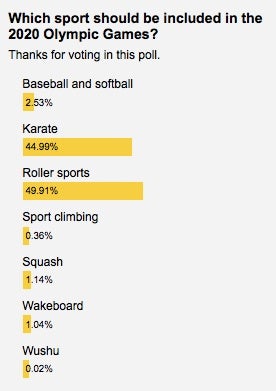 Which new sport would people in the business of sports prefer to see in the 2020 Olympics? Definitely not sport climbing. At least that's the conclusion you'd reach based on an online poll by SportsPro magazine. The poll, which has been active for about two weeks and has received hundreds of responses, showed climbing second to last in the rankings on October 19, with only about 0.4% of the votes.
Roller sports (inline skating) leads the polling of visitors to sportspromedia.com, with nearly 50% of the votes on October 19. Karate is a strong second, with about 45%. The remaining five sports up for consideration for the 2020 Olympic Games are only polling about 5% all combined, with climbing trailing baseball/softball, squash, and wakeboard. Only wushu, a category of Chinese martial arts, is farther behind.
Perhaps needless to say, there are many factors that might influence the International Olympic Committee's decision on new Olympic sports, and the opinion of sports professionals might not count for much. But the very strong sentiment for roller sports and karate is nonetheless interesting. The IOC's decision will be made in September 2013.
SportsPro is a British magazine that is distributed to executives of teams, leagues, arenas, federations, and other sports businesses worldwide. Click here to see the most updated version of the poll and links to stories about each of the sports up for consideration for the 2020 Games.