Heading out the door? Read this article on the new Outside+ app available now on iOS devices for members! Download the app.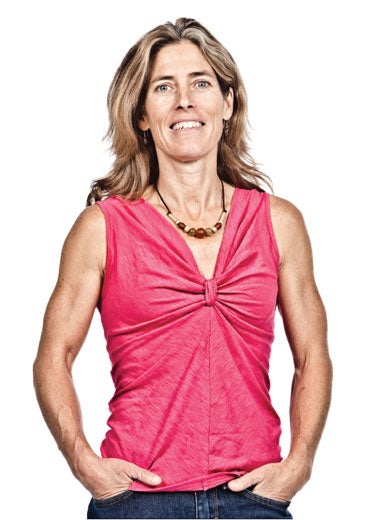 Current age: 50
Started climbing: in Southern California in 1975
Disciplines: comp climbing, bouldering, sport-climbing, big-wall free climbing
Résumé highlights: more than 30 international comp wins, first woman to climb 5.14, first female ascent of Midnight Lightning (V8), FFA of the Nose, first one-day free ascent of El Capitan
When and where was your first road trip?
Well, Joshua Tree was my local climbing area—that was three and a half hours from LA, where I grew up—so every weekend was kind of a road trip for me. I worked at Carl's Jr. to earn the money for gas, and my first rope was used, from my sister's boyfriend. So I really didn't really go very far for a long time. Probably Vegas would have been one of first? Or, let's see, I won some money on this television show called Survival of the Fittest and also on That's Incredible, and with that money bought a VW van. So we would go up to Yosemite. And then John [Long] and I drove through the western states to Colorado. That was 1978. We hung out a bit at Independence Pass; I think we spent a couple of days in Eldo. We also went through Arizona. So I think that's what I'd consider my first big road trip. John was kind of the mastermind behind any first free ascents or possible things along the way.
I remember John—he was really good drummer, and he turned me on to jazz music—and he'd be there pounding on the dashboard—you know, professionally, because he was a professional drummer. So we spent a lot of time in the car and a lot of time checking out different climbing areas, which was exciting for me because up to that time I'd only been to SoCal areas. And then we ended up moving to Vegas after that, in 1980.
Road tripping was not very popular, necessarily. Certain people could do it, but for most of us—I mean me being as young as I was and no one was paying my way—to go on a road trip takes time and money. If you've got time, you're not working, and if you're not working, you don't have money.
Who were your first heroes?
I would say the very first people who taught me. My sister was afraid of leading, so she taught me the basics, but her heart really wasn't into it; so her boyfriend Chuck, who later passed away on Aconcagua. I guess I was 19 when that happened. I very quickly met the whole group of people who loosely became known as the Stonemasters—certainly John was one of those people. But then, as a woman, I would say Mari Gingery and Maria Cranor were big influences on me. But we were just some of the few women who were out there.
And then, people who I didn't really know, but later met, Bev Johnson. I'd heard about her through my circle of friends and actually through Survival of the Fittest. She called me up and asked me, because Hoover thought it would be nice to have Bev invite me, and I thought that was nice too, because I'd heard about her ascent, in 1978, her solo ascent of the Dihedral Wall on El Cap—that was pretty impressive to me. It was on a par with what men were doing. And when I met her, she seemed really cool. She was almost cavalier in the way she looked at risk-taking and things like that. But she was nice and a fun-loving type person, and I really loved Bev. So I guess she would be the first official role model that I actually knew and climbed with regularly, who did something that was notorious.
What was the state of the art when you started climbing?
[Chuck] was the one who kind of passed on the climbing culture to me, because he read books and was a subscriber to Climbing magazine, and so he would pass me the magazines. So I'd read articles, and I remember Doug Robinson's article in the Chouinard catalog, whatever it was called, The Art of something—and I just remember that being kind of a defining ethic, you know "leave no trace." I don't know why people don't use this term now, but "climbing by fair means." Summarized like that it makes sense really quickly to people. Otherwise, it's a long explanation. Fair means to me meant that we were climbing as if we didn't have a rope, and if you fell, that was a blemish in style. The whole idea was to do everything possible not to fall, so you could downclimb. Back in the day, we yo-yoed—we tolerated that technique, which I guess is not part of the ethic today. The idea is that you'd place your own protection on lead.
Putting a bolt in was a big effort, so when I did first ascents with that band of climbers, usually we would just pick a line that you could protect with natural gear. And since a lot of the major lines had been done, sometimes those routes didn't have as much protection. So we were kind of crossing the line between the old traditional style on lower-angle stuff or straightforward cracks, to incipient cracks and face/crack type things that got steeper.
We didn't toprope—well, we did toprope, as a separate thing. We considered toproping as a separate sport, where you couldn't possibly put gear in—I guess that was the first step toward sport climbing. But we didn't rap down and check out moves. It was all about the adventure style. We approached it like you were doing a first ascent on a mountain. If you fell, no hangdogging—you were lowered down to the ground, you'd hand the rope over to the next person, usually in the yo-yo style if the gear was tricky, and the next person would go up and give it their best. And we'd pass the rope around till the route got done.
What's the biggest change you've seen in climbing?
First, some of the equipment we used—Friends, sticky rubber—and then, the ethical thing I just mentioned, people looking at steeper walls and pushing harder and harder things. Then the next level after that I would say the climbing gyms, that whole explosion.
And climbing is no longer this fringe sport. When I first started climbing I didn't know what climbing was. There was no t-shirt, no ad for a bank—there was no physical image in my mind of what climbing would be, which I find interesting because now climbing is everywhere.
And I paid my own way through college—how did I do that? Things have gotten more complicated financially. Living in modern society, it's just really hard to get by like that. You have to have a better plan.
What's better, what's worse?
What's better…? We were pretty free to express ourselves the way we wanted to. The only real ethic was respecting the rock. We were running away from the constraints of modern society into nature. And it was beautiful back then. It was a more intimate community, which meant that there were fewer problems with trash or access. Joshua Tree didn't seem to be limited at all. You didn't have lines on routes, and cigarette butts, and trash.
That was what we lost. What we've gained? Well, now there are a lot more places to go climbing, and if you look at climbing in terms of general wellbeing and fitness, even if you're someone who has a high-powered job and you're traveling across the country, if you have a day or an afternoon, you can go to a local area or climbing gym and meet new people and network around the world.
And networking around the world is a lot easier now that you have Internet. I'd say Internet is what opened up a lot of more obscure places and broadened the community. Now anyone can be part of an international community by way of the Internet. I mean, it's not the same kind of connection, but it's at least a peek into another culture, and what the rock looks like, and, you know, it's a much more global climbing scene.
What's the biggest milestone you expect to see in the next decade?
Well, the Olympics could be some sort of milestone, but I see that as one aspect of the sport—it's not all of rock climbing. And I guess that's the trend in any sport, to diversify and specialize. In track and field there are all different types of events—and climbing is no different. We have bouldering, we have the different forms of ice climbing and dry-tooling, and alpine climbing that combines it all. And there are people who climb in the gym who never go outside.
And before we didn't really distinguish. We did rock climbing, we did bouldering—of course, without a pad—and we did wall climbing.
I'm not coming up with a good answer because climbing is going to expand in a lot of different ways. OK, thinking of kids like Adam Ondra. He's an amazing climber. The milestone for me, and I talked to Adam about this because I saw him in Arco, and I talked to him about Yosemite, and said, now that would be really special. Someone with that kind of background, with all kinds of fitness and onsight ability—he can recognize any situation because he's done it so much and knows his body really well. But to do that, on something like, say, the Changing Corners pitch, onsight. Where if you're off by a millimeter your foot's gone and you're out, but to keep your head together. Fitness is probably less important but still it's a factor because you get tired, because there's exposure, there's wind, there's sun, there are things that take energy. And your psyche is very important, because it's very touch-and-go. And Yuji tried to do something like that when he tried to onsight the Salathé, and apparently he did a pretty good job. But somebody like Adam? I'm keeping my eye out, because I said, look, go to Yosemite, spend some time getting familiar with the granite, because it's so much different than limestone. But for somebody to put together the limestone library of movements with the technical subtleties of granite climbing, on a big route like that, onsight in a day—now that would be a milestone.
And the obvious other thing would be free solo. Now I think that's not a responsible way to gain attention for our sport, even though there are always going to be the daredevil types like that, I just think that there's no reason to gamble your life for a rock climb. That's just the way I am. People forget that it's not just a game, like if you lose the championships, you come back and try another day. No, you're gone. I don't want to promote that kind of thing myself. Never have, never will. It would be just dumb to free solo and die. It would be a bad example.
What do you think about climbing entering the Olympics?
Well, now the top competitors in Europe have to report to this website, very often, so that at any given point in the day, anyone from, whatever it's called, the governing body that watches over top athletes in sport, they can come and do a drug test. If you're top ranked now in the world now, you have to report to a website and be accountable for where you are, always. Talk about the departure from freedom, it's anything but. It's very, very controlled. So that's one aspect.
And it's really difficult to quantify what are we testing for. It's easy to understand, OK, there's bouldering and there's roped climbing, but how do we do this? It's really important who actually creates the routes, and they have to be forerun by different types of people, maybe an international crew of people who try the routes beforehand. I mean, it has to be really, really well done.
Are we going to have time limits are we going to do it fast, are we going to do it on-sight or after work, are we going to do sport climbing and bouldering and speed climbing —what are we going to do? I think they need to iron these things out a little more.
And it takes a heck of a lot of time and energy to do this stuff. So I think this dirtbag industry needs to step it up and pay a little bit more money for the professionals who actually deserve it. You're not going to attract very many people if people have to live on poverty wages and dedicate so much time and energy doing it.
That is one of the things that's in the way of the sport. I mean, runners do it, but it's a lot easier to find a track to run around. If you want to be a world-class climber you have to travel.
What's the biggest challenge climbing is facing?
I would say it's the challenge that the world is facing, global warming and everything that goes along with it—everything from the melting of glaciers and mountains, a lot more rockfall, more avalanches, a lot more instability in the mountains.
These things really concern me. When I first started climbing I escaped all this stuff of modern society because I didn't like where it was going, and you know, being a kid you're not going to change the world, you're not even going to consider it. But having been a climber for 36 years and watching how access and trash and people being disrespectful to the environment—that bothers me. And more important, the bigger stuff bothers me—the whole monopoly of the world and why the gas and oil companies are allowed to disregard the EPA.
Really, the whole controversy of bolting is nothing compared to fracking and development by the oil and gas companies. Freedom, for rock climbers? That seems like a small issue considering what's at stake for the planet.
Any advice for the next generation of climbers?
Be respectful of other people. Don't take it too seriously. Remember that climbing is a way to connect with people as well as the rock. It's a good lesson in life about how to deal with the ego. Think about that old idea of the conquest of a mountain. We've come a long way. It's more of a dance now.